7 Days to Die EARLY ACCESS STEAM CD-KEY GLOBAL
Available from marketplace sellers
There are %d people looking at this product.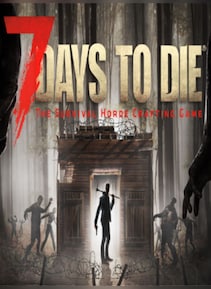 Language available:

Provincias:

GLOBAL

Una plataforma:
Buy product from these sellers:
¿Cómo funciona G2A Goldmine?
Diles a tus amigos sobre G2A Goldmine – forma un equipo y aumenta tus beneficios!

2

Mira como crece tu beneficio!

Basta con sentarte y relajarte, ya que tu trabajo da beneficios ahora! Utiliza consejos y herramientas, que hemos preparado, para que puedas maximizar el potencial de ganancias.

Un trabajo bien hecho merece un crédito apropiado. ¿No has trabajado duro para lograr hacerlo bien? Elige tu opción de pago preferida y recibe el cheque de pago!
Descripción del producto

Building on survivalist and horror themes, players in 7 Days to Die can scavenge the abandoned cities of the buildable and destructable voxel world for supplies or explore the wilderness to gather raw materials to build their own tools, weapons, traps, fortifications and shelters. In coming updates these features will be expanded upon with even more depth and a wider variety of choices to survive the increasing dangers of the world. Play alone or with friends, run your own server or join others.

Key features

Create and Destroy - The world terrain, structures and items can be destroyed or scrapped for resources. Re-purpose collected materials to build custom structures and fortification by hand, placing building pieces into the world in real time.
Structural Integrity - Buildings and terrain formations which are too unstable can fall apart if proper supports are not built. Some building materials are stronger than others and pieces which break off and fall can be dangerous or deadly if they fall on you or enemies.
Item Crafting & Degradation - With a continually growing list of over 160 recipes, gather resources such as plant fibers, wood and metal to create weapons and tools such as hand made crossbows, knives and hammers. As your tools wear out over time, use your crafting skills to repair them.
Plants and Animals - Locate seeds to plant and grow vegetables, and head out into the wilderness to hunt animals once the cabinets in abandoned buildings are already plundered.
Horde Mode - For times when you and your friends want a fast paced blend of combat, construction, shorter game play sessions and a chance to practice with weapons, Horde Mode places you in a small map area to defend against nightly attacks while the military support air-drops supplies during the day.
Cooperative Mode - Tired of zombie apocalypses that are more about fighting humans than zombies? Team up with your friends to work with other survivors rather than against them, using group efforts to build settlements and safety.

Requerimientos

Requerimientos de sistema:

Windows XP

Procesador:

2.4 Ghz Dual Core

La memoria:

4 GB

Gráficos:

Nvidia 8800 GTX

HDD:

1 GB

Una plataforma:

PC

Edad y la calificación de contenido

Otro

Steam

Steam - Game can be activated on Steam, enables you to play on official Steam servers and your game will be kept updated with the latest patches via the Steam platform.

Key Type

This product is available as a CD key carried out via digital means - no shipping fees apply.