7 Days to Die Steam Key GLOBAL
Available from marketplace sellers
There are %d people looking at this product.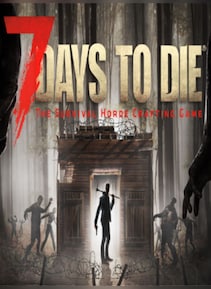 Idioma disponível:

Região:

GLOBAL

Plataforma:
Buy product from these sellers:
Como é que a G2A Goldmine funciona?
Diz aos teus amigos sobre a G2A Goldmine - Contrói uma equipa e aumenta os teus ganhos!

2

Veja o seu lucro a crescer!

Sente-se e relaxe enquanto o seu trabalho lhe dá lucro! Use as dicas e ferramentas que fizemos para maximizar o potencial de ganhos.

Um trabalho bem feito merece um crédito apropriado. E ainda, você não tem trabalhado duro para alcançá-lo certo? Escolha a sua opção de pagamento preferida e receba o salário!
Descrição do Produto

"7 Days to Die" é um jogo de "survival horde crafting", a ser desenvolvido pela The Fun Pimps. No ano de 2034 os ataques nucleares dizimaram a Terra e o restante da população está infectada por um vírus desconhecido. É dado ao infectado o prazo de 7 dias, em breve depois de morrer é reanimado e torna-se num zombie sedento de sangue. Ninguém acreditava nisso, e ninguém espera que termine! Você é um sobrevivente em Navizgane County Arizona, um paraíso raro num mundo de devastação. Ironicamente, a palavra Apache "Navezgane" significa assassino de monstros, e matar vocês terão na luta, andar pela sucata, construir, procurar e fortificar à vossa maneira de sobreviver, procurando a verdade por trás do que realmente aconteceu. "7 Days to Die" é um mundo aberto, baseada em voxel, um jogo sandbox misturando os melhores elementos de FPS, Survival Horror, RPG e "Tower Defense", ao estilo de jogos de defesa. "7 Days to Die" procura conquistar o seu próprio espaço dando aos jogadores o que eles realmente querem com uma combinação única de combate, elaboração, exploração, e do carácter de crescimento. Não é apenas um "Survival Horror", mais do tipo "Horde Survival".



Características Chave



Create and Destroy - The world terrain, structures and items can be destroyed or scrapped for resources. Re-purpose collected materials to build custom structures and fortification by hand, placing building pieces into the world in real time.


Structural Integrity - Buildings and terrain formations which are too unstable can fall apart if proper supports are not built. Some building materials are stronger than others and pieces which break off and fall can be dangerous or deadly if they fall on you or enemies.


Item Crafting & Degradation - With a continually growing list of over 160 recipes, gather resources such as plant fibers, wood and metal to create weapons and tools such as hand made crossbows, knives and hammers. As your tools wear out over time, use your crafting skills to repair them.


Plants and Animals - Locate seeds to plant and grow vegetables, and head out into the wilderness to hunt animals once the cabinets in abandoned buildings are already plundered.


Horde Mode - For times when you and your friends want a fast paced blend of combat, construction, shorter game play sessions and a chance to practice with weapons, Horde Mode places you in a small map area to defend against nightly attacks while the military support air-drops supplies during the day.


Cooperative Mode - Tired of zombie apocalypses that are more about fighting humans than zombies? Team up with your friends to work with other survivors rather than against them, using group efforts to build settlements and safety.



Classificação de idade e conteúdo

Outro

Steam

Steam - Game can be activated on Steam, enables you to play on official Steam servers and your game will be kept updated with the latest patches via the Steam platform.

Key Type

This product is available as a CD key carried out via digital means - no shipping fees apply.