ALICE VR Steam Key GLOBAL
來自於個市集賣家可用
The product requires Virtual Reality headset.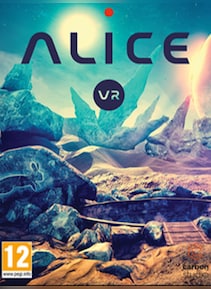 可用語言:

地區:

GLOBAL

平台:
G2A金礦是如何運作的?
給您的朋友介紹一下G2A金礦——建立一個團隊并提高您的利潤!

由於您的工作為您帶來的利潤,現在可以往後一仰,放鬆一下了!使用我們為您製作的提示和工具,讓您的收入可能性最大化。

您出色的工作,值得恰當的獎勵!同時,您也並沒有很費力地得到它,不是嗎?選擇您首選的付款方式,來接收您的回報!
產品說明

Alice VR is a story-driven exploration game rich with puzzles and designed to be a singular VR adventure. Game is inspired by the famous Lewis Carroll's novel "Alice's Adventures in Wonderland", taking its characters and themes to a new science-fiction setting. Enjoy beautiful graphics, atmospheric, electronic soundtrack and lose yourself in the world of Alice VR.
An unexpected malfunction forces your ship's AI to wake you from the cryo sleep. You have to make an emergency landing on the nearby planet. Your goal there is simple: find enough fuel to escape. This straightforward task gets complicated when you realize that all of the planet's citizens had disappeared in mysterious circumstances.

配置要求

系統配置要求:

Windows 7 SP1 / 8.1 / 10 (64 bit)

處理器:

Intel i5 4590

內存:

8 GB RAM

顯卡:

NVIDIA GeForce GTX 660 / AMD Radeon HD 7870

硬盤:

12 GB available space

其他

Steam

Steam - Game can be activated on Steam, enables you to play on official Steam servers and your game will be kept updated with the latest patches via the Steam platform.

HTC Vive

Oculus Rift

Key Type

This product is available as a CD key carried out via digital means - no shipping fees apply.