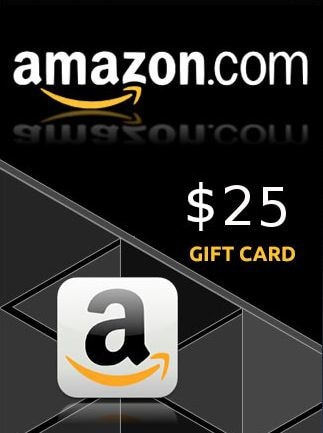 1/1
NORTH AMERICA version
Amazon Gift Card NORTH AMERICA 25 USD Amazon
Add 25 USD to your Amazon balance and browse through millions of interesting products on the biggest shopping platform in the world. Find and strike the best deals on video games, music, books, and much more
Buy it in a bundle, pay less: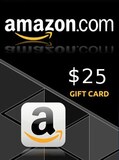 Amazon Gift Card NORTH AMERICA 25 USD Amazon
Offer from: Cheap_gameoutlet
Offers: 9
Noob_noob

Excellent seller

Time4digi_com

Excellent seller

Codezilla

Excellent seller

100%

Positive feedback

2711
Product description
25$ Amazon Gift Card is used to fund the selected Amazon account with an additional amount of cash that can be used to pay for any type of goods purchased on the Amazon platform. Browse millions of products from a variety of categories to find whatever you need and pay for it conveniently with an Amazon Gift Card, or gift the code to someone else, as the card itself is not linked to any account, as long as the code is not used. After the gift card code is entered, the selected account will be loaded with additional cash.
Gift the Code or Use It Yourself
The gift code you purchase is not tied to any account. This means you can use it to fund your own Amazon account or give it away to a friend or a family member, so they can add the selected amount of cash to their balance instead. It can be a great way of gifting someone in case you missed an important day, or don't have an idea for the proper present. Don't risk purchasing them a gift they may not find appealing – give them an Amazon Gift Card 25$ instead and let them choose what they want themselves.
No Expiration Date
Amazon Gift Cards have no expiration date and they don't have to be used immediately after purchase. You can even make a stockpile of the cards and use them whenever you need or gift the codes to whoever you want. This makes it a great choice when you are looking for some kind of a financial backup when shopping on Amazon in case of a banking system failure, fo example, but at the same time, you want to remain flexible to an extent and don't want to freeze the funds on your own Amazon account.
Amazon Online Shopping
The funds acquired through the Amazon 25$ Gift Card can be used to pay for anything purchased on Amazon, the biggest online shopping platform in the world. Whatever you need, you can probably get it on Amazon. From electronics, through fashion and sports-related items, to music, video games, toys, and tools, there are millions of products to browse from. Buy whatever you need and pay conveniently with Amazon Gift Card.
Key features
Fund the chosen Amazon account with an additional 25 USD to spend on a variety of goods online
Spend the acquired funds on the biggest shopping platform in the world
Gift the code to anyone you want – the code is not tied to any account, so you are free to either fund your own account or gift it to someone else
Pay quickly and more conveniently on Amazon – enjoy fast delivery of the selected items
Buy the card now and use it whenever you want to, as it has no expiration date
This product adds 25 USD to an Amazon account and it is meant to be activated in the North America region.
Instruction
1.Login to Your Amazon Account.
2.Click Apply a Gift Certificate to Your Account in the Payment & GC section.
3.Enter your claim code and click Apply to Your Account.
No expiration date.