American Truck Simulator Steam Key GLOBAL
Available from marketplace sellers
There are %d people looking at this product.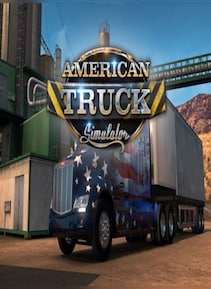 Ngôn ngữ:

Khu vực:

GLOBAL

Platform:
Nhận ngay 3.966 ₫ nếu ai đó sử dụng reflink Goldmine của bạn và mua sản phẩm này. Tìm hiểu thêm
Buy product from these sellers:
G2A Goldmine hoạt động như thế nào?
1

Thông báo cho những người khác

Kể cho bạn bè về Goldmine G2A - xây dựng đội ngũ và tăng thu nhập của bạn!

2

Xem lợi nhuận của bạn tăng lên!

Ngồi xuống và thư giãn xem công việc của bạn mang lại lợi nhuận ngay bây giờ! Sử dụng những lời khuyên và các công cụ chúng tôi để tối đa hóa tiềm năng thu nhập.

Một công việc tốt đòi hỏi thù lao xứng đáng. Bạn không phải làm gì nhiều nhưng vẫn đạt được nó,đúng không? Hãy chọn phương thức thanh toán bạn ưa thích và lãnh lương!
Mô tả sản phẩm

Experience legendary American trucks and deliver various cargoes across sunny California and sandy Nevada. American Truck Simulator takes you on a journey through the breathtaking landscapes and widely recognized landmarks around the States.

Game mechanics are based on the highly successful model from Euro Truck Simulator 2 and have been expanded with new features, creating the most captivating game experience from SCS Software.

American Truck Simulator puts you in the seat of a driver for hire entering the local freight market, making you work your way up to become an owner-operator, and go on to create one of the largest transportation companies in the United States.

Các tính năng chính



Drive highly detailed truck models officially licensed from iconic truck manufacturers. Your truck is your new home.


Make it yours by changing cabins, chassis, paintjobs, adding tuning accessories or more powerful engines.


Lots of different cargoes to choose: From food to machinery to hazard cargoes.


Multiple types of trailers – from reefers to flatbeds, from dumpers to lowboys and goosenecks.


The longest trailers (up to 53 ft) will challenge your skills and patience while hauling and during parking.


Deliver your cargoes to a rich variety of companies and locations like refineries, oil storage, gas stations, car factories, or roadworks.


Various simulation settings for trucking enthusiasts: Air brake simulation; different types of brakes: retarder, Jake brake, trailer brake; multiple types of transmissions straight from real trucks, brake intensity, and more.


Feel like inside a real cabin: Adjust your seat, mirrors and position your head to get the best view of the road.


Drive safely, follow the rules and speed limits – police will fine you if you aren't careful!


Ensure that you are not delivering overweight cargo – you may be checked at the weigh scales.


Use the route adviser as your personal assistant during the travels.


Try the life of a truck driver for hire.


By delivering the cargoes safely and improving your skills, become the owner of your own, successful company!


Build your own fleet of trucks, buy garages, hire drivers, manage your company for maximum profits.


Make your trucking time better by listening to your favorite songs via built-in music player or streaming your favorite radio stations.


Capture your favorite moments with a photo mode offering rich set of editing options.


Great support for steering wheels, gamepads and other input devices. Long-time support of the game, including new features.


Obtain challenging Steam achievements and collect all hand-painted Steam trading cards.



Yêu cầu tối thiểu

Yêu cầu đề nghị

Yêu cầu hệ thống:

Windows 7 64Bit

Bộ xử lý:

Dual core CPU 2.4 GHz

Bộ nhớ:

4 GB

Đồ họa:

GeForce GTS 450

HDD:

3 GB

Yêu cầu hệ thống:

Windows 8.1 64Bit

Bộ xử lý:

Dual core CPU 2.4 GHz

Bộ nhớ:

4 GB

Đồ họa:

GeForce GTX 760 2 GB

HDD:

3 GB

Độ tuổi và nội dung

Khác

Steam

Steam - Game can be activated on Steam, enables you to play on official Steam servers and your game will be kept updated with the latest patches via the Steam platform.

Key Type

This product is available as a CD key carried out via digital means - no shipping fees apply.