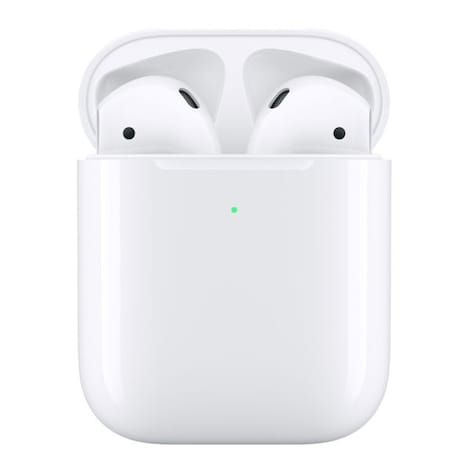 1/1
Apple AirPods 2019 (Etui Ładowane Bezprzewodowo)
Apple Airpods 2019 Konstrukcja słuchawek: douszne Mikrofon: tak Łączność: bezprzewodowa Czas pracy do 25h Typ mikrofonu: dwukierunkowy Apple AirPods i etui ładowane bezprzewodowo Zanurz się ...
You must be logged in to add products to your wishlist.
Product description
Apple Airpods 2019

Konstrukcja słuchawek: douszne

Mikrofon: tak

Łączność: bezprzewodowa

Czas pracy do 25h

Typ mikrofonu: dwukierunkowy
Apple AirPods i etui ładowane bezprzewodowo
Zanurz się w muzyce. Sięgnij po Apple New AirPods 2019 z bezprzewodowym etui ładującym – zestaw, który pozwoli Ci obcować z nutami 24 godziny na dobę. A każda z nich brzmi śpiewająco. Z resztą nie tylko ona. Słuchawki AirPods 2019 genialnie sprawdzają się w rozmowach, a udoskonalony chip H1 bezbłędnie odbiera sygnał z iPhone i Apple Watch.
Gdy przyjdzie czas naładować słuchawki, po prostu włóż je do etui. Ono zajmie się resztą, uzupełniając w 15 minut energię na kolejne 3 godziny słuchania.
Całkowicie bezprzewodowe
Umieść słuchawki AirPods 2019 w uszach. Gotowe. Parowanie ze smartfonem lub zegarkiem już się dokonało, a Tobie pozostaje wybrać utwór. Nie ten, kolejny. O tak. Ten lepiej pasuje do ćwiczeń. A jeśli chcesz się odprężyć przewiń jeszcze kilka kawałków.
Co ważne, słuchawki AirPods wiedzą, że są w uszach i wiedzą, kiedy je wyciągasz. Wtedy stopują odtwarzanie. Wiedzą też, kiedy nadchodzi połączenie i same przełączają się na rozmowę. Bajka, prawda?
Zawsze naładowane
Wszystko, co musisz zrobić, to umieścić słuchawki w etui ładującym. Gotowe. Słuchawki właśnie pobierają energię, a Ty wiesz o tym dzięki migającej diodzie. Wszystko dzieje się szybko, sprawnie i bez kabli. I najlepsze - ładowanie jest błyskawiczne.
Chcesz wiedzieć, ile energii w nich jeszcze zostało? Przyłóż do iPhone'a. On da Ci odpowiedź. A jeśli akumulatory słuchawek są w pełni naładowane, będą grać do 5 godzin bez przerwy.
Doskonała kompozycja
Subtelny design etui ładującego genialnie łączy się z wzornictwem słuchawek AirPods 2019. Nic dziwnego. Są dla siebie stworzeni. Jak dwie połówki jabłka. Słuchawki gładko chowają się w środku i równie sprawnie opuszczają etui, by rozpocząć symfonię dźwięków.
Mało tego, AirPodsy 2019 nie wymagają konfiguracji. Rozpakuj słuchawki, włóż je do uszu i wybierz AirPodsy na swoim iPhone lub Apple Watch. One rozpoznają swojaka od razu.
Konstrukcja słuchawek

Douszne

Wbudowany mikrofon

Tak

Typ mikrofonu
Dwukierunkowy
Łączność
Bezprzewodowe
Kolor

Biały

Dodatkowe informacje

Czas pracy do 25 h (przy użyciu etui ładującego)

Moduł Bluetooth

Etui ładowane za pomocą podkładki do ładowania bezprzewodowego zgodnej ze standardem Qi

Etui ładowane poprzez złącze Lightning

Przyspieszeniomierz wykrywający ruch

Przyspieszeniomierz wykrywający mowę

Dwa czujniki optyczne

Dwa mikrofony kształtujące wiązkę akustyczną

Obsługa funkcji Hey, Siri

Funkcja Live Listen

Złącze Lightning w etui ładującym

Automatyczne włączanie i łączenie z urządzeniem

Płynne przełączanie między urządzeniami

Wysokość

40,5 mm

Szerokość
18 mm
Głębokość
16,5 mm
Waga
4g (słuchawka)
Gwarancja

12 miesięcy (gwarancja producenta)