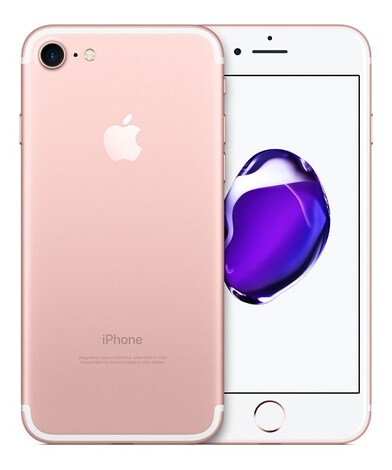 1/1
Apple iPhone 7 32GB Różowe Złoto
Apple iPhone 7 32GB Ekran: 4,7" Apple A10 (4 rdzenie, do 2.4 GHz) Pamięć wewnętrzna: 32GB Pamięć RAM: 2GB System: iOS 10 Aparat: 7.0 Mpix - przód, 12.0 Mpix - tył Bateria: Litowo-jonowa 1960mAh ...
Specifications
Specifications
Camera Resolution:

12.0 - 15.9 MP

Connectivity:

4G

Contract:

Not Specified

Features:

Camera

Lock Status:

Factory Unlocked

Operating System:

iOS

Processor:

Dual Core

Screen Size:

4.5 - 4.9

SIM Card Slot:

Single SIM

Brand:

Apple
Product description
Apple iPhone 7 32GB

Ekran: 4,7"

Apple A10 (4 rdzenie, do 2.4 GHz)

Pamięć wewnętrzna: 32GB

Pamięć RAM: 2GB

System: iOS 10

Aparat: 7.0 Mpix - przód, 12.0 Mpix - tył

Bateria: Litowo-jonowa 1960mAh
Prezentujemy najnowszego iPhona 7. Smartfon ten został radykalnie zmieniony i ulepszony, aby jeszcze lepiej sprostać Twoim oczekiwaniom. Oferuję on największą moc i najwydajniejszą baterię w historii. Telefon ten zaskakuje jasnością ekranu jak i stereofonicznymi głośnikami. iPhone 7 posiada najbardziej zaawansowany aparat dostępny na rynku.
DESIGN
Niebanalny design, wyjątkowa precyzja wykonania, aksamitnie gładka powierzchnia. Do tego zaokrąglone krawędzie i obudowa wykonana w całości z aluminium. Konstrukcja premierowego iPhone 7 to prawdziwy majstersztyk, arcydzieło inżynierii użytkowej. Od teraz każdą czynność wykonasz szybko, gładko i pewnie.
Nie obawiaj się wilgoci, zachlapania, ani pyłu. Obudowa iPhone 7 jest odporna na tego typu zagrożenia, więc Twój nowy smartfon będzie przy Tobie w każdej sytuacji. Sprawdź również przeprojektowany przycisk Początek i zobacz, co nowego ma do zaoferowania.
KAMERA
Aparat nowego iPhone 7 wzbogacono o optyczną stabilizacją obrazu, niwelującą nawet najdrobniejsze drgania. Dodano również przysłonę F/1.8, która wpuszcza do 50% więcej światła oraz flash True Tone z czterema diodami LED. Zestaw tak zaawansowanych funkcji zamieni każde zdjęcie w fotograficzne dzieło sztuki.
FILMY 4K
Posiłkując się wszystkimi funkcjami aparatu, kamera iPhone 7 GB rejestruje filmy w jakości 4K. Do swojej dyspozycji masz szeroki wachlarz możliwości, w tym wideo w zwolnionym tempie i wideo poklatkowe. Każdą zarejestrowaną chwilę przeżyjesz na nowo, montując klipy w iMovie. Efekty swojej pracy zamieść w sieci i zbieraj pochwały od znajomych. Pierwsze kroki w roli reżysera pomoże Ci stawiać procesor ISP, ulepszając każdy kolejny kadr.
WYŚWIETLACZ
Na ekranie 4,7" Retina HD zobaczysz więcej. Wyświetlacz zapewnia więcej światła, więcej kolorów i więcej detali. Jest również o 25% jaśniejszy niż ekrany poprzedniej generacji. Cokolwiek oglądasz prezentuje się po prostu lepiej. Znacznie lepiej.
Zmienił się również dobrze znany 3D Touch. Jego odmieniony interfejs nie tylko ułatwia korzystanie z aplikacji, ale i odpowiada na Twoje polecenia. Zobaczysz i poczujesz reakcję swojego smartfona.
PROCESOR
Sercem iPhone 7 jest potężny procesor A10 Fusion z nową architekturą szybkiego przetwarzania danych. Jednostka bezbłędnie obsługuje aplikacje i płynnie przełącza się między nimi. Intensywne użytkowanie stanie się czystą przyjemnością, bo iPhone 7 pracuje dwukrotnie szybciej niż jego poprzednicy. Zachowuje przy tym niespotykaną sprawność energetyczną, więc moc czterech rdzeni masz pod ręką długo. Nawet bardzo długo.
SYSTEM OPERACYJNY
Ten system operacyjny jest strzałem w dziesiątkę. I to dosłownie. Interfejs jest przejrzysty i intuicyjny. Wszystko odbywa się płynnie, a Twoje ulubione aplikacje są zawsze pod ręką. Co więcej, system sam podrzuci propozycje nowych aplikacji i zabezpieczy cenne dane przed innymi. iOS 10 wygląda pięknie, działa niezawodnie.
Procesor

Apple A10 z koprocesorem M10 (4 rdzenie, 2.4 GHz)

Układ graficzny

PowerVR GT7600

Pamięć RAM

2 GB

Pamięć wbudowana

32 GB

Typ ekranu

Retina

Przekątna ekranu

4,7"

Rozdzielczość ekranu

750 x 1334

Łączność

Bluetooth

Wi-Fi

LTE

System nawigacji satelitarnej
Złącza

Gniazdo kart nanoSIM - 1 szt.

Port lightning - 1 szt.

Bateria

Litowo-jonowa 1960 mAh

Zainstalowany system operacyjny

iOS 10

Aparat

12.0 Mpix - tył

7.0 Mpix - przód

Lampa błyskowa

Wbudowana

Rozdzielczość nagrywania wideo
Grubość

7,1 mm

Szerokość

67,1 mm

Wysokość

138,3 mm

Waga

138 g

Kolor

Różowe złoto

Dodatkowe informacje

Czytnik linii papilarnych

Barometr

Pyłoszczelność i wodoszczelność (IP67)

Funkcja latarki

Wbudowane głośniki stereo

Czujnik światła

Czujnik zbliżenia

Żyroskop

Akcelerometr

Dołączone akcesoria

Kabel USB

Zestaw słuchawkowy

Ładowarka sieciowa

Gwarancja

12 miesięcy (gwarancja producenta)
Earn every time someone buys this product using your reflink.