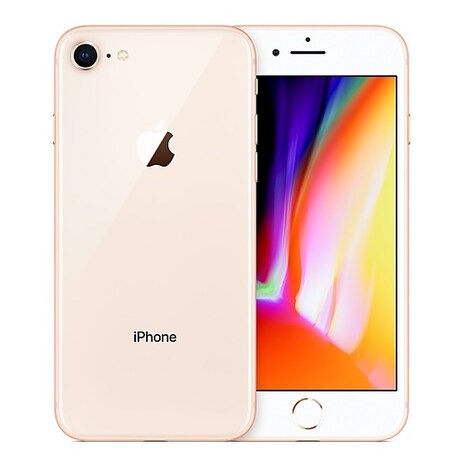 1/1
Apple iPhone 8 64GB Złoty
Apple iPhone 8 64GB Ekran: 4,7" Apple A11 (6 rdzeni, do 2.39 GHz) Pamięć wewnętrzna: 64GB Pamięć RAM: 2GB System: iOS 11 Aparat: 7.0 Mpix - przód, 12.0 Mpix - tył Bateria: Litowo-jonowa 1821mAh No ...
You must be logged in to add products to your wishlist.
Specifications
Specifications
Brand:

Apple

Operating System:

iOS

Features:

Camera

Connectivity:

4G

Processor:

Hexa Core

Camera Resolution:

12.0 - 15.9 MP

Lock Status:

Factory Unlocked

Contract:

Without Contract

Screen Size:

4.7
Product description
Apple iPhone 8 64GB

Ekran: 4,7"

Apple A11 (6 rdzeni, do 2.39 GHz)

Pamięć wewnętrzna: 64GB

Pamięć RAM: 2GB

System: iOS 11

Aparat: 7.0 Mpix - przód, 12.0 Mpix - tył

Bateria: Litowo-jonowa 1821mAh
Nowy zachwycający iPhone 8
Jaki jest iPhone 8 ? Bez wątpienia piękny. Gustowny, a do tego oryginalny. Front i tył smartfona pokrywa najtwardsze szkło, jakiego kiedykolwiek użyto w smartfonie. Z aluminiową ramą łączy się z olbrzymią precyzją, tworząc konstrukcję odporną na pył i wodę. iPhone 8 jest także szybki. Inteligentnie szybki. Zrobisz nim również piękne zdjęcia, rozkoszując się intensywnymi kolorami, o szerokim zakresie tonalnym. A gdy zabraknie mu mocy, użyj ładowarki indukcyjnej. I zabawa zaczyna się na nowo.
Kolory True Tone
iPhone 8 zapewnia niebywale wysoki współczynnik kontrastu. Gry, filmy, zdjęcia – wszystko zachwyci Cię wyrazistością. Naturalne kolory to w końcu przyjemność. Dla ich zachowania zastosowano technologię True Tone. Potrafi w inteligentny sposób analizować otoczenie i dopasowywać balans bieli. Wyświetlane barwy są dzięki temu realistyczne, żywe, wręcz inspirujące.
Nowa matryca 12 Mpix
Zamiast pozowanych zdjęć – fotografia spontaniczna. Przecież to ona daje najwięcej frajdy, prawda? Aparat złotego iPhone 8 posiada nową, większą matrycę 12 Mpix oraz optyczną stabilizację obrazu. Do tego szerokokątny obiektyw, z przysłoną f/1.8, który nie ma sobie równych, gdy światło nie sprzyja. Przełamuj schematy. Baw się ujęciami. Nie przegap żadnej chwili. Jaka by ona nie była.
Procesor ISP oraz tryb HDR
Jeszcze zanim naciśniesz spust migawki, procesor obrazu ISP przeanalizuje ekspozycję, po czym dobierze dla niej optymalne parametry. Aparat iPhone 8 wykorzysta również szybkość autofocusa. Dynamiczne momenty nie będą już rozmyte. Zyskają za to nowe, żywsze oblicze, gwarantowane przez tryb HDR. Pozostaje Ci tylko rozejrzeć się i rozpocząć przygodę z fotografią. Do dzieła.
Procesor A11 Bionic w iPhone 8
Procesor złotego iPhone 8 zaskakuje inteligencją. Potrafi wykorzystać swój potencjał w sposób maksymalny, przekładając szybkość na wydajność. W każdej sekundzie analizuje olbrzymie ilości danych, a następnie rozdziela zadania pomiędzy sześcioma rdzeniami. Uruchamiaj kolejne aplikacje, oglądaj filmy lub wykręć kolejny rekord w grze. Aha, koniecznie podziel się wynikiem ze znajomymi. W tym czasie Twój iPhone 8 nie zwolni ani na moment.
Procesor

Apple A11 Bionic z koprocesorem M11 (6 rdzeni, do 2.39 GHz)

Układ graficzny

Apple

Pamięć RAM

2 GB

Pamięć wbudowana

64 GB

Typ ekranu

Retina

Przekątna ekranu

4,7"

Rozdzielczość ekranu

750 x 1334

Łączność

Bluetooth

Wi-Fi

LTE

System nawigacji satelitarnej
Złącza

Gniazdo kart nanoSIM - 1 szt.

Port lightning - 1 szt.

Bateria

Litowo-jonowa 1821 mAh

Zainstalowany system operacyjny

iOS 11

Aparat

12.0 Mpix - tył

7.0 Mpix - przód

Lampa błyskowa

Wbudowana

Rozdzielczość nagrywania wideo

4K

Grubość

7,3 mm

Szerokość

67,3 mm

Wysokość

138,4 mm

Waga

148 g

Kolor

Złoty

Dodatkowe informacje

Optyczna stabilizacja obrazu

Obudowa wykonana ze szkła i aluminium

Pyłoszczelność i wodoszczelność (IP67)

Czytnik linii papilarnych

Czujnik światła

Czujnik zbliżenia

Barometr

Wbudowane głośniki stereo

Akcelerometr

Żyroskop

Dołączone akcesoria

Zestaw słuchawkowy

Ładowarka sieciowa

Gwarancja

12 miesięcy (gwarancja producenta)