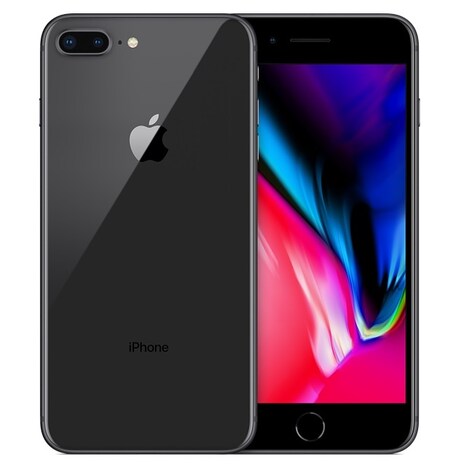 1/1
Apple iPhone 8 Plus 128GB Gwiezdna Szarość
Apple iPhone 8 Plus 128GB Ekran: 5,5" Apple A11 (6 rdzeni, do 2.39 GHz) Pamięć wewnętrzna: 128GB Pamięć RAM: 3GB System: iOS 11 Aparat: 7.0 Mpix - przód, 12.0 Mpix - tył Bateria: Litowo-jonowa 2675mAh ...
You must be logged in to add products to your wishlist.
Specifications
Specifications
Camera Resolution:

12.0 - 15.9 MP

Connectivity:

4G

Contract:

Without Contract

Features:

Accelerometer

Lock Status:

Factory Unlocked

Operating System:

iOS

Processor:

Hexa Core

Screen Size:

5.5 - 5.9

SIM Card Slot:

Not Specified

Brand:

Apple
Product description
Apple iPhone 8 Plus 128GB

Ekran: 5,5"

Apple A11 (6 rdzeni, do 2.39 GHz)

Pamięć wewnętrzna: 128GB

Pamięć RAM: 3GB

System: iOS 11

Aparat: 7.0 Mpix - przód, 12.0 Mpix - tył

Bateria: Litowo-jonowa 2675mAh
Nowy zachwycający iPhone 8 Plus
iPhone 8 Plus olśniewa eleganckim wyglądem. Zawdzięcza go dwóm taflom supertwardego szkła spiętym aluminiową ramą. Piękna, perfekcyjnie uformowana konstrukcja skutecznie chroni smartfon, przed zgubnym wpływem wody i pyłu. Jednocześnie nie stanowi przeszkody do bezprzewodowego ładowania baterii. iPhone 8 Plus zachwyca również możliwościami. Smartfon pracuje dynamicznie, dzięki obecności najpotężniejszego procesora w historii smartfonów. Zachwyca również jakością obrazu i czarująco pięknymi zdjęciami.
Ekran Retina, True Tone
Przekonaj się, jak przyjemnie patrzy się na ekran złotego iPhone 8 Plus. Cokolwiek oglądasz jest bardziej naturalne, wyraziste i żywe, a to dzięki szerokiej gamie kolorów wyświetlacza Retina HD. Technologia True Tone automatycznie reguluje balans bieli, dopasowując obraz do oświetlenia wokół Ciebie. Wzmacnia to nasycenie oraz rozpiętość tonalną. Dzięki temu wyświetlacz iPhone 8 Plus nie ma sobie równych.
Dwa mistrzowskie aparaty
Szybciej działająca matryca, nowe filtry barwne, głębsze piksele, a na dodatek optyczna stabilizacja obrazu. Tak Apple ulepsza już doskonały podwójny aparat 12 Mpix w iPhone 8 Plus. Wypróbuj bezstratny zoom teleobiektywu oraz tryb panoramiczny drugiego obiektywu szerokokątnego. Zarówno w zdjęciach jak i filmach, Twoje ujęcia wzbogaci tryb HDR.
Selfie pełne ekspresji
Nawet wtedy, gdy światło nie sprzyja i tak wyróżnisz się na pierwszym planie. Oszałamiający efekt osiągniesz przez zastosowanie subtelnego rozmycia tła. W iPhone 8 Plus udoskonalono tryb portretowy, co pozwoli Ci uwypuklić detale i podkreślić kolory zdjęć. Teraz już nic nie stanie na przeszkodzie do stworzenia perfekcyjnego portretu.
Maksymalny potencjał iPhone 8 Plus
Najważniejsza jest szybkość działania. Wykorzystaj więc maksymalnie potencjał złotego iPhone 8 Plus. Wielozadaniowa praca nie jest mu straszna, dlatego uruchamiaj kolejne aplikacje, gry 3D i filmy w 4K. Nowy procesor A11 Bionic inteligentnie rozdziela zadania pomiędzy rdzeniami. Dzięki temu pożegnasz spadki wydajności, a powitasz czystą moc.
Procesor

Apple A11 Bionic z koprocesorem M11 (6 rdzeni, do 2.39GHz)

Układ graficzny

Apple

Pamięć RAM

3 GB

Pamięć wbudowana

128 GB

Typ ekranu

Retina

Przekątna ekranu

5,5"

Rozdzielczość ekranu

1080 x 1920

Łączność

Bluetooth

Wi-Fi

LTE

System nawigacji satelitarnej
Złącza

Gniazdo kart nanoSIM - 1 szt.

Port lightning - 1 szt.

Bateria

Litowo-jonowa 2675 mAh

Zainstalowany system operacyjny

iOS 11

Aparat

12.0 Mpix - tył

7.0 Mpix - przód

Lampa błyskowa

Wbudowana

Rozdzielczość nagrywania wideo

4K

Grubość

7,5 mm

Szerokość

78,1 mm

Wysokość

158,4 mm

Waga

202 g

Kolor

Gwiezdna Szarość

Dodatkowe informacje

Optyczna stabilizacja obrazu

Obudowa wykonana ze szkła i aluminium

Pyłoszczelność i wodoszczelność (IP67)

Czytnik linii papilarnych

Czujnik światła

Czujnik zbliżenia

Barometr

Wbudowane głośniki stereo

Akcelerometr

Żyroskop

Dołączone akcesoria

Kabel USB

Zestaw słuchawkowy

Ładowarka sieciowa

Gwarancja

12 miesięcy (gwarancja producenta)