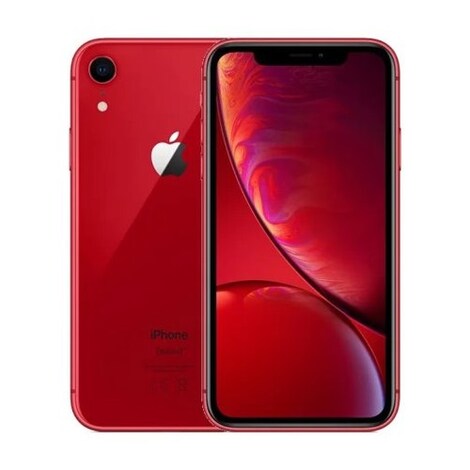 1/1
Apple iPhone Xr 64GB Czerwony
Apple iPhone Xr 64GB Ekran: 6.1" Apple A12 Bionic (6 rdzeni do 2.49 GHz) Pamięć wewnętrzna: 64GB Pamięć RAM: 3GB System: iOS 12 Ap ...
You must be logged in to add products to your wishlist.
Specifications
Specifications
Connectivity:

4G

Contract:

Without Contract

Features:

Camera

Lock Status:

Factory Unlocked

Brand:

Apple
Product description
Apple iPhone Xr 64GB

Ekran: 6.1"

Apple A12 Bionic (6 rdzeni do 2.49 GHz)

Pamięć wewnętrzna: 64GB

Pamięć RAM: 3GB

System: iOS 12

Aparat: 7.0 Mpix - przód, 12.0 - tył

Bateria: Litowo-jonowa 2942 mAh
Apple iPhone Xr
Apple iPhone Xr to synonim niezwykłego smartfona. Zainstalowano w nim najbardziej zaawansowany wyświetlacz LCD o nazwie Liquid Retina. W obudowie iPhone Xr znalazło się także FaceID drugiej generacji, które jest od teraz jeszcze szybsze. Sercem urządzenia jest najszybszy procesor A12 Bionic jaki kiedykolwiek zastosowano w smartfonie.
Zaawansowany ekran Liquid Retina
Poznaj najbardziej zaawansowany wyświetlacz LCD na świecie – Liquid Retina. Niesamowita konstrukcja pozwala na wypełnienie całego frontu urządzenia pięknymi i nasyconymi kolorami. Po same brzegi - dosłownie. Wykorzystanie technologii True Tone zapewnia naturalne barwy, które dopasowują się do otoczenia.
Ekstremalna wydajność iPhone Xr
Działanie aplikacji na iPhone XR robi ogromne wrażenie. Urządzenie jest bardzo szybkie, w mgnieniu oka przełącza się między aplikacjami. To wszystko dzięki wydajnemu procesorowi A12 Bionic.
Fotografia na nowo
Zastosowany w iPhone Xr pojedynczy aparat 12 Mpix to najlepsza matryca, jaką zamontowano kiedykolwie w smartfonie. Funkcje takie jak optyczna stabilizacja obrazu oraz Focus Pixel sprawiają, że iPhone Xr robi oszołamiającej jakości fotografie.
Apple Pay - płać zbliżeniowo!
Swojego iPhone XR masz zawsze w kieszeni... z kartą bankomatową bywa już różnie. Od teraz nie musisz się przejmować brakiem karty przy sobie - wykorzystaj Apple Pay! Płatnościami Apple Pay działają wszędzie tam, gdzie można płacić zbliżeniowo. Wystarczy przyłożyć telefon do terminala płatniczego i po sprawie! Apple Pay jest w pełni wygodny, ale zarazem bezpieczny.
Procesor
Układ graficzny

Apple GPU

Pamięć RAM

3 GB

Pamięć wbudowana

64 GB

Typ ekranu

Liquid Retina HD

Przekątna ekranu

6,1"

Rozdzielczość ekranu

1792 x 828

Łączność

Bluetooth

Wi-Fi

LTE

System nawigacji satelitarnej
Złącza

Gniazdo kart nanoSIM - 1 szt.

Port lightning - 1 szt.

Bateria

Litowo-jonowa 2942 mAh

Zainstalowany system operacyjny

iOS 12

Aparat

12.0 Mpix - tył

7.0 Mpix - przód

Lampa błyskowa

Wbudowana

Rozdzielczość nagrywania wideo

4K (do 60 kl./s)

FullHD 1080p (do 240 kl./s)

Grubość

8,3 mm

Szerokość

75,7 mm

Wysokość

150,9 mm

Waga

194 g

Kolor

Czerwony

Dodatkowe informacje

Obudowa wykonana ze szkła i aluminium

Funkcja ładowania bezprzewodowego

Pyłoszczelność i wodoszczelność (IP67)

Akcelerometr

Żyroskop

Barometr

Czujnik światła

Czujnik zbliżenia

Face ID

Dołączone akcesoria

Zestaw słuchawkowy

Ładowarka sieciowa

Gwarancja

12 miesięcy (gwarancja producenta)