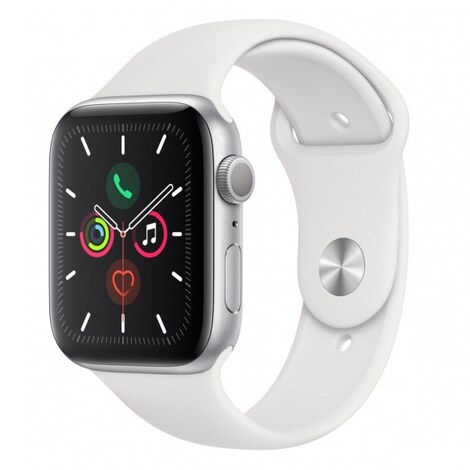 1/1
Apple Watch 5 44mm Aluminium Srebrny z paskiem sportowym
Apple Watch 5 44mm Srebrny Rozmiar koperty: 44mm Czujnik światła, żyroskop, akcelerometr, czujnik tętna Nawigacja GPS Aluminiowa koperta Wymienne paski System operacyjny: WatchOS Pamięć wbudowana: 32GB ...
You must be logged in to add products to your wishlist.
Product description
Apple Watch 5 44mm Srebrny

Rozmiar koperty: 44mm

Czujnik światła, żyroskop, akcelerometr, czujnik tętna

Nawigacja GPS

Aluminiowa koperta

Wymienne paski

System operacyjny: WatchOS

Pamięć wbudowana: 32GB
Takiego zegarka jeszcze nie miałeś
Apple Watch Series 5 to niesamowite urządzenie z wyświetlaczem, który nigdy nie gaśnie. Ten zegarek to aplikacje, które dbają o Twoje zdrowie, trener osobisty, niesamowity kompas oraz 50 milionów piosenek z biblioteki Apple Music. Za jego pomocą wyślesz wiadomość, zapłacisz za zakupy z Apple Pay lub ustawisz powiadomienie o zbliżającym się spotkaniu. Sam wybierz tarczę i skomponuj własny zegarek, który będzie idealnie do Ciebie pasować. To fantastyczne i bardzo praktyczne urządzenie, którym zadziwisz swoich znajomych. Przekonaj się o tym sam.
Dlaczego Apple Watch 5 jest niesamowity?
Dzięki Apple Watch Series 5 wezwiesz pomoc z każdego miejsca na świecie. Kiedy przebywasz za granicą, nie musisz znać numeru na pogotowie - zegar wybierze go automatycznie. Możesz słuchać muzyki na szlaku w górach, sprawdzać pocztę na plaży lub spoglądać na kompas, siedząc w kajaku. Aplikacja Mapy pokaże Ci, w którą stronę iść. Żeby zapłacić za zakupy, wystarczy zbliżyć urządzenie do czytnika. Na nadgarstku masz App Store, z którego ściągniesz taką apkę, jakiej właśnie potrzebujesz.
Prawdziwy cud techniki
Zastosowany tutaj wyświetlacz "always-on" praktycznie nie ma konkurencji. Ekran, który nigdy nie gaśnie to prawdziwe ułatwienie dla wszystkich użytkowników. Kolejnym plusem tego urządzenia jest wytrzymała bateria. Wytrzymuje minimum 18 godzin na jednym ładowaniu. Wbudowany kompas jest niesamowity. Wspólnie z aplikacją poznasz nie tylko kierunek, ale również wysokość nad poziomem morza, długość lub szerokość geograficzną. Nawigacja poprowadzi Cię stuknięciami w nadgarstek - nie musisz nawet patrzeć na tarczę.
Trenuj z Apple Watch Series 5
Masz problemy z tym, żeby zmotywować się do ćwiczeń?Apple Watch Series 5 zostanie Twoim ulubionym trenerem. Urządzenie będzie śledziło Twoje postępy i wybierze ćwiczenia idealne dla Ciebie. Za jego pomocą będziesz mógł również rzucić wyzwanie swoim znajomym. Na jasnym ekranie wyniki swojego treningu zobaczysz nawet z daleka. Funkcji jest naprawdę mnóstwo - możliwości tego zegarka są zdumiewające.
Procesor

Pamięć RAM

b.d.

Pamięć wbudowana

32 GB

Typ wyświetlacza

OLED Retina

Przekątna wyświetlacza

1,47"

Rozdzielczość wyświetlacza

368 x 448 pikseli
Łączność

WiFi

Bluetooth

NFC

Złącza
Zasilania - 1 szt.

Zainstalowany system operacyjny

watchOS 5

System nawigacji satelitarnej

GLONASS

Galileo

QZSS

Wbudowane czujniki

EKG

Kompas

Pulsometr

Światła

Wysokościomierz barometryczny

Żyroskop

Budowa i wykonanie

Koperta aluminiowa

Szkło Ion-X

Silikonowy pasek

Wbudowany głośnik

Wbudowany mikrofon

Ceramiczny tył koperty

Funkcje

Dostęp do kontaktów

Kończenie połączeń

Odbieranie i odrzucanie połączeń

Podgląd wiadomości

Powiadomienia o połączeniach, SMS, e-mail

Automatyczne wykrywanie czasu odpoczynku

Krokomierz

Licznik spalonych kalorii

Monitorowanie tętna

Pomiar czasu aktywności/treningu

Pomiar dystansu

Pomiar prędkości

Pomiar wydajności i obciążenia organizmu

Powiadomienia o braku aktywności

Raporty z treningu

Dostępne profile: bieganie, bieganie na bieżni, biegi przełajowe

Kadencja biegu

Treningi biegowe

Dostępne profile: jazda rowerem, jazda na rowerze stacjonarnym, jazda rowerem górskim

Treningi rowerowe

Płatności zbliżeniowe

Funkcja SOS

Szerokość
38 mm
Wysokość
44 mm
Grubość
10,7 mm
Waga koperty
36,7 g

Rozmiar koperty

44 mm

Kolor koperty

Srebrny

Typ paska

Pasek sportowy

Kolor paska

Biały
Obwód nadgarstka
140 - 210 mm
Dodatkowe informacje

Bezprzewodowa synchronizacja

Integracja z aplikacją mobilną

Dotykowy Digital Crown

Dołączone akcesoria

Adapter do ładowania

Pasek na nadgarstek

Kompatybilność z systemami
Smartfony z systemem iOS 12.0 lub nowszym
Gwarancja

12 miesięcy (gwarancja producenta)