Arma 3 Steam Key GLOBAL
Available from marketplace sellers
There are %d people looking at this product.
Arma 3 (PC) is a digital product – no box included. The price applies to a digital version of the product.
Bear in mind that after buying this product as a GIFT you will not be able to add it to your inventory.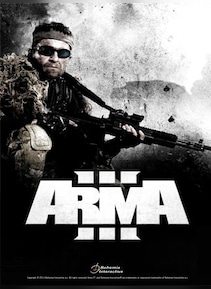 Limba disponibilă:

Regiune:

GLOBAL

Platformă:
Câștigă 1,05 € dacă cineva cumpără acest produs folosind reflinkul tău. Află mai multe
Buy product from these sellers:
Cum funcționează Goldmine?
1

Informează-i și pe alții

Spune-le prietenilor tăi despre G2A Goldmine, construiește-ți o echipă și sporește-ți câștigurile!

2

Uite cum crește profitul!

Relaxează-te, munca ta îți va aduce profit acum! Folosește-te de sfaturile și instrumentele pe care ți le-am pus la dispoziție pentru a-ți mări posibilitățile de câștig.

Un lucru bine făcut merită răsplătit. Și totuși, nu ai muncit atât de mult, nu-i așa? Alege metoda de plată preferată, iar apoi îți vei primi banii!
Descriere produs

ARMA 3 (PC) is the third entry into the franchise developed by Bohemia Interactive, the creators of Operation Flashpoint. ARMA 3 takes the fight to two semi-fictional islands on the Mediterranean, one of which is an enormous area hardly ever seen in the games of this genre.
Master the complex controls, and guide your squad in the most complex military shooter franchise since Operation Flashpoint.

Massive gameplay area

ARMA 3's gameplay area is divided into two large islands. While the smaller one is "just" 20 km2, the larger, Altis is a huge landmass, spanning 270 km2 of area. And it's not just empty space, either. Both islands are filled with villages, forests, ruins, and many more, providing a diverse environment for all manners of military activity.
The size of this playground allows the players to make a kilometer-long sniper shots if only they are skilled enough, coordinate military maneuvers, or just travel and revel in the environments created by Bohemia Interactive.

Complex ARMA 3 gameplay

ARMA 3 is not a game you can play casually. Between the large number of different available equipment pieces and a complex control scheme, ARMA 3 takes a long while to master. And achieving mastery in handling all the systems in the game is a reward in itself, even before crushing your opponents in an effort coordinated between dozens of other players.
Do you have the patience to learn the functions of every key and command? The game is not going to hold your hand at any point. You are on your own.

Fully-fledged campaign

ARMA 3 story is divided into three chapters, each focusing on a different key aspect of success. The episode names are Survive, Adapt, and Win, and take the protagonist Corporal Ben Kerry from a regular soldier following orders, to a leader of his own squad. Take part in a conflict between NATO and CSAT (Canton-Protocol Strategic Alliance Treaty) and help resolve the conflict which tore the Altis and Stratis islands apart, driving thousands of inhabitants from their homes.

Endless multiplayer content

Thanks to a seamless Steam Workshop integration, ARMA 3 players have instant access to thousands of various modifications created by the community. Thousands of new missions, new vehicles, more weapons. All of it makes ARMA 3 a continuous experience and makes sure the game stays fresh.
Moreover there are no limits to the maximum number of players, letting you engage in battles larger than in any other similar game.

Caracteristici cheie

ARMA 3 continues the tradition of hardcore military shooters developed by Bohemia Interactive. The third entry into the ARMA series is a complex and demanding tactical shooter, giving the players an enormous area of operation and many tools to make their own stories in addition to the campaign.

ARMA 3 features


\t
Emergent stories - new, unscripted stories arise whenever you play ARMA 3. Watch missions go in an unexpected, but interesting direction due to unforeseen circumstances

\t
Complex controls - mastering the input of ARMA 3 takes time, but makes playing successfully even more rewarding

\t
Immense area of operations - a total of 290km2 of diverse land are given to the players to use in any way they see fit

\t
Rich environments - ARMA 3 is a stunning world, all the more impressive for the scale of it. Ruins, forests, villages and more await you on the islands of Altis and Stratis



Cerințe minime

Cerințe recomandate

Cerințe de sistem:

Windows Vista SP2 / Windows 7 SP1

Procesor:

Intel Dual-Core 2.4 GHz / AMD Dual-Core Athlon 2.5 GHz

Memorie:

2 GB RAM

Grafică:

NVIDIA GeForce 8800GT / ATI Radeon HD 3830 / Intel HD Graphics 4000

HDD:

15 GB HD

Cerințe de sistem:

Windows 7 / Windows 8 (64 bit)

Procesor:

Intel Core i5-2300 / AMD Phenom II X4 940

Memorie:

4 GB RAM

Grafică:

Nvidia GeForce GTX 560 / AMD Radeon HD 7750

HDD:

25 GB HD

Rating conținut și vârstă

Altele

Steam

Steam - Game can be activated on Steam, enables you to play on official Steam servers and your game will be kept updated with the latest patches via the Steam platform.

Key Type

This product is available as a CD key carried out via digital means - no shipping fees apply.
Frequently bought with this item