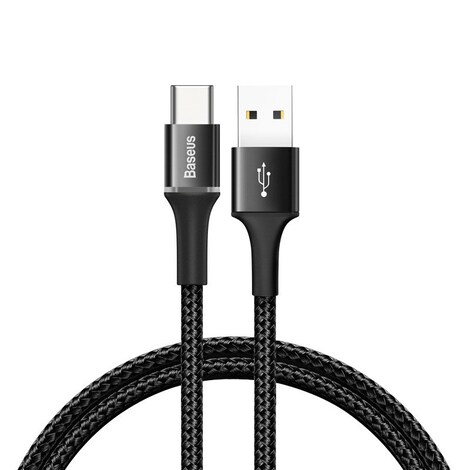 1/1
Baseus Type-C Halo data Cable 2A 2m Black
Selected offer from:
USB Type-C cable with a ring-shaped RGB lighting located near the connector is a cool and fresh way to charge your phone or transfer files between devices. Enjoy a high data transfer rate and a high-quality sturdy cord.
Product description
Baseus Type-C Halo data cable is a USB cable that allows you to quickly charge your mobile electronics and transfer files between devices. Quick Charge 3.0 provides a fast data transfer rate, while an additional RGB lamp indicator gives the cable unique look. The cable was made with reliability in mind.

Quick Charge 3.0
Having a smartphone always charged is quite important these days – you never know when you'll need to go out, and the last thing you'd want to see is a drained battery right when you have to leave. Don't let it happen to you – use Baseus Type-C Halo cable to quickly charge your mobile device and be always prepared for emergencies, thanks to Quick Charge 3.0 support.
High Data Transfer Rate
USB-C standard ensures high data transfer rates when the cable is used for transferring files between two devices, a smartphone, and a PC, for example. It makes transferring larger files less of a painful experience. Seamlessly create backups and copy important data – don't risk losing it all once your smartphone goes bad or is lost.
RGB Ring LED
The Baseus Type-C cable has a small little addition that makes the cable stand out from the crowd. It's a ring-shaped RGB LED located near the connector. It turns an ordinary cable into a cool gadget that glows different colors – it does not only look great, but it also makes it easier to tell where it's plugged at night.
Extreme Durability
The cable is extremely durable due to the materials used to make it. It's a combination of an aluminum shell and high-density nylon braid – a powerful mix that creates a truly damage-resistant product. No need to worry about breaking the cable anytime soon, as it should work without problems for years to come.
Key Features
Quick Charge 3.0 support
High data transfer rate
Ring-shaped RGB indicator lamp located near the connector
2-meter long cord
Created with use of durable materials
Item type: Brand new
Warranty:

12 months

Free shipping
Important:

In case of returning the product, the cost of shipping the product is on the buyer's side.

EAN: 6953156287297
MPN: CATGH-C01
3DP: (00007)
More information
More information
Invoices
This seller provides invoices. To receive one, you can contact them once you place an order.