Battleborn STEAM CD-KEY GLOBAL
Available from marketplace sellers
There are %d people looking at this product.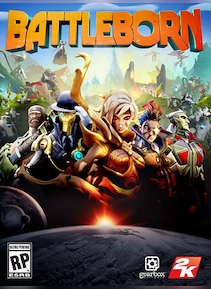 Ngôn ngữ:

Khu vực:

GLOBAL

Platform:
Buy product from these sellers:
G2A Goldmine hoạt động như thế nào?
1

Thông báo cho những người khác

Kể cho bạn bè về Goldmine G2A - xây dựng đội ngũ và tăng thu nhập của bạn!

2

Xem lợi nhuận của bạn tăng lên!

Ngồi xuống và thư giãn xem công việc của bạn mang lại lợi nhuận ngay bây giờ! Sử dụng những lời khuyên và các công cụ chúng tôi để tối đa hóa tiềm năng thu nhập.

Một công việc tốt đòi hỏi thù lao xứng đáng. Bạn không phải làm gì nhiều nhưng vẫn đạt được nó,đúng không? Hãy chọn phương thức thanh toán bạn ưa thích và lãnh lương!
Mô tả sản phẩm

A tremendous band of badass heroes fight to protect the universe's very last star from a mysterious evil in this next-gen shooter by the creators of Borderlands. To defend it, you'll need to utilize every type of character and weapon you've ever imagined -- from cyborg hawkmen to samurai vampires to mini-gun wielding man-mountains. Slash and parry, run and gun, cast and dash, or simply obliterate foes all while building and growing your personal team of heroes. Choose your hero and fight alone or co-operatively alongside friends in story missions, or battle against them in fast-paced competitive multiplayer matches.

Các tính năng chính

Story Mode: Battleborn's Story Mode is a narrative experience that can be played entirely singleplayer and is even better when it's played cooperatively with friends.
Multiplayer: Battleborn's team-based competitive multiplayer action can be experienced by up to 10 players online in 5v5 matches, and includes three distinct multiplayer modes.
Persistent Progression System: A

ll experience points, whether earned through playing Battleborn's Story Mode or Competitive Multiplayer modes, contribute to leveling up individual Character Rank, as well as player profile Command Rank.

Factions: The last star, Solus, is the only beacon of hope for the universe's surviving factions.
Battleborn Heroes: Battleborn has a deep roster of 25 playable heroes and no two are the same. Every hero has their own personality and comes equipped with their own unique weapons and powers.
Helix System: Battleborn's accelerated character growth system allows players to level-up a character from 1 to 10 and fully experience each hero's unique weapons and powers in a single story mission or multiplayer match.

Yêu cầu tối thiểu

Yêu cầu đề nghị

Yêu cầu hệ thống:

Windows 7

Bộ xử lý:

Intel i5-750 / AMD Phenom IIx4 945

Bộ nhớ:

6 GB RAM

Đồ họa:

AMD HD 6870 / NVIDIA GeForce GTX 460

HDD:

30 GB

Platform:

PC

Yêu cầu hệ thống:

Windows 7

Bộ xử lý:

Intel i5-750 / AMD Phenom IIx4 945

Bộ nhớ:

6 GB RAM

Đồ họa:

AMD HD 7850 / NVIDIA GeForce GTX 660

HDD:

50 GB

Platform:

PC

Độ tuổi và nội dung

Khác

Steam

Steam - Game can be activated on Steam, enables you to play on official Steam servers and your game will be kept updated with the latest patches via the Steam platform.

Key Type

This product is available as a CD key carried out via digital means - no shipping fees apply.