Battlefield 1 Origin Key GLOBAL
العرض متوفر لدى بائعين
هناك %d زائر يقوم بمشاهدة هذا المنتج حالياً.
Note: Battlefield 1 (PC) for ORIGIN is a digital product - no box delivery. The price applies to a digital version of the product.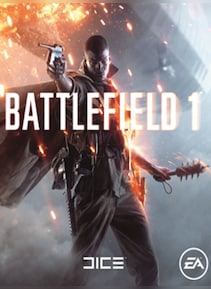 اللغات:

المنطقة:

GLOBAL

المنصة:
اكسب 8٫35 US$ إذا قام شخص بشراء هذا المنتج باستخدام reflink الرابط الخاص بك. إعرف المزيد
قم بالشراء من هذا البائع:
السعر
التصميم الخارجي
المستخدم
كيف يعمل G2A Goldmine؟
أخبر أصدقاءك عن منجم ذهب G2A - كون فريق وضاعف أرباحك!

إجلس واسترخي و شاهد ارباحك تنمو! إستخدم النصائح والأدوات التي وفرناها لك لتحقيق أرباح أكبر .

العمل الرائع يستحق المكافأة. ولكن مازلت لم تبذل الجهد الكافي في هذا العمل؟ إختر خيار الدفع المفضل لديك وأحصل على راتب!
وصف المنتج

EA DICE returns with the latest iteration of their long-running Battlefield series, and the first game of the core series since 2013's BF 4.
Battlefield 1 takes the players to the hectic battlefields of the First World War, from scorching, rocky deserts to mountains and coastal villages you will fight to reshape the landscape of the world with your victories and explosives.
Fight on the fronts of WW1, ride period vehicles or mount a horse, pick up your weapon and set out to relive a hundred-years-old history as a soldier of one of the six core factions split between two sides of the massive conflict.

الميزات الأساسية

Return to the Battlefield - the core series returns for the first time since 2013, throwing players into historic conflict with the experience of seasoned developers.

Battlefield 1 Class-based gameplay

Battlefield 1 offers players four distinct core classes to choose from, each serving a specific purpose, each indispensable in the struggle for ultimate victory. For players eager to jump into the fray, there is the Assault class, masters of explosives and close combat. They carry the best loadout if you need to blow up a tank or skewer your enemy on a bayonette in a heroic charge towards victory. The Medics are there to heal allies and fix their vehicles, and to defend them vigorously with a gun, should it be necessary. Scouts are for those, who like to sneak around and pick off enemies from a distance with a trusty sniper rifle, or to provide intel to allies, thanks to flaregun showing enemies on a minmap. Finally there are the Supports, providing the much needed and ever useful hail of bullets, both from barrels of their rapid-fire guns and deep pockets, resupplying allies.


In addition to the core ones, Battlefield 1 offers two special class groups: vehicle classes and Elites. You become a vehicle class, a Tanker or a Pilot, by entering a relevant machine, which in turn becomes your primary weapon. With the revamped maneuverability and handling, BF1's vehicles make becoming an ace of air combat or the best tank operator on the map even more enjoyable. If you fancy yourself a cavalier, you can mount a horse and ride in circles around slower vehicles.


Elite classes, on the other hand, are found on the maps as pick-ups and transform you into a one-person army. Become the Flame Trooper and smoke enemies out from their trenches only to burn them to ash as they try to assault you. Or find a heavily armored Sentry, mowing foes down with a machine gun so powerful it needs special cooling. Finally become a bane of tanks and other armored vehicles, the Tank Hunter, equipped with the 1918 Tankgewehr, an armorpiercing tank killer, capable of disabling turrets, tank tracks and anything in-between.

Historic battles

Battlefield 1 provides the player with an opportunity to join six countries split between two sides in their struggle for victory in the theatres of the First World War. Fighting for the Allied Powers are the United States, the United Kingdom, and Italy. Their designated enemies are the Central Powers, represented by Germany, Austria-Hungary, and Ottoman Empire. Fights will take the players to the deserts, mountains and coasts where history was written and future was shaped.


Stepping into the boots of their soldiers, players will engage in battles of up to 64 players supported by Conquest, Battlefield 1's main game mode. Fighting over key objectives, Conquest is the essence of what Battlefield has always stood for. The prolonged engagement and intense experience of fighting to hold a front will be reflected in the Operations mode, introducing interconnected battles, throwing players into a sequence of maps, where one scenario's defeated may regroup and become the next one's victors.


For those who fancy things to be up close and personal, there is the Domination mode, focusing on tight maps perfect for infantry combat. No better mode to affix bayonettes and go searching for enemies. Finally there is the Rush, a timed battle mode where two sides fight over telegraph posts needed to call in an artillery strike. How many posts will remain when the time runs out, and whose will be the victory? Whichever map and mode you end up playing, Battlefield 1 battles will create stories worth sharing.

Physics at your beck and call

Battles are won by men, but fought in an enviroment. Battlefield 1 makes sure no player ever forgets about it. Dynamic terraforming, fully destructible buildings and plenty of explosives to play with provide a new meaning to the phrase 'level the playing field'. Take cover in a crater left after a missed grenade throw and rain bullter from a natural gun encampment. Throw a greande at a building some Scouts have holed up in and see the world around them crumble to a cloud of dust and hard bricks. Crash a Behemoth vehicle into a enemy-occupied village and devastate them in one fell swoop. The land serves those who deserve it, but grenades make great arguments. Level the playing field, or level everything around you to the ground. Whatever you choose, the physics engine is your's to exploit.

Engines of destruction

The massive Behemoths, true engines of war will be available for players to control and overwhelm enemies. From a massive Zeppelin airship making airplanes look like flies, an armored train plowing through anything in and along its path, or a battleship ruling the seas like Leviathan of legends old. Whether in Conquest or Operations, Behemoths will be there to reshape the fates of battles.

Diverse Single-Player campaign

Players, who want to enjoy a respite from the hectic Multiplayer battles will find a Singleplayer campaign with missions shifting focus from place to place and from hero to hero to show as much of the Great War as possible. With objectives achievable in different ways in a sandbox experience, the singleplayer campaign will be a great entry point for newcomers, providing a reasonable learning curve for the game's mechanics and flow.

Battlefield 1 is the choice for fans of the period and tactical, multiplayer shooter experience alike.

الحد الأدنى من المتطلبات

المتطلبات المقترحة

متطلبات النظام:

64-bit Windows 7, Windows 8.1 and Windows 10

المعالج:

AMD FX-6350 / Intel Core i5 6600K

الذاكرة:

8 GB RAM

الجرافيك :

2 GB VRAM - AMD Radeon HD 7850 / NVIDIA GeForce GTX 660

HDD:

50 GB HD

آخر:

Internet

متطلبات النظام:

64-bit Windows 10

المعالج:

Intel Core i7 4790

الذاكرة:

16 GB RAM

الجرافيك :

AMD Radeon RX 480 4GB / NVIDIA GeForce GTX 1060 3GB

HDD:

50 GB HD

آخر:

Internet

العمر وتصنيف المحتوى