Blitzkrieg 3 Standard Edition EARLY ACCESS STEAM CD-KEY GLOBAL
Available from marketplace sellers
There are %d people looking at this product.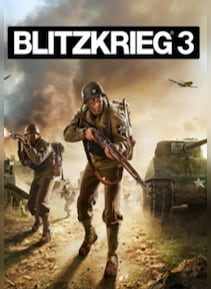 Language available:

Region:

GLOBAL

Platform:
Buy product from these sellers:
How does G2A Goldmine work?
Tell your friends about G2A's Goldmine – build a team and boost your earnings!

2

Watch your profit grow!

Just sit back and relax as your work brings profit now! Use the tips and tools we made for you to maximize the earning potential.

A job well done deserves a proper credit. And still, you have not been working hard to achieve it right? Choose your preferred payment option and receive the paycheck!
Product Description

Blitzkrieg 3 is an online real time strategy game, where tactical multiplayer combat, player's base developement and historical battles merge with each other to create a unique gameplay experience.Choose your side in the largest conflict in the history of mankind, taking part in combat operations and fighting with real players from all over the world!

Blitzkrieg 3 is a game designed to breath new life into the RTS genre, the main feature of which is a unique asynchronous multiplayer mode. It allows players to fight each other without the requirement to be online at the same time. When attacked the defensive installations, once built by the player, will then fall under the control of the game AI while they are offline.

So while you are away going about your daily life, the enemy will fall in front of your mighty fortress, losing their troops and providing you with valuable resources to enable you to improve your base, or purchase new units for future missions.

Key features

Standard edition content:

Multiplayer game mode, allowing you to fight with real players from all over the world

Epic single-player campaign, covering the entirety of World War II – from the German invasion of Poland in 1939 to the capture of Berlin by Soviet troops in 1945.

GAME FEATURES

Asynchronous Multiplayer Mode - For the first time ever, PvP in an RTS does not require multiple hours spent in front of a PC monitor on a single battle coupled with long waits looking for an online opponent. Thanks to the asynchronous PvP mode, you can attack enemy bases while your opponents are at work or at school. Are you capable of breaking the defenses created by your opponent and defeating their troops? Are you ready for the ultimate battle of minds!
Pay once - play forever - You pay for the game, and you got all the content - with no subscription, and no microtransactions.
Two different game modes - Choose your attacking units, lead your troops in to battle, crush the enemy's defenses and capture his resources - apply your battlefield strategies to ensure victory. But can you also avoid defeat at the hands of your enemy's battlefield strategies on your own base? Build a strong defensive game plan worthy of a real military strategist!
Three playable factions to choose from - Fight as either the Allies, USSR or Axis with over 40 different units available to you with your Base upgrade.
Re-arming and upgrading units - Your units don't just fight, they also gain combat experience from each battle they are in. And with that experience they will improve their characteristics, enabling them to be re-armed with more powerful weaponry. In addition, there are further upgrades available in the Science Center.
In-game Generals - Every army needs a commander, including yours, so choose carefully! The Generals feature provides players with dozens of commanders to choose from, each with their own unique abilities. For example – some make tanks more powerful in battle, others allow you to capture additional resources, while some generals are especially proficient with infantry operations. Each General garners their own experience for successful operations, upgrading their abilities and becoming more skilled. This filters down to the offensive and defensive units under their command which in turn also become more powerful.
Historical Campaign (1939-1945) - The historical singleplayer campaign will cover the entirety of World War II, begining with the German invasion of Poland in 1939 and culminating with the victorious march to Berlin by Soviet troops in 1945. During the campaign players will be able to take part as all three factions, experiencing some of the most intersting tactical operations of World War II. The best strategists will receive additional rewards for optimum operation completion.
One single game world - You live in the USA and you want to play against an opponent from Germany? No problem, you can still capture his base. In Blitzkrieg 3, players from all over the world play on one game server, in one gaming domain, without any barriers or restrictions.

Minimal requirements

Recommended requirements

System Requirements:

WindowsXP (Service Pack 3) /7/8

Processor:

Intel Core 2 Duo 2,66 Ghz or AMD Phenom X3 2,4 Ghz

Memory:

2 GB

Graphics:

Nvidia GeForce GT 240 / Radeon HD 6570

HDD:

7 GB

Platform:

PC

System Requirements:

Windows 7

Processor:

Intel Core i7

Memory:

4 GB

Graphics:

NVIDIA GeForce GTX 780

HDD:

7 GB

Platform:

PC

Other

Steam

Steam - Game can be activated on Steam, enables you to play on official Steam servers and your game will be kept updated with the latest patches via the Steam platform.

Key Type

This product is available as a CD key carried out via digital means - no shipping fees apply.