Borderlands 2 GOTY Steam Key GLOBAL
العرض متوفر لدى بائعين
هناك %d زائر يقوم بمشاهدة هذا المنتج حالياً.
Warning: Borderlands 2 GOTY is region locked and CAN'T be activated and played in Germany.
Borderlands 2: Game of the Year Edition (PC) for Steam platform is a digital product – no box included. The price applies to a digital version of the product.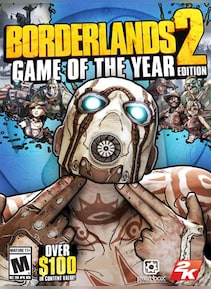 اللغات:

المنطقة:

GLOBAL

المنصة:
اكسب 1٫02 US$ إذا قام شخص بشراء هذا المنتج باستخدام reflink الرابط الخاص بك. إعرف المزيد
قم بالشراء من هذا البائع:
السعر
التصميم الخارجي
المستخدم
كيف يعمل G2A Goldmine؟
أخبر أصدقاءك عن منجم ذهب G2A - كون فريق وضاعف أرباحك!

إجلس واسترخي و شاهد ارباحك تنمو! إستخدم النصائح والأدوات التي وفرناها لك لتحقيق أرباح أكبر .

العمل الرائع يستحق المكافأة. ولكن مازلت لم تبذل الجهد الكافي في هذا العمل؟ إختر خيار الدفع المفضل لديك وأحصل على راتب!
وصف المنتج

It has guns. It has wit. It has delusional robots... what? Borderlands 2: Game of the Year Edition is the best way to experience Gearbox's wacky space adventure in a land with procedurally generated guns. Pick a class, grab a gun and go fight the Hyperion Corporation.

Borderlands 2

takes fun gunplay to a new level.

Randomly generated arsenal

Aren't you tired of games that have a finite collection of guns and after you see them all there is nothing waiting for you? Borderlands 2 (PC) sneers at them! Almost every gun you find is generated on the spot when you grab it, and they don't play by the rules. Fire rate, clip size, projectiles per shot, they are all loyal servants to RNGod. And that's not even taking into consideration elemental affinities and whatever makes these fancy shields work. Endless supply of new, unique weapons, grenades, shields, mods will keep you playing and crunching these numbers like the bones of your enemies.

Excellent, humorous writing

Among all the shooters taking themselves way to seriously, Borderlands 2 isn't afraid to look silly, talk funny, and make you burst out with laughter.Overhear enemy conversations, or talk to NPCs to hear their stories. Participate in side quests you'd never find in "serious" shooters. Tea parties, odd headhunting and more are just a sliver of excitement and amusement awaiting you in this game. Do yourself a favor and take a deep dive into Pandora's pool of silliness.

Something for every playstyle

Never a dull moment on Pandora, and the classes you get to play with can handle it just fine. The Commando can deploy a portable turret for extra firepower and companionship. The Siren can capture her foes in a floating stasis field, because singing is too oldschool. If duel wielding any (ANY) gun is more appealing to you, the Gunzerker has just the thing to make you happy. There's even something for the Stealth fans: the Assassin, able to drop holographic decoys and turn invisible.And since this is GotY Edition, you get two additional characters for being awesome: the Mechromancer can summon a murderous robot, while the Psycho has an axe with a working sawblade attached.

Unique visuals

Borderlands 2 GOTY keeps the stylish look of its predecessor and makes it look even better. More details, better designs, and fun all around. Varied environments, and each of them shows the sense of humor with general writing, if you're perceptive enough.And the guns, oh, the guns. They look better and more ridiculous than ever, and this is how the game likes it. Textures, skins and unique... touches. Borderlands 2 looks great and knows it.

الميزات الأساسية

Fairly insane adventure, absurd guns, stylish visuals, and endless loot. All of that and more awaits you in Borderlands 2: Game of the Year Edition. This is an all-inclusive trip to Pandora. Meet new people, discover new forms of life and kill them for your personal glory and loot!

Borderlands 2: Game of the year Edition features:

Handsome Jack - if you need a villain, why settle for a growling monster, if you could have a verbose and dapper fellow?
Sweet, sweet loot - procedurally generated guns, shields, and mods of all sorts will have you always searching for something new
Interesting classes - Borderlands 2 gameplay wouldn't have the same vibe without its creative, fun classes to play with
Excellent co-op - why would you go solo? Bring a friend or three and show Handsome Jack where he can put his robots
Sense of humor - being serious is overrated. Dry wit, silly jokes, and situational humor make for much more enjoyable game
Game of the Year edition - nearly all DLC in one place for a fraction of a cost. How can anyone pass that up?

الحد الأدنى من المتطلبات

المتطلبات المقترحة

متطلبات النظام:

Windows XP SP3

المعالج:

2.4 GHz - Celeron E1600 Dual-Core / Athlon 64 X2 Dual Core 4600+

الذاكرة:

2 GB RAM

الجرافيك :

512 MB VRAM - GeForce 8500 GT / Radeon HD 2600 XT

HDD:

13 GB HD

متطلبات النظام:

Windows 7

المعالج:

2.13 GHz - Core 2 Quad Q6400 / Athlon II X3 440

الذاكرة:

2 GB RAM

الجرافيك :

1024 MB VRAM - GeForce GTX 560 / Radeon HD 5850

HDD:

20 GB HD

العمر وتصنيف المحتوى
Frequently bought with this item