Call of Duty: Black Ops III Steam Key GLOBAL
Available from marketplace sellers
There are %d people looking at this product.
Warning! CoD:BO3 is region-locked and CAN'T be activated in the following countries: Japan, United Arab Emirates, Saudi Arabia, Qatar, Kuwait, Bahrain, Oman, Iraq, Syrian Arab Republic, Yemen, Egypt, Lebanon.
Call of Duty: Black Ops 3 for Steam platform is a digital product- no box included. The price applies to a digital version of the product.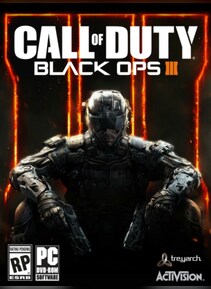 Language available:

Region:

GLOBAL

Platform:
Earn $16.49 if somebody buys this product using your Goldmine reflink. Find out more
Buy product from these sellers:
How does G2A Goldmine work?
Tell your friends about G2A's Goldmine – build a team and boost your earnings!

2

Watch your profit grow!

Just sit back and relax as your work brings profit now! Use the tips and tools we made for you to maximize the earning potential.

A job well done deserves a proper credit. And still, you have not been working hard to achieve it right? Choose your preferred payment option and receive the paycheck!
Product Description

Call of Duty: Black Ops 3 is the third entry into the Treyarch-developed Black Ops series within the bestselling first-person shooter franchise. Journey to the future of year 2065, full 40 years after the events presented in Black Ops II. Enter the world of cybernetic enhancements, catastrophic climate change, and unstable international relations.Call of Duty Black Ops III is a stunning spectacle fully using the benefits of its setting and available technology.

Cyber-soldier

Black Ops 3 wastes no time giving you access to the greatest toolbox any Call of Duty up to that point has given its players. Cybernetic enhancements given to your character allow him (or her, your choice) to control the battlefield in ways previously unseen in the franchise.Enhanced strength, disruption of enemy forces, powerful charge and more wait for you in three distinct upgrade branches: Martial, Control, and Chaos.Take control of enemy drones, let loose a deadly swarm of nanobots, or just punch your way through a robotic chest. Either is possible with your character's new body.

Zombies noir

Enter the episodic co-op horde mode experience as a quartet of characters with troubled pasts and unclear futures. Up to four players can team up, using gradually improving loadouts to combat the seemingly endless hordes of decaying undead.An unlikely crew of a magician, boxer, cop, and a burlesque dancer takes on a threat to a fictional Morg City. Voiced by Jeff Goldblum and Ron Perlman respectively, the boxer and the magician are certain to be joy both to play and to listen to.So gather several friends and discover the mysteries that put the unlikely four in the same spot in just the right time.

Fresh multiplayer

The Pick 10 system comes back from previous Black Ops, but this time is boosted by 9 very different specialist classes. Each comes with a unique weapon and ability. Create deeply personalized loadouts with Pick 10 and spice them up by choosing a weapon or power of the Specialist.You decide what your class is going to be like, not the game.

Enhanced mobility

Both in singleplayer and the multiplayer you can enjoy vastly enhanced mobility thanks to cybernetic enhancements and backpack-sized thruster packs allowing you to perform double jumps and wall-runs.With this agility you can now surprise your enemies with attacks from any direction, as well as get out of fights easily. Jump, run, and slide your way to victory without ever losing control of your weapons. Take on your enemies in a three-dimensional space on excellently crafted maps.

Key features

CoD: BO3 is an intense first-person shooter set in 2065. With a toybox full of cybernetic enhancements and enemies drawn from both humans and robots, Black Ops 3 stands out from other games in the series with its futuristic trappings.

Call of Duty: Black Ops 3 features

Zombies - the zombie-fighting horde mode of Black Ops 3 is a stylish and entertaining journey to the 1940s, made better by performances from Ron Perlman and Jeff Goldblum
Visual spectacle - Black Ops 3 is full of spectacular vistas and dynamic set-piece events that are a joy to behold
Cybernetic abilities - your character can perform incredible feats of strength and agility, as well as utilize every advantage science-fiction engineering can bring to infantry combat
Thruster packs and wall-running - Call of Duty Black Ops 3 expand the movesets of your characters, allowing them to move in a 3D space with graceful lethality

Requirements

System Requirements:

Windows 7 / Windows 8 / Windows 8.1

Processor:

Intel Core i3-530 2.93 GHz / AMD Phenom II X4 810 2.60 GHz

Memory:

6 GB RAM

Graphics:

1 GB VRAM - NVIDIA GeForce GTX 470 / ATI Radeon HD 6970

Other:

64-Bit OS

Age and content rating
Frequently bought with this item