Call of Duty: Infinite Warfare Steam Key NORTH AMERICA
Disponibile da venditori sul marketplace
Ci sono %d persone stanno guardando questo prodotto.
WARNING! This product is region locked and CAN be activated only in following countries: Canada, United States.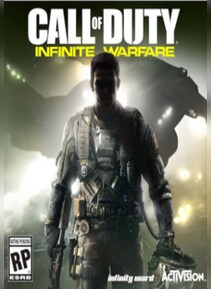 Lingue disponibili:

Regione:

NORTH AMERICA

Piattaforma:
Acquista il prodotto da questi venditori:
Come funziona G2A Goldmine?
Parla ai tuoi amici di G2A Goldmine – costruisci una squadra e aumenta i tuoi guadagni!

2

Guarda il tuo profitto crescere!

Rilassati mentre il tuo lavoro porta il profitto!

Un lavoro ben fatto merita credito. Scegli il tuo metodo di pagamento preferito e ricevi i soldi!
Descrizione prodotto

Infinity Ward returns to the helm in Call of Duty: Infinite Warfare. Set in the distant future when humanity has become a space-faring species, capable on interplanetary travel and creating reliable AI.
Infinite Warfare is the next step in the evolution of Activision's hit first-person shooter franchise. Freeform space combat, revamped class mechanics, stunning visuals and solid campaign, the new Call of Duty has all the markings of an engaging, energetic science-fiction action game.

Futuristic setting

Call of Duty: Infinite Warfare moves the technologically advanced setting known from Advanced Warfare further along. Now set in a distant future, Infinite Warfare takes full advantage of this opportunity.
You will take command of a massive military spacecraft serving as the hub location, pilot a customizable jet-fighter through space battles, use energy weapons and wear advanced battlesuits granting you unique abilities. There is even an robotic companion featuring fully functioning and stable AI. Infinite Warfare gameplay is a complete package for any enthusiast of first-person shooters and science-fiction.

Gripping single-player campaign

The main character of Call of Duty: Infinite Warfare is Nick Reyes, formerly a Lieutenant of SCAR (Special Combat Air Recon), now a field-promoted Captain of military carrier Retribution and, by extension, the troops stationed aboard it. As some of the last defenses of Earth, they will fight against the forces of fanatical Settlement Defense Front. SetDef is led by Salen Koch, voice-acted by Kit Harrington of the Game of Thrones fame.
The story will be divided into core story missions progressing the plot and numerous optional side missions fleshing out the setting and letting the players visit more locations. The missions will take place across various planets and even asteroids of the Solar System.

Improved class-based gameplay

Multiplayer classes are based on Combat Rigs. Each rig is a specialized cybernetic suit granting the wearer's powerful abilities as well as weapons and tactics unique to each rig. There are six Rigs available in Infinite Warfare, suited to serve different purposes on the battlefield.



Warfighter - the mid-range, assault class, perfect for players who love being on the offensive


FTL - incredibly fast combat rig, suited for players enjoying run-and-gun playstyle and close encounters


Merc - the heavy weapons specialist, slower, but with powerful damage output to make up for it


Phantom - the sniper class, excellent for stealth and long-range combat


Stryker - equipped for team-support and enemy suppression


Synaptic - a remotely operated drone equipped with SMGs and prepared for close quarters combat



For further customization all Combat Rigs can pick one each from 3 available Payloads and 3 Traits unique to each Rig.

Caratteristiche principali

Call of Duty: Infinite Warfare is the latest and the most futuristic instalment of the venerable series to date. The gameplay and story fully embrace the science-fiction setting, taking the players to experience an intense space warfare on foot, in zero gravity, and in free-form dogfights between spacecraft of all sizes.



Pre order - Pre-ordering Call of Duty: Infinite Warfare gives you access to the reimagined Terminal Bonus Map and in-game items for the Zombies in Spaceland game mode


Cybernetic Combat Rigs - choose your class from six available options and see what special abilities its Rig offers


Customizable jet-fighter - single story campaign gives you access to a space-ready Jackal craft, progressing with you through the story


Futuristic weapons - from advanced ballistic weapons to energy weaponry, some with several in-built functionalities you can switch on the fly


New Scorestreaks - Call of Duty: Infinite Warfare brings new Scorestreaks rewarding players for taking actions like killing enemies or assisting team members.


Mission Teams - Multiplayer gameplay is diversified by Mission Teams offering special gear and cosmetic items for completing special objective



Requisiti

Sistema operativo:

Windows 7 64Bit

Processore:

Intel Core i3-3225 3.30GHz

Memoria:

8 GB

Grafica:

NVIDIA GeForce GTX 660 2GB / AMD Radeon HD 7850 2GB

HDD:

70 GB