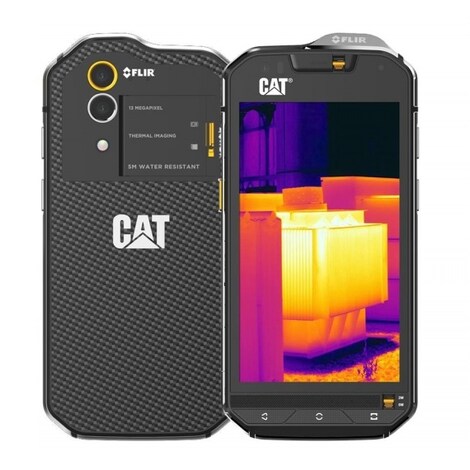 1/1
Caterpillar CAT S60 Dual Sim Czarny
Caterpillar S60 Dual SIM Czarny Ekran: 4,7" Snapdragon 617 (4 rdzenie, 1.5 GHz + 4 rdzenie, 1.2 GHz) Pamięć wewnętrzna: 32GB Pamięć RAM: 3GB System: Android 6.0 Marshmallow Aparat: 5.0 Mpix - przód, 13.0 Mp ...
You must be logged in to add products to your wishlist.
Specifications
Specifications
Connectivity:

4G

Contract:

Without Contract

Lock Status:

Factory Unlocked
Product description
Caterpillar S60 Dual SIM Czarny

Ekran: 4,7"

Snapdragon 617 (4 rdzenie, 1.5 GHz + 4 rdzenie, 1.2 GHz)

Pamięć wewnętrzna: 32GB

Pamięć RAM: 3GB

System: Android 6.0 Marshmallow

Aparat: 5.0 Mpix - przód, 13.0 Mpix - tył

Bateria: Litowo-jonowa 3800mAh
Rewolucja wśród smartfonów
Zobacz świat z zupełnie nowej perspektywy z rewolucyjnym smartfonem CAT S60. Połączenie klasycznej wzmocnionej konstrukcji urządzeń CAT z innowacyjnymi rozwiązaniami technologicznymi sprawia, że osiągniesz jeszcze więcej.
Punkt zwrotny w fotografii smartfonem
Zrewolucjonizuj swój sposób interakcji ze światem, dzięki sile promieniowania cieplnego. Zobacz swoje otoczenie w kolorach temperatury dzięki pierwszej kamerze w smartfonie, rejestrującej promieniowanie termiczne. Dzięki zastosowaniu takiego rozwiązania z łatwością sprawdzisz w czasie rzeczywistym wydajność maszyn, uszkodzenia elektroniki, czy jakość izolacji. Co więcej kamera rejestrująca ciepło, pozwoli ci również sprawdzić temperaturę grilla lub pomoże wybrać najświeższe pieczywo w sklepie – możliwości są nieskończone.
Zobacz świat inaczej
Smartfon CAT S60 wyposażony został w MSX technologie, dzięki której urządzenie robi czyste termofotografie, timelapse a nawet filmy. Z łatwością sprawdzisz temperaturę otoczenia w wielu oznaczonych punktach nawet przez przeszkody takie jak dym.
Jak ryba w wodzie
CAT S60 jest smartfonem zdolnym wytrzymać zanurzenie nawet do 5m przez godzinę. Przełączenie "Lockdown Switch" usytuowanego w górnej części urządzenia, uszczelnia smartfon czyniąc go najbardziej wodoszczelnym smartfonem CAT. S60 został zaprojektowany by być odporny nie tylko na zanurzenie ale również by działać w warunkach dużego ryzyka zachlapania. Ekran S60 wyposażono w technologie śledzenia dotyku nawet mokrymi palcami. Przypadkowe zachlapanie czy ostra ulewa nie są mu straszne.
Zachowaj spokój nawet w trudnych sytuacjach
Smartfon CAT S60 zaprojektowany został dla osób, które prowadzą bezkompromisowy tryb życia. Gdy każdy dzień jest wyzwaniem liczy się najwyższa odporność urządzenia. Innowacyjna technologia i wytrzymałość z której znane są urządzenia CAT sprawiają że to najlepsi kompani w najcięższych warunkach. Odporność na pył, kurz, wstrząsy – te smartfony są stworzone do warunków w których każdy inny by się poddał. Ultra-jasny ekran chroniony przez szkło Corning Gorilla Glass, oraz odporna i szczelna konstrukcja sprawia że S60 w pełni zasłużył na najwyższy certyfikat odporności IP68.
Niesamowita wydajność
CAT S60 to nie tylko wytrzymały smartfon, ale także niesamowicie wydajne parametry. Ośmiordzeniowy procesor Qualcomm Snapdragon 617 wspierany jest aż 3GB pamieci RAM co sprawia że S60 nada się nie tylko do pracy ale i będzie stanowił doskonałe źródło rozrywki. Smartfon wyposazono w modem 4G (LTE) obsługe Dual SIM oraz moduł NFC.
Procesor

Qualcomm Snapdragon 617 (4 rdzenie, 1.50 GHz + 4 rdzenie, 1.2 GHz)

Układ graficzny

Adreno 405

Pamięć RAM

3 GB

Pamięć wbudowana

32 GB

Typ ekranu

IPS

Przekątna ekranu

4,7"

Rozdzielczość ekranu

1280 x 720

Łączność

Bluetooth

Wi-Fi

LTE

System nawigacji satelitarnej
Złącza

Gniazdo kart nanoSIM - 2 szt.

Czytnik kart pamięci - 1 szt.

Wyjście słuchawkowe/głośnikowe - 1 szt.

Micro USB - 1 szt.

Bateria

Litowo-jonowa 3800 mAh

Zainstalowany system operacyjny

Android 6.0 Marshmallow

Aparat

13.0 Mpix - tył

5.0 Mpix - przód
160 x 120 pikseli - kamera termowizyjna

Lampa błyskowa

Wbudowana

Rozdzielczość nagrywania wideo

1920 x 1080 (FullHD)

Grubość

12,7 mm

Szerokość

73,3 mm

Wysokość

148 mm

Waga

223 g

Kolor

Czarny

Dodatkowe informacje

Obsługa Dual SIM
Szkło Corning Gorilla Glass 4

Pyłoszczelność i wodoszczelność (IP68)

Odporność na wstrząsy i upadki

Akcelerometr

Czujnik zbliżenia

Obsługa radia FM

Kamera termowizyjna

Dołączone akcesoria

Kabel USB

Ładowarka sieciowa

Gwarancja

24 miesiące (gwarancja producenta)