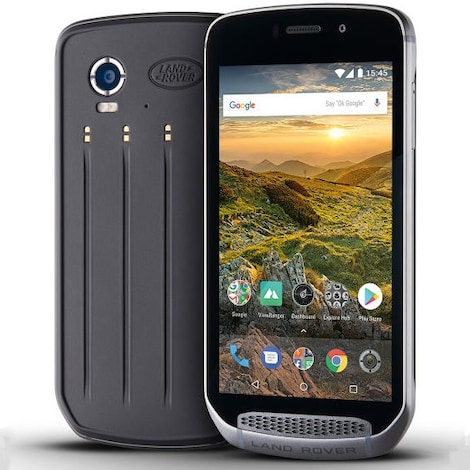 1/1
Caterpillar Land Rover Explorer Dual Sim Szary
CAT Land Rover Explorer Szary Ekran: 5,0" MediaTek Helio X27 (10 rdzeni, do 2.0 GHz) Pamięć wewnętrzna: 64GB Pamięć RAM: 4GB System: Android 7.0 Nougat Aparat: 8.0 Mpix - przód, 16.0 Mpix - tył Bateria: Li ...
You must be logged in to add products to your wishlist.
Specifications
Specifications
Connectivity:

4G

Contract:

Without Contract

Lock Status:

Factory Unlocked
Product description
CAT Land Rover Explorer Szary

Ekran: 5,0"

MediaTek Helio X27 (10 rdzeni, do 2.0 GHz)

Pamięć wewnętrzna: 64GB

Pamięć RAM: 4GB

System: Android 7.0 Nougat

Aparat: 8.0 Mpix - przód, 16.0 Mpix - tył

Bateria: Litowo-jonowa 4000mAh
Pozostań na dobrej drodze
Uzyskaj dostęp do map topograficznych wykorzystujących technologię rozszerzonej rzeczywistości Skyline, dzięki zaufanej aplikacji ViewRanger, która idealnie współpracuje z telefonem. Znajdź nowe trasy, szlaki i ścieżki, sprawdź na mapie terenowej z jakimi wyzwaniami będzie trzeba się zmierzyć i wyrusz na wycieczkę. Pakiet zawiera dodatkową antenę ceramiczną GPS, taką samą, jaką znajdziesz w wiodących, dedykowanych urządzeniach GPS, więc możesz bez problemu sprawdzić, gdzie się znajdujesz. Łatwo i szybko zmienisz codziennego smartfona w dedykowane urządzenie z funkcją map. Smartfon Explore pomoże Ci pozostać na szlaku lub z niego zboczyć - w zależności od preferencji.
Aparat
Uwiecznisz swoje dokonania i podzielisz się nimi, dzięki aparatowi 16MP i umieszczonemu z przodu aparatowi 8MP. Oba aparaty są wodoodporne, a ekranu ze szkłem Gorilla® możesz używać, nawet gdy jest mokry lub gdy jesteś w rękawiczkach. Zrobisz zatem zdjęcia niezależnie od pogody. Skorzystaj z funkcji Dual SIM, aby rozbudować możliwości łączności. Podłączając się do dwóch sieci masz większe szanse na uzyskanie silnego sygnału, nawet w najbardziej odległych zakątkach, aby dzielić się swoimi doświadczeniami.
Wzornictwo
Jeżeli szukasz wytrzymałego telefonu o stylowym wyglądzie, to model Explore jest w sam raz dla Ciebie.
Zaprojektowany przy bliskiej współpracy z firmą Land Rover, smartfon przejął elementy wzornictwa od niezwykle wszechstronnego samochodu Land rover Discovery. Inspiracją były takie elementy, jak charakterystyczny kształt osłony chłodnicy, układ lamp przednich, a nawet przypominający nakrętki kształt wewnętrznych pokręteł. Wszystkie te elementy w elegancki sposób odzwierciedlają esencję i spójność marki Land Rover. To wytrzymały smartfon o stylowym wzornictwie, który doskonale działa zarówno w biurze, jak i w terenie.
Procesor

MediaTek Helio X27 (10 rdzeni, do 2.00 GHz)

Układ graficzny

Mali T880

Pamięć RAM

4 GB

Pamięć wbudowana

64 GB

Typ ekranu

IPS

Przekątna ekranu

5,0"

Rozdzielczość ekranu

1920 x 1080

Łączność

Bluetooth

Wi-Fi

LTE
NFC

System nawigacji satelitarnej
Złącza

Gniazdo kart nanoSIM - 2 szt.

Czytnik kart pamięci - 1 szt.

Wyjście słuchawkowe/głośnikowe - 1 szt.

USB Typ C - 1 szt.

Bateria

Litowo-jonowa 4000 mAh

Zainstalowany system operacyjny

Android 7.0 Nougat

Aparat

16.0 Mpix - tył

8.0 Mpix - przód

Lampa błyskowa

Wbudowana

Rozdzielczość nagrywania wideo

1920 x 1080 (FullHD)

Grubość

14 mm

Szerokość

75,3 mm

Wysokość

152 mm

Waga

232 g

Kolor

Szary

Dodatkowe informacje

Obsługa Dual SIM

Akcelerometr

Czujnik zbliżenia

Dołączone akcesoria

Kabel USB

Ładowarka sieciowa

Gwarancja

24 miesiące (gwarancja producenta)