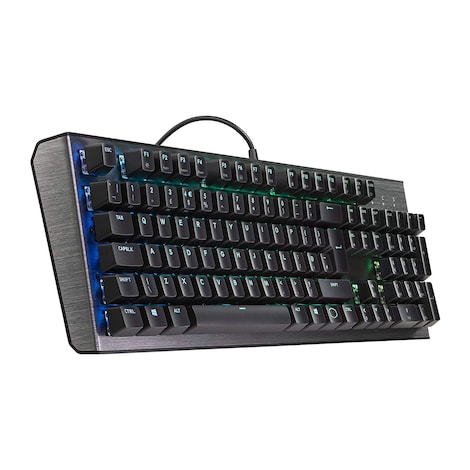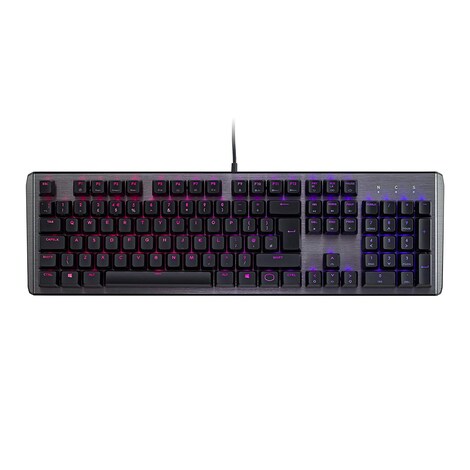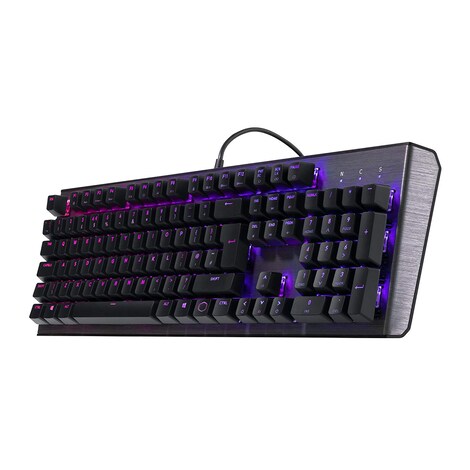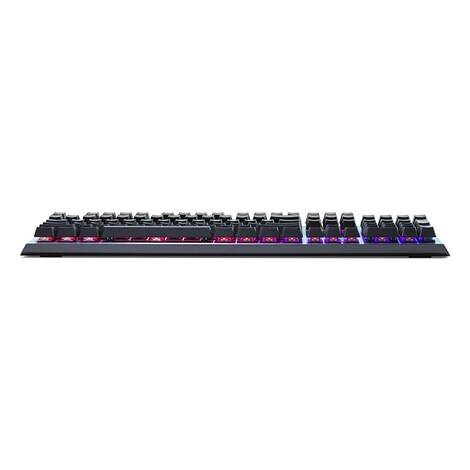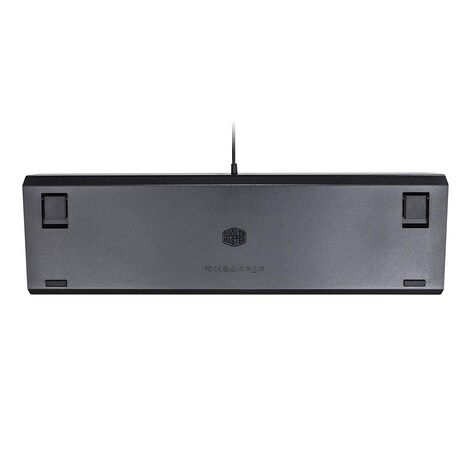 1/5
Cooler Master CK550 Gateron Blue Switch RGB LED Mechanical Gaming Keyboard
With solid, mechanical switches, programmable RGB and on-the-fly controls of lighting and macros, the CK550 is a piece of hardware that perfectly blends old-school and modern aesthetics.
Specifications
Specifications
Keyboards/Keypads/Mice Features:

Illuminated, Mechanical

Keyboards Types:

Keyboard, Numeric Keypad, Gaming, Mechanical, Standard

Connectivity:

USB 2.0, Wired

Material:

Metal, Plastic

Electronic Brands:

Cooler Master

Device:

PC/PS4

Appropriate For:

Gaming
Product description
CoolerMaster, a leading brand in computer and gaming hardware, introduces CK550, the mechanical keyboard for gamers. Years of experience in creating the highest quality devices taught CoolerMaster that the best is the enemy of good. On the market inundated with keyboards offering quaint design and a slew of features, making a barebones product, with only the most vital features was a leap of faith. In the case of CK550, it paid off. The keyboard received critical acclaim for its "back-to-the-roots" design, which doesn't detract from the gaming experience.
A familiar design
Unlike many keyboards available on today's market, CoolerMaster's mechanical CK550 was created with practicality in mind. A true blast from the past, when all keyboards came in similar shapes and sizes, it features a simple rectangular design. The shape will immediately touch the soft spot of those gamers who long for "the good ol' days", when utility and practicality were more important than aerodynamics and onboard cup holders. CK550 does the job of striking the sentimental note perfectly and will surely become very popular among the old-school players.
Switches made to last
We've talked design, now let's take a look at what makes the CoolerMaster's key's go "clack". Going against the current of most companies which use Cherry MX switches, CK550 employs the Gateron mechanical switches. What's the difference? At first glance, the players will find no noticeable changes in performance. But with continued play, the Gateron switches show their true power. Made to withstand up to 50 million strokes, the mechanical switches on the CoolerMaster's keyboard will serve the player well through many, many online sessions.
No-software customization
Many keyboards nowadays offer all sorts of customization options. Most of them require the user to operate some kind of software. CoolerMaster's CK550 makes it entirely optional. A true old school keyboard relies only on one thing – the person who uses it. With a few keystrokes, the player can adjust anything, from the programming of RGB lighting to setting up macros for easy use. No software, no applications – just the man and the machine. For more in-depth customization, the keyboard relies on the CoolerMaster's Portal software.
Programmable RGB lighting
While it is decidedly standard and old-school, CoolerMaster's keyboard does feature some popular functions. RGB backlight programming is one of them. Using the Portal software, the user can adjust the light display of their hardware by assigning several types of effects to the keys. With 16.2 billion color palettes, the player can turn the surface under their fingers into a canvas for ripples, waves and more. A fantastically colorful light show will surely be the high point of your gameplay sessions.
Specs
CoolerMaster CK550 is a mechanical RGB keyboard. The gunmetal-colored, plastic and aluminum-made keyboard features is 46. Cm long, 13.5 cm wide and the 41 mm high. It weighs 850 g. CK550 features RGB lighting, programmable with Portal software. On-the-fly controls allow adjusting the RGB, as well as the macros and multimedia. Other features include 512kb on-board memory, a polling rate of 1000hz, and 32bit ARM Cortex M3 MCU. The keyboard is equipped with fixed 1.8m USB 2.0 cable.
Reception
CoolerMaster CK550 received positive reviews from the critics who praised the old-school design of the keyboard as well as its palatable price. Among other things, the reviewers noted the Gateron switches as an improvement over other mechanical keyboards. Overall, the CK550 was considered an excellent choice for gamers interested in functionality-oriented hardware.
Key features
Old-school hardware made for the needs of modern gamers
Standard design filled with all the functions of a state-of-the-art keyboard
Gateron mechanical switches make the gameplay even more precise
Programmable RGB backlight turns boring sessions into a brilliant light show
On-the-fly controls allow quick customization of lighting effects and macros 
Cooler Master CK550 specification
| | |
| --- | --- |
| Type | Gaming Keyboard |
| Model | CK550 |
| Switch Type | Gateron |
| Material | Plastic / Aluminum |
| Color | Gunmetal Black |
| LED Color | RGB |
| Polling Rate | 1000 Hz |
| Response Rate | 1ms / 1000Hz |
| MCU | 32bit ARM Cortex M3 |
| On board Memory | 512KB |
| On-the-fly system | Yes, for Multi-media, Macro Recording and Lighting Control |
| Multi-media Keys | Through FN |
| Cable | Fixed Rubberized 1.8m |
| Software Support | Yes, through Portal |
| Connector Cable | USB 2.0 |
| Cable Length | 1.8m |
| Dimensions | 460*135*41 mm (L*W*H) |
| Product Weight (without cable) | 850 g |
Item type: Brand new
Warranty: 24 months
Earn every time someone buys this product using your reflink.