Counter-Strike: Global Offensive RANDOM SKIN by SKINODDS.COM Key
Beschikbaar van marktplaats verkopers
Er kijken %d anderen naar dit product.
How to activate and receive your skin:
Copy the code that you've received from G2A after purchase.
Visit https://skinodds.com/ website and log in with your Steam account
Go to the Settings page to update your Steam Trade URL
Redeem this code on https://skinodds.com/
You will receive a live update of your trade status. Instant delivery !
REMEMBER! Your inventory must be set to public and you must be eligible to trade. View the trade requirements HERE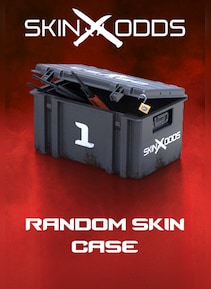 Koop product van deze verkopers:
GEBRUIKER
BUITENKANT
PRIJS
Hoe werkt G2A Goldmine?
Vertel je vrienden over G2A's Goldmine - bouw een team en verhoog je inkomsten!

2

Zie hoe je winst groeit!

Achterover leunen en kijken hoe je werk winst binnen haalt! Gebruik de tips en hulpmiddelen die we hebben gemaakt zodat je het meeste er uit kan halen.

Goed werk verdiend een beloning. En alsnog heb je er niet echt hard voor moeten werken, toch? Kies je betaalmethode en ontvang je loonstrookje!
Productbeschrijving

This product features a single copy of a CSGO Random Skin Case. By far the best randomized package on the market when it comes to drop chance. Minimum exterior quality is Field-Tested, nobody likes Battle-Scarred or Well-Worn skins, and neither do we! Amuse your friends with the new looks!

Random Skin Code for Counter Strike: Global Offensive powered by Skinodds is a digital product- no box delivery. The instruction how to redeem the product can be found at the top of this page.

Frequently bought with this item