Counter-Strike: Global Offensive RANDOM SKIN by SKINODDS.COM Key
Disponible auprès vendeurs sur le marketplace
Il y'a %d personnes qui regardent ce produit
How to activate and receive your skin:
Copy the code that you've received from G2A after purchase.
Visit https://skinodds.com/ website and log in with your Steam account
Go to the Settings page to update your Steam Trade URL
Redeem this code on https://skinodds.com/
You will receive a live update of your trade status. Instant delivery !
REMEMBER! Your inventory must be set to public and you must be eligible to trade. View the trade requirements HERE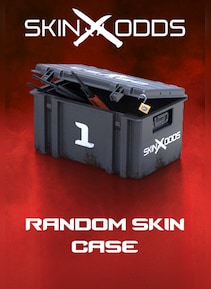 Buy product from these sellers:
Comment fonctionne G2A Goldmine ?
Parlez à vos amis de G2A Goldmine - former une équipe et augmenter vos revenus !

2

Regardez vos profits évoluer !

Il vous suffit de vous s'asseoir et vous détendre car votre travail apporte des profits dès maintenant ! Utilisez les conseils et les outils que nous avons donné pour vous permettre d'optimiser vos gains.

Un travail bien fait mérite un salaire approprié. Et encore, vous n'avez pas travaillé dur pour atteindre ce cap ca n'est-ce pas ? Choisissez votre mode de paiement préféré et recevez votre chèque !
Description du produit

This product features a single copy of a CSGO Random Skin Case. By far the best randomized package on the market when it comes to drop chance. Minimum exterior quality is Field-Tested, nobody likes Battle-Scarred or Well-Worn skins, and neither do we! Amuse your friends with the new looks!

Random Skin Code for Counter Strike: Global Offensive powered by Skinodds is a digital product- no box delivery. The instruction how to redeem the product can be found at the top of this page.

Frequently bought with this item