Counter-Strike: Global Offensive RANDOM SKIN by SKINODDS.COM Key
Available from marketplace sellers
There are %d people looking at this product.
How to activate and receive your skin:
Copy the code that you've received from G2A after purchase.
Visit https://skinodds.com/ website and log in with your Steam account
Go to the Settings page to update your Steam Trade URL
Redeem this code on https://skinodds.com/
You will receive a live update of your trade status. Instant delivery !
REMEMBER! Your inventory must be set to public and you must be eligible to trade. View the trade requirements HERE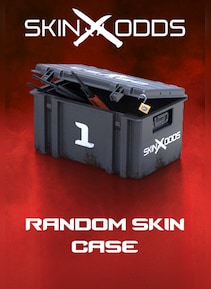 Buy product from these sellers:
Como é que a G2A Goldmine funciona?
Diz aos teus amigos sobre a G2A Goldmine - Contrói uma equipa e aumenta os teus ganhos!

2

Veja o seu lucro a crescer!

Sente-se e relaxe enquanto o seu trabalho lhe dá lucro! Use as dicas e ferramentas que fizemos para maximizar o potencial de ganhos.

Um trabalho bem feito merece um crédito apropriado. E ainda, você não tem trabalhado duro para alcançá-lo certo? Escolha a sua opção de pagamento preferida e receba o salário!
Descrição do Produto

This product features a single copy of a CSGO Random Skin Case. By far the best randomized package on the market when it comes to drop chance. Minimum exterior quality is Field-Tested, nobody likes Battle-Scarred or Well-Worn skins, and neither do we! Amuse your friends with the new looks!

Random Skin Code for Counter Strike: Global Offensive powered by Skinodds is a digital product- no box delivery. The instruction how to redeem the product can be found at the top of this page.

Frequently bought with this item