Counter-Strike: Global Offensive RANDOM SKIN by SKINODDS.COM Key
來自於個市集賣家可用
How to activate and receive your skin:
Copy the code that you've received from G2A after purchase.
Visit https://skinodds.com/ website and log in with your Steam account
Go to the Settings page to update your Steam Trade URL
Redeem this code on https://skinodds.com/
You will receive a live update of your trade status. Instant delivery !
REMEMBER! Your inventory must be set to public and you must be eligible to trade. View the trade requirements HERE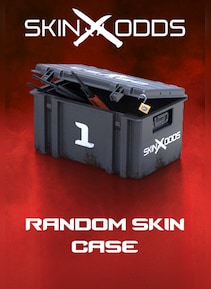 G2A金礦是如何運作的?
給您的朋友介紹一下G2A金礦——建立一個團隊并提高您的利潤!

由於您的工作為您帶來的利潤,現在可以往後一仰,放鬆一下了!使用我們為您製作的提示和工具,讓您的收入可能性最大化。

您出色的工作,值得恰當的獎勵!同時,您也並沒有很費力地得到它,不是嗎?選擇您首選的付款方式,來接收您的回報!
產品說明

This product features a single copy of a CSGO Random Skin Case. By far the best randomized package on the market when it comes to drop chance. Minimum exterior quality is Field-Tested, nobody likes Battle-Scarred or Well-Worn skins, and neither do we! Amuse your friends with the new looks!

Random Skin Code for Counter Strike: Global Offensive powered by Skinodds is a digital product- no box delivery. The instruction how to redeem the product can be found at the top of this page.

Frequently bought with this item