Counter-Strike: Global Offensive RANDOM SKIN by SKINODDS.COM Key
Available from marketplace sellers
There are %d people looking at this product.
How to activate and receive your skin:
Copy the code that you've received from G2A after purchase.
Visit https://skinodds.com/ website and log in with your Steam account
Go to the Settings page to update your Steam Trade URL
Redeem this code on https://skinodds.com/
You will receive a live update of your trade status. Instant delivery !
REMEMBER! Your inventory must be set to public and you must be eligible to trade. View the trade requirements HERE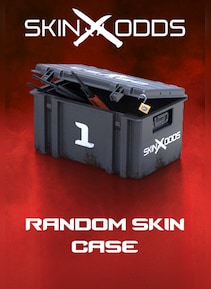 Buy product from these sellers:
G2A Goldmine hoạt động như thế nào?
1

Thông báo cho những người khác

Kể cho bạn bè về Goldmine G2A - xây dựng đội ngũ và tăng thu nhập của bạn!

2

Xem lợi nhuận của bạn tăng lên!

Ngồi xuống và thư giãn xem công việc của bạn mang lại lợi nhuận ngay bây giờ! Sử dụng những lời khuyên và các công cụ chúng tôi để tối đa hóa tiềm năng thu nhập.

Một công việc tốt đòi hỏi thù lao xứng đáng. Bạn không phải làm gì nhiều nhưng vẫn đạt được nó,đúng không? Hãy chọn phương thức thanh toán bạn ưa thích và lãnh lương!
Mô tả sản phẩm

This product features a single copy of a CSGO Random Skin Case. By far the best randomized package on the market when it comes to drop chance. Minimum exterior quality is Field-Tested, nobody likes Battle-Scarred or Well-Worn skins, and neither do we! Amuse your friends with the new looks!

Random Skin Code for Counter Strike: Global Offensive powered by Skinodds is a digital product- no box delivery. The instruction how to redeem the product can be found at the top of this page.

Frequently bought with this item