Counter-Strike: Global Offensive RANDOM SKIN
Available from marketplace sellers
There are %d people looking at this product.
Random CS:GO Skin Code – is a digital product- no box delivery. The instruction how to redeem the product can be found at the top of the page.
Warning! We STRONGLY SUGGEST that you use the same email adress as your Steam email adress, otherwise there may be problems with connecting the item to the right steam account.
Warning: Steam Guard Mobile Authenticator must be activated on client's Steam account in order to finalize the purchase successfully.
In order to get your skin:
Go to igrorandom.com
Login to your account
Choose the right product and click "Buy"
Enter the key and press "OK"
Accept the steam exchange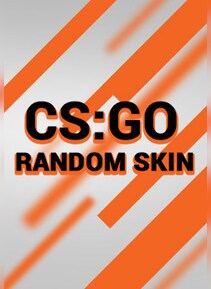 Platform:
Buy product from these sellers:
How does G2A Goldmine work?
Tell your friends about G2A's Goldmine – build a team and boost your earnings!

2

Watch your profit grow!

Just sit back and relax as your work brings profit now! Use the tips and tools we made for you to maximize the earning potential.

A job well done deserves a proper credit. And still, you have not been working hard to achieve it right? Choose your preferred payment option and receive the paycheck!
Product Description

Tired of the same old weapons you have been using for a while? Customize your game with Counter Strike skins, get your own random Counter-Strike: Global Offensive Skin and eliminate your opponents with style. Amuse your friends with the new looks!

Key features

You can get:



Souvenir MAG-7 | Sand Dune


StatTrak MP7 | Armor Core


PP-Bizon | Brass


Galil AR | Chatterbox


M4A4 | Desert-Strike


M4A4 | X-Ray


M4A1-S | Hyper Beast


SG 553 | Waves Perforated


P90 | Asiimov


CZ75-Auto | Victoria


AK-47 | Jaguar


Souvenir MP9 | Sand Dashed


Sawed-Off | The Kraken


Desert Eagle | Golden Koi


AK-47 | Vulcan


AK-47 | Aquamarine Revenge


AK-47 | Wasteland Rebel


SSG 08 | Acid Fade


M4A1-S | Cyrex


P2000 | Fire Elemental



and a lot of other CS:GO items

Other

Other

Unspecified platform, see product description for more information.

Key Type

This product is available as a CD key carried out via digital means - no shipping fees apply.