Counter-Strike: Global Offensive Steam Key EUROPE
Available from marketplace sellers
There are %d people looking at this product.
Bear in mind that after buying this product as a GIFT you will not be able to add it to your inventory.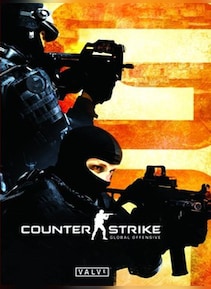 Language available:

Provincias:

EUROPE

Una plataforma:
Buy product from these sellers:
¿Cómo funciona G2A Goldmine?
Diles a tus amigos sobre G2A Goldmine – forma un equipo y aumenta tus beneficios!

2

Mira como crece tu beneficio!

Basta con sentarte y relajarte, ya que tu trabajo da beneficios ahora! Utiliza consejos y herramientas, que hemos preparado, para que puedas maximizar el potencial de ganancias.

Un trabajo bien hecho merece un crédito apropiado. ¿No has trabajado duro para lograr hacerlo bien? Elige tu opción de pago preferida y recibe el cheque de pago!
Descripción del producto

Counter-Strike: Global Offensive is one of the most popular multiplayer shooters with great impact on the way we look at online gaming. In CS:GO you choose your team- terrorists or counter-terrorists, eliminate your enemies and earn money to buy better equipment at the beginning of every round. The Developers of CS: GO have added new maps, characters and weapons to deliver a better, improved gaming experience. What has also been introduced are the new gameplay modes, matchmaking and leader boards. Still, the most fervent fans of the franchise will not be disappointed as the game has changed only slightly and the classic CS content remains.

Key features

Modos de juego:



Clásico: Competitivo – ponte a la cola y empieza el enfrentamiento estándar de 5vs5 en uno de los mapas clásicos. Únete a un equipo aleatorio o crea el tuyo propio y únete a la partida como una unidad.


Clásico: Casual – si no quieres comprometerte a jugar un enfrentamiento por completo y de principio a fin, entonces juega a tu propio ritmo. Recibirás blindaje y kits de desactivación de manera automática. Y lo que es mejor, cada baja que consigas será bonificada.


Demolición – esta modalidad con un ritmo veloz pone a los jugadores en una competición única donde un equipo asalta y el contrario defiende la posición en la que colocar la bomba.


Carrera de armas – esta modalidad de juego incluye reaparición instantánea y combate a corta distancia. Obtén una nueva arma cada vez que consigas una baja. Para ganar la partida debes conseguir una baja con el arma definitiva: el cuchillo dorado.


Personaliza el juego – puedes cambiar la apariencia de tus armas consiguiendo nuevas skins de armas a través de las bonificaciones o comprándolas online.



Requerimientos

Requerimientos de sistema:

Windows XP / Vista / 7

Procesador:

Intel Core 2 Duo E6600 / AMD Phenom X3 8750

La memoria:

2 GB RAM

Gráficos:

256 MB VRAM - GeForce 8600

HDD:

7.6 GB HD

Otro:

Internet connection

Edad y la calificación de contenido
Frequently bought with this item