Counter-Strike: Global Offensive Steam Key EUROPE
Pazar satıcıları tarafından mevcuttur
%d kişi bu ürünü inceliyor
Bear in mind that after buying this product as a GIFT you will not be able to add it to your inventory.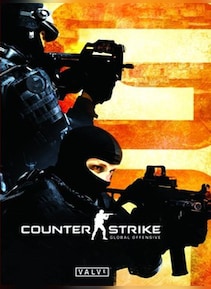 Bu dil seçenekleri mevcuttur:

Bölge:

EUROPE

Platform:
Buy product from these sellers:
KULLANICI
DIŞ TARAF
FİYAT
G2A Goldmine nasıl çalışıyor
1

Diğerlerini haberdar edin

G2A'in Goldmine'ını arkadaşlarınıza da anlatın - bir takım oluşturun ve kazancınızı güçlendirin!

2

Kârınızın büyüdüğünü görün!

Çalışmalarınız size kârınızı sunarken siz arkanıza yaslanın ve rahatlayın! Kazanç potansiyelinizi en üst seviyeye çıkartmak için size sunduğumuz ipuçları ve araçlardan faydalanmayı unutmayın.

İyi yapılmış iş düzgün bir tebrik gerektirir. Üstelik bu başarı için çok fazla bir şey yapmanıza da gerek kalmadı değil mi? Tercih ettiğiniz ödeme yöntemini seçin ve paranızı alın!
Ürün Açıklaması

Counter-Strike: Global Offensive is one of the most popular multiplayer shooters with great impact on the way we look at online gaming. In CS:GO you choose your team- terrorists or counter-terrorists, eliminate your enemies and earn money to buy better equipment at the beginning of every round. The Developers of CS: GO have added new maps, characters and weapons to deliver a better, improved gaming experience. What has also been introduced are the new gameplay modes, matchmaking and leader boards. Still, the most fervent fans of the franchise will not be disappointed as the game has changed only slightly and the classic CS content remains.

Key özellikleri

Game modes:






Classic: Competitive – queue up and start the standard 5vs5 match on one of the classic maps. Join a random team or create your own and join the game as a unit


Classic: Casual – if you don't want to commit to a full match, then play the game on your own pace. You will automatically receive body armor and defusal kits. What is more, each kill is rewarded with bonuses.


Demolition – this fast-paced gameplay puts players in a unique competition where one team assaults and the other defends the bombsite.


Arms Race – this game mode includes instant respawns and close-quarter combat. You gain new weapon immediately after you register a kill. To win the match you need to get a kill with an ultimate weapon- golden knife.



Customize the game – you can change the looks of your weapons by obtaining new weapon skins through dropping crates or buying them online.

Counter Strike: Global Offensive for STEAM platform is a digital product- no box included.

Gereksinimler

Sistem Gereksinimleri:

Windows XP / Vista / 7

İşlemci:

Intel Core 2 Duo E6600 / AMD Phenom X3 8750

Bellek:

2 GB RAM

Ekran Kartı:

256 MB VRAM - GeForce 8600

Sabit Disk:

7.6 GB HD

Diğer:

Internet connection

Yaş ve içerik derecelendirmesi
Frequently bought with this item