Counter-Strike: Global Offensive Steam Key EUROPE
Available from marketplace sellers
There are %d people looking at this product.
Bear in mind that after buying this product as a GIFT you will not be able to add it to your inventory.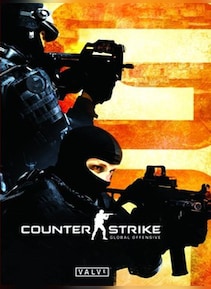 Ngôn ngữ:

Khu vực:

EUROPE

Platform:
Buy product from these sellers:
G2A Goldmine hoạt động như thế nào?
1

Thông báo cho những người khác

Kể cho bạn bè về Goldmine G2A - xây dựng đội ngũ và tăng thu nhập của bạn!

2

Xem lợi nhuận của bạn tăng lên!

Ngồi xuống và thư giãn xem công việc của bạn mang lại lợi nhuận ngay bây giờ! Sử dụng những lời khuyên và các công cụ chúng tôi để tối đa hóa tiềm năng thu nhập.

Một công việc tốt đòi hỏi thù lao xứng đáng. Bạn không phải làm gì nhiều nhưng vẫn đạt được nó,đúng không? Hãy chọn phương thức thanh toán bạn ưa thích và lãnh lương!
Mô tả sản phẩm

Counter-Strike: Global Offensive is one of the most popular multiplayer shooters with great impact on the way we look at online gaming. In CS:GO you choose your team- terrorists or counter-terrorists, eliminate your enemies and earn money to buy better equipment at the beginning of every round. The Developers of CS: GO have added new maps, characters and weapons to deliver a better, improved gaming experience. What has also been introduced are the new gameplay modes, matchmaking and leader boards. Still, the most fervent fans of the franchise will not be disappointed as the game has changed only slightly and the classic CS content remains.

Các tính năng chính

Game modes:






Classic: Competitive – queue up and start the standard 5vs5 match on one of the classic maps. Join a random team or create your own and join the game as a unit


Classic: Casual – if you don't want to commit to a full match, then play the game on your own pace. You will automatically receive body armor and defusal kits. What is more, each kill is rewarded with bonuses.


Demolition – this fast-paced gameplay puts players in a unique competition where one team assaults and the other defends the bombsite.


Arms Race – this game mode includes instant respawns and close-quarter combat. You gain new weapon immediately after you register a kill. To win the match you need to get a kill with an ultimate weapon- golden knife.



Customize the game – you can change the looks of your weapons by obtaining new weapon skins through dropping crates or buying them online.

Counter Strike: Global Offensive for STEAM platform is a digital product- no box included.

Yêu cầu

Yêu cầu hệ thống:

Windows XP / Vista / 7

Bộ xử lý:

Intel Core 2 Duo E6600 / AMD Phenom X3 8750

Bộ nhớ:

2 GB RAM

Đồ họa:

256 MB VRAM - GeForce 8600

HDD:

7.6 GB HD

Khác:

Internet connection

Độ tuổi và nội dung
Frequently bought with this item