Counter-Strike: Global Offensive Steam Key GLOBAL
Available from marketplace sellers
There are %d people looking at this product.
Poznámka: Counter-Strike: Global Offensive (CS:GO) pro platformu STEAM je digitálním produktem – bez krabice.
Upozorňujeme, že pokud zakoupíte tento produkt jako DÁREK, nebudete jej moci přidat do svého inventáře.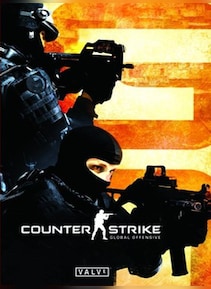 Dostupné jazyky:

Region:

GLOBAL

Platforma:
Earn 46,73 Kč if somebody buys this product using your Goldmine reflink. Find out more
Buy product from these sellers:
How does G2A Goldmine work?
Tell your friends about G2A's Goldmine – build a team and boost your earnings!

2

Watch your profit grow!

Just sit back and relax as your work brings profit now! Use the tips and tools we made for you to maximize the earning potential.

A job well done deserves a proper credit. And still, you have not been working hard to achieve it right? Choose your preferred payment option and receive the paycheck!
Product Description

Counter Strike: Global Offensive je nástupcem klasické taktické týmové střílečky z pohledu první osoby Counter Strike: Source a první v řadě: Counter Strike. Jedna z nejpopulárnějších multiplayerových stříleček a hit e-sportu s elitními hráči a významnými turnaji.

Jestli chcete vidět, co někteří z předních hráčů hrají, kupte si hru CS: GO a připojte se k hráčské elitě.

Úplně jiná střílečka

S CS: GO zapomenete na všechno, co jste se naučili. Hra Global Offensive není jako ostatní střílečky z pohledu první osoby. Musíte být opatrní a hrát se svým týmem, nebo vás čeká smrt. Pobíhání a střílení vás dostane leda do hrobu. Pečlivě vybírejte své vybavení, spolupracujte se svým týmem a nezapomínejte: oživení je luxusní!

Skládačka klasického a neokoukaného

Hra Counter Strike GO má nové mapy a zbraně, stejně jako vylepšené verze známých klasik z předchozích verzí. Veteráni se budou okamžitě cítit jako doma, ale stále na ně budou čekat různá překvapení. Dokonce klasiky jako de_dust byla nově vyváženy a vylepšeny s cílem otevřít je novým taktikám.

Nové oficiální herní módy

Bomb and Hostage Scenario jsou tradičně působivé a nyní nabízí také příležitostné zápasy pro ty, co se v tom ještě učí chodit.

K dispozici jsou také zcela nové oficiální módy:

Arms Race

– získejte nové zbraně zabitím nepřátel. Zabijte postupně všechny ze seznamu a připište si vítězné zabití zlatým nožem

Demolition

– zajímavá kombinace Arms Race a Bomb Scenario. Získejte nové vybavení jako v Arms Race a probojujte se jednotlivými koly s cílem splnit úkol

Guardian

a Co-op Strike – exkluzivní herní módy CS GO PC. Spojte se dohromady s přítelem a bojujte proti nepřátelům ovládaným AI ve scénářích s úkoly a příběhem.

A konečně je tu Deathmatch, kde vítězí nejvyšší skóre a body závisí na druhu zbraně použité k zabíjení nepřátel.

Zatím nejlepší vizuální stránka

Každý tým si při nasazení vybere sedm frakcí, každou s vizuálně odlišnou uniformou. Se skiny pro CS GO můžete jít v přizpůsobení ještě dál, váš voják může vyniknout podle vašich představ.

Mapy prošly také celkovým vizuálním vylepšením, a to vše ve jménu větší věrnosti a někdy vyváženosti hry jednotlivých týmů.

Klíčové
vlastnosti

14 frakcí

– rozdělených mezi dva týmy. Hrajte za ikonické jednotky, jako jsou SWAT, SAS nebo SEAL proti hrozbám po celém světě

Přes dvacet oficiálních map

– mix nových možností a klasické rotace map

Desítky zbraní

– ve hře Global Offensive mají teroristé i bojovníci proti teroristům široký arzenál zbraní z několika kategorií včetně pušek, brokovnice a samopalů

Základní módy v režimu kol

– vydělejte si peníze dobrou hrou a utraťte je mezi koly za nové vybavení. Čím lépe hrajete, tím lepší výbavu získáte

CS:GO PC je vrcholným zážitkem hry Counter Strike se dvěma jedinečnými módy a nejlepší podporou.

Key features

14 factions - divided between two teams. Play as such iconic units like SWAT, SAS or SEALs against threats from around the world
Over twenty official maps - a mix of new options and classic map rotation
Dozens of weapons - in Global Offensive both Terrorists and Counter-Terrorists have a broad arsenal of weapons drawn from several categories, including rifles, shotguns, and submachine guns
Round-based core modes - earn cash by playing well and spend it on new gear between rounds. The better you play, the better gear you get

CS GO PC

is the ultimate Counter Strike experience, with two unique modes and the best support.

Požadavky

Systémové požadavky:

Windows XP / Vista / 7

Processor:

Intel Core 2 Duo E6600 / AMD Phenom X3 8750

Paměť:

2 GB RAM

Grafika:

256 MB VRAM - GeForce 8600

HDD:

7.6 GB HD

Other:

Internet connection

Age and content rating