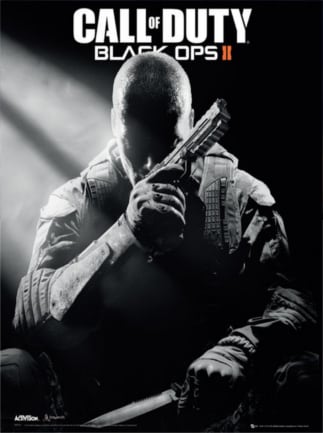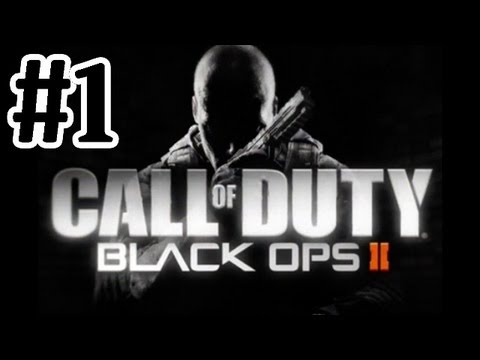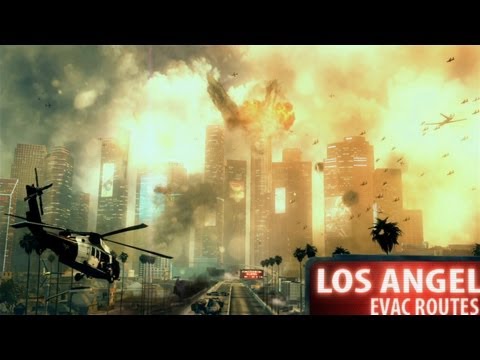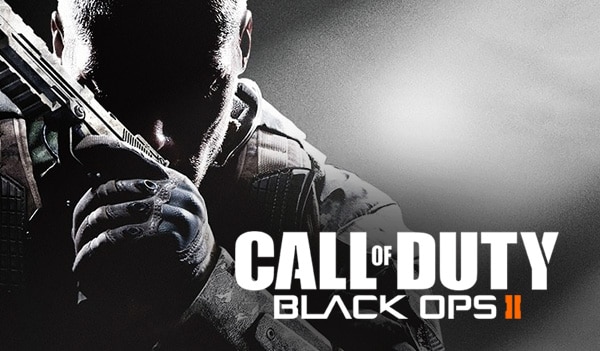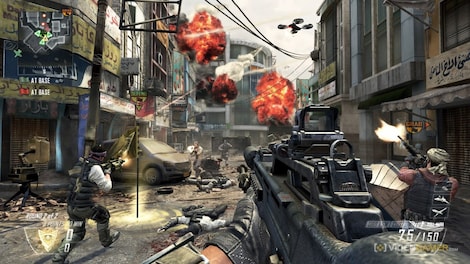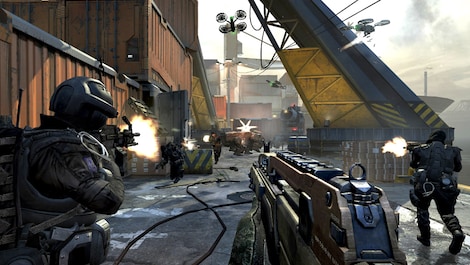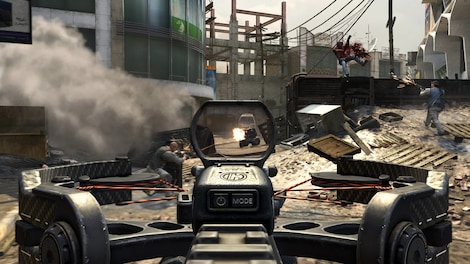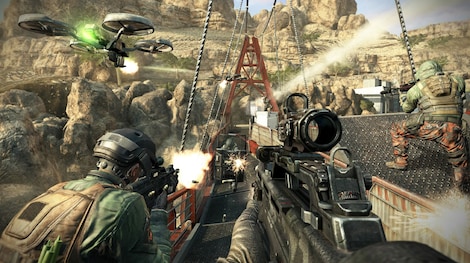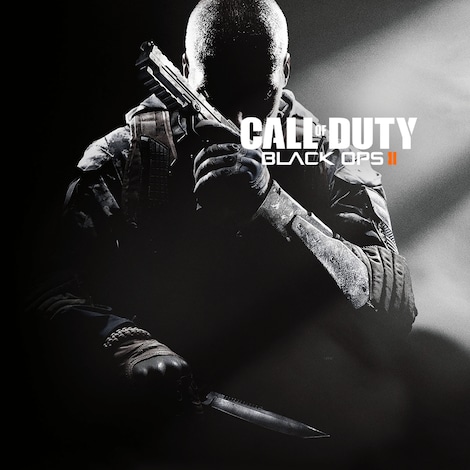 1/9
GLOBAL version
Call of Duty: Black Ops II Steam Key GLOBAL
Call of Duty: Black Ops 2 (PC) ist eine Fortsetzung des ersten Black Ops-Titels. Entwickelt von Treyarch folgt es einer nicht-linearen, zweigeteilten Story, in der Handlungen von Bedeutung sind und Entscheidungen die End ...
Selected offer from:
Price
26.17 EUR
59.99 EUR
56%

OFF
What is a Hot Deal?
A great offer when compared to other sites. Get it fast!
Money Back Guarantee
You must be logged in to add products to your wishlist.
Buy it in a bundle, pay less: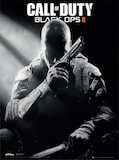 Call of Duty: Black Ops II Steam Key GLOBAL
GLOBAL
Offer from: Sacrifice_shop
Offer from: Gamingimperium
Free G2A PLUS 1 Month
2.49 EUR
Artikelbeschreibung
Call of Duty: Black Ops 2 (PC) ist eine Fortsetzung des ersten Black Ops-Titels. Entwickelt von Treyarch folgt es einer nicht-linearen, zweigeteilten Story, in der Handlungen von Bedeutung sind und Entscheidungen die Endergebnisse auf Weisen verändern können, die zunächst nicht leicht zu erkennen sind.Call of Duty Black Ops II ist ein intensiver Ego-Shooter in den 1980ern und im Jahr 2025. Es erzählt die jahrzehntelange Geschichte von Alex und David Mason, die sich unabsichtlich an ihr beteiligt haben.
Generationsübergreifende Story
Die Geschichte von CoD: Black Ops 2 wird in den späten 1980er Jahren durch den Protagonisten Alex Mason des ersten Spiels und seinen Sohn David im Jahr 2025 gezeigt. Es folgt dem Leben und den Taten von Raul Menendez, der sich als primärer Bösewicht des Spiels herausstellt. Sieh seinen Aufstieg zu Bedeutung und Macht mit an. Die Sünden des Vaters kehren zurück, um den Sohn zu verfolgen.
Nicht-lineares Storytelling
Durch die zwei Zeiträume von Black Ops 2, ermöglicht dir das Spiel, gravierende Entscheidungen an wichtigen Momenten zu treffen. Töte oder lass leben, zeige Mitleid oder lass sterben. Jede Wahl ist wichtig und beeinflusst den Endzustand des Spiels. Spiele die Kampagne mehrere Male, um alle sechs Endungen und Variationen mitzuerleben. Sieh mit an, wie deine Handlungen und die der beiden Masons die Welt für die kommenden Jahre gestalten können.Wie wird diene Geschichte enden?
Erforschbare Karten
Anders als in der Vergangenheit erlaubt dir Call of Duty Black Ops 2, sich außerhalb der instinktiven Korridore zu begeben oder Informationen zu sammeln, was wiederum die Handlung beeinflussen kann. CoD: BO2 dreht deine Erwartungen auf den Kopf und belohnt neugierige Spieler.Tauche in die Welt außerhalb der ausgetretenen Pfade ein und erlebe Black Ops 2 von A bis Z.
Klassenkrieg
Klassen der Vergangenheit sind… Vergangenheit. Heiße das Pick 10 System willkommen!Mit "Pick 10" kannst du dein eigenes Black Ops-Multiplayer-Gameplay mit zahlreichen Boni, Waffen, Granaten und mehr gestalten. Fertige deinen eigenen perfekten Fortschrittspfad und schau nie wieder auf die starren Klassensysteme zurück, in die dich andere Shooter so gerne hineinstoßen. Verwende Wildcards, um die Regeln zu deinen Gunsten zu biegen, aber sei gewarnt, dass alle anderen Spieler das auch tun.
Zombies!
Zum dritten Mal in der Serie kehrt der Zombie-Horden-Modus zurück, um mutige Spieler herauszufordern, sich einer Welle von verfallenden Leichen zu stellen, die von einer böswilligen Macht animiert werden.Kannst du überleben, wenn dir andere tapfere Spieler helfen, mit dir kooperieren, oder sogar um ebenjenes Überleben mit dir konkurrieren? Und wenn der TranZit-Bus kommt, wo wird er dich hinbringen und was wirst du dort finden? Auf die eine oder andere Weise werden Horden von Zombies tot sein, bevor du deine Lieblingsbeschäftigung herausfindest.
Key features
Das Call of Duty: Black Ops II-Gameplay ist eine intensive, aber kaum gedankenlose Reise durch zwei unterschiedliche Epochen, die vom Kalten Krieg in eine futuristische Umgebung von 2025 springen. Folge der Geschichte einer unglücklichen Soldatenfamilie in diesem spektakulären Ego-Shooter von Treyarch.
Call of Duty: Black Ops 2 bietet:
Komplexe Story – Erlebe die späten 1980er und das Jahr 2025 als Alex Mason und sein Sohn David. Treffe Entscheidungen auf dem Weg, die das Ende der Geschichte beeinflussen
Weniger lineare Karten – Du musst nicht ständig vorwärts rennen. Das Spiel lädt zur Erkundung ein und belohnt Spieler, die mehr sehen wollen
Überarbeitete Klassen – Erstelle deinen eigenen Fortschrittspfad aus einer großen Auswahl an Waffen, Granaten, Boni... wähle deine Lieblings-Zehn aus und dominiere den Kampf
Neuausgeglichener Mehrspielermodus – Vertraute Killstreaks werden durch Scorestreaks ersetzt. Jetzt haben auch Supporter die Chance, dem anderen Team die Hölle heiß zu machen
Strike Force Missionen – mach eine Pause vom intensiven Schießen und führe Aufräum-Operationen aus einer strategischen Sicht durch. Erfolg oder Niederlage, das Ergebnis wird nicht ohne Folgen bleiben
Achtung: Aufgrund großen Menge von der im Spiel enthaltenen Gewalt und des deutschen Rechts wurde das Produkt zum Verkauf, Aktivierung und Benutzung in Deutschland, Österreich und der Schweiz nicht zugelassen.
Call of Duty: Black Ops 2 for Steam platform is a digital product- no box included. The price applies to a digital version of the product.

Release date: 2012-11-12
Systemanforderungen
Systemanforderungen
Below are the minimum and recommended system specifications for Call of Duty: Black Ops II Steam Key GLOBAL. Due to potential programming changes, the minimum system requirements for Call of Duty: Black Ops II Steam Key GLOBAL may change over time.
Mindestanforderungen
Processor

Intel Core2 Duo E8200 2.66 GHz / AMD Phenom X3 8750 2.4 GHz

Graphics

512 MB VRAM - Nvidia GeForce 8800GT / ATI Radeon HD 3870

Memory

2 GB RAM - 32-bit OS / 4 GB - 64-bit OS

Disk space

16 GB HD

System

Windows Vista SP2 / Windows 7

Other

Internet
Age restrictions
Age restrictions


Dieses Produkt enthält Elemente von




Verdiene 0.65 EUR jedesmal, wenn jemand dieses Produkt über deinen Reflink kauft.