Detached STEAM VR CD-KEY GLOBAL
Available from marketplace sellers
There are %d people looking at this product.
Warning!
This is an extreme VR experience that simulates sudden and dramatic acceleration, freefalling, twisting and rolling. Even with the 90 FPS frame rate, it is not for VR-sensitive players.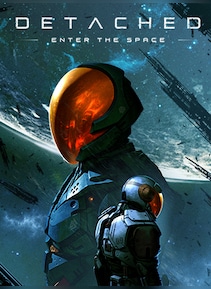 Language available:

Region:

GLOBAL

Platform:

Official Developer:
Buy product from these sellers:
How does G2A Goldmine work?
Tell your friends about G2A's Goldmine – build a team and boost your earnings!

2

Watch your profit grow!

Just sit back and relax as your work brings profit now! Use the tips and tools we made for you to maximize the earning potential.

A job well done deserves a proper credit. And still, you have not been working hard to achieve it right? Choose your preferred payment option and receive the paycheck!
Product Description

Detached is a space exploration VR game that demands tactics and skill to survive. Strap yourself in for hardcore gameplay uniquely designed for VR headsets.


Trapped in an abandoned space station, you must race against borrowed time to find your crew before your oxygen supply runs out. As you solve puzzles to open airlocks, locate power cores and disable transmitters, something tells you that you won't be alone when you finally escape into the universe's deep infinity.

Key features

Go Hardcore – Experience 360-degree freedom of movement, rotation, and acceleration in a sandbox environment built for VR headsets.

It's Getting So Atmospheric – Discover the wide blue yonder inspired by the sublimity of Gravity with an accompanying fully orchestrated score composed by Mikołaj Stroiński (The Witcher 3, The Vanishing of Ethan Carter).

Blast, Splinter and Charge – Employ Shield, Boost and EMP Rockets skills in both single-player and multiplayer modes. Hit targets with lock-on missiles built into your suit. Master weapon cool down times before your opponent gets the upper hand. Gain temporary immunity with the shield skill. Exploit boosting tunnels to gain a speed advantage.

Astronautic Drills – Get to grips with your spacesuit's controls in a zero-G environment through a dynamic tutorial before venturing into outer space. FPS-style steering will introduce newbies and those sensitive to VR playing to the hardcore VR experience.

Blink and You'll Miss It – Challenge a friend to Detached's nail-biting PvP mode and then spend time getting acquainted with the infinite universe in single-player mode.

Minimal requirements

Recommended requirements

System Requirements:

Windows 7 SP1 64-bit

Processor:

Intel i5-4590

Memory:

4 GB RAM

Graphics:

Nvidia GTX 770 / AMD Radeon R9

HDD:

2 GB

Platform:

PC

System Requirements:

Windows 8.1 64-bit

Processor:

Intel Core i7-3770K

Memory:

8 GB RAM

Graphics:

NVIDIA GTX 970 / AMD 290

HDD:

2 GB

Platform:

PC

Age and content rating

Other

Steam

Steam - Game can be activated on Steam, enables you to play on official Steam servers and your game will be kept updated with the latest patches via the Steam platform.

Key Type

This product is available as a CD key carried out via digital means - no shipping fees apply.