Dishonored 2 Steam Key GLOBAL
Available from marketplace sellers
There are %d people looking at this product.
Dishonored 2 para la plataforma Steam es un producto digital. No incluye caja física.
Note: This product is a preorder. After purchase, a preorder code will be reserved for you. Remember that you will receive your key no later than upon game release day. This product DOES NOT include any pre-order bonuses.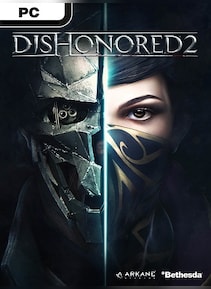 Language available:

Provincias:

GLOBAL

Una plataforma:
Buy product from these sellers:
¿Cómo funciona G2A Goldmine?
Diles a tus amigos sobre G2A Goldmine – forma un equipo y aumenta tus beneficios!

2

Mira como crece tu beneficio!

Basta con sentarte y relajarte, ya que tu trabajo da beneficios ahora! Utiliza consejos y herramientas, que hemos preparado, para que puedas maximizar el potencial de ganancias.

Un trabajo bien hecho merece un crédito apropiado. ¿No has trabajado duro para lograr hacerlo bien? Elige tu opción de pago preferida y recibe el cheque de pago!
Descripción del producto

Dishonored 2 es la continuación del aclamado juego de sigilo desarrollado por Arkane Studio, Dishonored.

El juego tiene lugar 15 años tras los eventos de la primera entrega. Conviértete en Corvo Attano o Emily Kaldwin y embárcate en una misión para reclamar el trono de Serkonos. Deja atrás Dunwall y dirígete rumbo a Karnac, el lugar donde Emily, gobernante destronada, encuentra asilo. Ahora los dos protagonistas buscan la oportunidad de hacer justicia.

Key features



Personajes – adopta el papel de Corvo o Emily, dos poderosos asesinos con una serie de habilidades supernaturales, armas y gadgets. Al principio del juego deberás elegir qué personaje quieres ser, y no podrás cambiarlo durante la partida. Define tu estilo de juego con agilidad, asesinato, sigilo y un sistema de combate brutal.


Lucha de la manera que prefieras – combina todas las herramientas disponibles y juega de la manera que más te guste. Tú decides si te enfrentarás a tus enemigos cara a cara con tus armas, eliminarlos usando tácticas de sigilo o simplemente pasar de largo sin que se den cuenta. La elección que hagas tendrá un gran impacto en el resultado de la misión e incluso en el propio juego.


Jugabilidad – en Dishonored 2 completarás varias misiones que en ocasiones recordarán a la famosa franquicia HITMAN. Te enfrentarás a varias misiones que van desde ataques como asesino silencioso a un combate cara a cara sin cuartel. Aun así, las mecánicas de juego no han cambiado de manera revolucionaria. Aunque algunas de las características siguen siendo las mismas, muchas de ellas han evolucionado para mejorar la experiencia de juego. Los mapas son más grandes y ofrecen más posibilidades, y las opciones morales que hace el jugador se usan para ajustar la campaña a las acciones de cada uno.


Modifica tu juego – Dishonored 2 te da la posibilidad de ajustar la jugabilidad en base a tus preferencias. Como algunos jugadores afirmaron que la primera entrega era demasiado fácil, los desarrolladores han implementado un sistema que te permite hacer que el juego sea más desafiante.


Motor gráfico – aunque el aspecto visual sea similar a la primera entrega, los gráficos han evolucionado para hacer uso de las posibilidades actuales.


IA mejhorada – ahora los guardias son más listos. Sus reacciones son más inteligentes y supondrán más de un desafío.



Requerimientos mínimos

Requerimientos aconsejados

Requerimientos de sistema:

Windows 7/8/10 (64-bit versions)

Procesador:

Intel Core i5-2400/AMD FX-8320

La memoria:

8 GB RAM

Gráficos:

NVIDIA GTX 660 2GB/AMD Radeon HD 7970 3GB

HDD:

60 GB

Requerimientos de sistema:

Windows 10 (64-bit versions)

Procesador:

Intel Core i7-4770/AMD FX-8350

La memoria:

16 GB RAM

Gráficos:

NVIDIA GTX 1060 6GB/AMD Radeon RX 480 8GB

HDD:

60 GB

Edad y la calificación de contenido

Otro

Steam

Steam - Game can be activated on Steam, enables you to play on official Steam servers and your game will be kept updated with the latest patches via the Steam platform.

Key Type

This product is available as a CD key carried out via digital means - no shipping fees apply.
Frequently bought with this item