Dishonored 2 Steam Key GLOBAL
Pazar satıcıları tarafından mevcuttur
%d kişi bu ürünü inceliyor
Dishonored 2 (Game) for STEAM platform is a digital product – no box included. The price applies to a digital version of the product.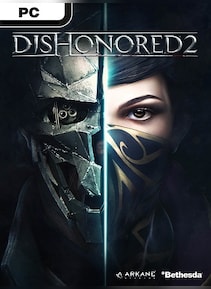 Bu dil seçenekleri mevcuttur:

Bölge:

GLOBAL

Platform:
Buy product from these sellers:
KULLANICI
DIŞ TARAF
FİYAT
G2A Goldmine nasıl çalışıyor
1

Diğerlerini haberdar edin

G2A'in Goldmine'ını arkadaşlarınıza da anlatın - bir takım oluşturun ve kazancınızı güçlendirin!

2

Kârınızın büyüdüğünü görün!

Çalışmalarınız size kârınızı sunarken siz arkanıza yaslanın ve rahatlayın! Kazanç potansiyelinizi en üst seviyeye çıkartmak için size sunduğumuz ipuçları ve araçlardan faydalanmayı unutmayın.

İyi yapılmış iş düzgün bir tebrik gerektirir. Üstelik bu başarı için çok fazla bir şey yapmanıza da gerek kalmadı değil mi? Tercih ettiğiniz ödeme yöntemini seçin ve paranızı alın!
Ürün Açıklaması

The throne of Dunwall requires protection once again. Set fifteen years after the first game, Dishonored 2 (PC) gives you the choice. Choose Corvo Attano, the master assassin and royal protector you know from the first game, forced to enter the shadows once again. Or play as Emily, once a child you saved in Dishonored 1 now an Empress and warrior trained by Corvo. Each character comes with unique abilities granted by the ever-curious Outsider.

Dual gameplay

Dishonored 2's protagonists bear different Outsider-given powers. Corvo keeps the abilities every veteran of the first game will be familiar with, including iconic Blink and Possession, meanwhile Emily is given brand new abilities, suiting her birthright as the ruler of her people. Their abilities influence the way they are able to approach the levels, and give insight to the core of their personalities.

New mystical superpowers

The Outsider, Dishonored's infernal meddler, grants Emily five brand new powers, vastly different from those of Corvo. The Empress can summon a totem capturing the attention of everyone around it, and drawing bizarre comments from those staring into the void. Her primary traversal with be powered by the Far Reach, a shadowy grappling hook she can use to grab far ledges, items and enemy heads. Or she can transform into a fiend of black smoke to sneak around and dismember her opponents. Each power, including Corvo's, offer branching upgrades to let you customize your experience.

A change of scenery

Dishonored 2's storyline takes you to the city of Karnaca on Corvo's homeland, the island of Serkonos. A locale inspired by Greece, Spain, and Italy it is a sun-bathed town, tormented by vicious swarms of blooflies spawning from corpses, and violent sandstorms in the Dust District. Sunny scenery of Karnaca brings colour and light to the series, and the Void engine provides gorgeous visuals perfectly capturing the atmosphere.

Play creatively

Just as its predecessor, Dishonored 2 encourages players to be creative in the ways they approach each mission and area. Using Emily's Domino power to link the fates of several people and then toss one over the ledge, having Corvo stop time and possess several people so that they kill each other, the possibilities are limited only by your imagination. The architecture of the levels provides enough opportunities to have you replay the missions to explore all the options for stealth, combat and creative disposal of enemies and targets.

Key özellikleri

Dishonored 2 is set 15 years after the events of its predecessor and tells the story of now adult Emily, Empress of Dunwall, and the returning protagonist Corvo Attano. The game perfects an excellent formula of Dishonored 1 and gives the players a new playground in the form of sunny city of Karnaca.

Dishonored 2 features



New powers... - Dishonored 2 gives Emily five new powers, Far Reach, Shadow Walk, Domino, Mesmerize, and Doppelganger. All are upgradeable and with both lethal and non-lethal applications


...and remade old ones - Corvo retains his familiar powers, but they are expanded and upgradeable just like Emily's


Two protagonists - you can play the game as either Emily or Corvo, and approach missions in different ways


New location - Dishonored 2 takes place on an island of Sarkonos visually and thematically inspired by Mediterranean European countries


Chaos system - the morality system of Dishonored 2 takes notice who you kill. Killing corrupt officers and enemies will be much more forgiving than killing honest people.



Other versions of Dishonored 2

This product is also available in the following versions. They are NOT included in this purchase.



Dishonored 2 PlayStation 4


Dishonored 2 Xbox One



Dishonored 2 System requirements

En düşük gereksinimler

Tavsiye edilen gereksinimler

Sistem Gereksinimleri:

Windows 7/8/10 (64-bit versions)

İşlemci:

Intel Core i5-2400/AMD FX-8320

Bellek:

8 GB RAM

Ekran Kartı:

NVIDIA GTX 660 2GB/AMD Radeon HD 7970 3GB

Sabit Disk:

60 GB

Sistem Gereksinimleri:

Windows 10 (64-bit versions)

İşlemci:

Intel Core i7-4770/AMD FX-8350

Bellek:

16 GB RAM

Ekran Kartı:

NVIDIA GTX 1060 6GB/AMD Radeon RX 480 8GB

Sabit Disk:

60 GB

Yaş ve içerik derecelendirmesi

Diğer

Steam

Steam - Game can be activated on Steam, enables you to play on official Steam servers and your game will be kept updated with the latest patches via the Steam platform.

Key Type

This product is available as a CD key carried out via digital means - no shipping fees apply.
Frequently bought with this item