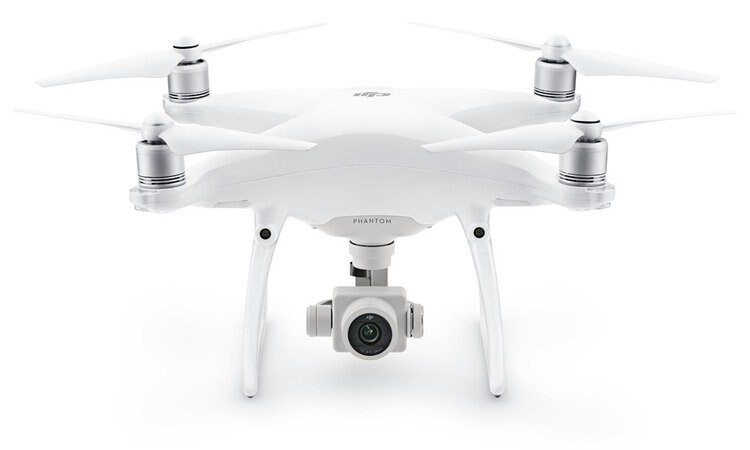 1/1
Dji Phantom 4 Pro V2
Selected offer from:
 Nowoczesne rozwiązaniaNowy Phantom 4 Pro V2.0 posiada system transmisji OcuSync, który wspiera automatyczną zmianę częstotliwości, umożliwia połączenie z DJI Goggles bezprzewodowo oraz zwiększa zasięg transmisji do 4 km ...
Product description

Nowoczesne rozwiązania



Nowy Phantom 4 Pro V2.0 posiada system transmisji OcuSync, który wspiera automatyczną zmianę częstotliwości, umożliwia połączenie z DJI Goggles bezprzewodowo oraz zwiększa zasięg transmisji do 4 km. Zastosowanie nowego systemu napędowego (śmigieł i regulatorów) pozwoliło na zmniejszenie poziomu hałasu o 60%. Usprawniony system wykrywania przeszkód pozwala na wykrywanie ich już od 30 m.


Inteligentny i wytrzymały



Konstrukcja nowego Phantoma została wykonana ze stopów tytanu i magnezu, dzięki czemu jest on bardziej stabilny, a jednocześnie jego waga jest podobna do zwykłej wersji. Phantom 4 Pro został wyposażony w innowacyjny system FlightAutonomy, inteligentnie omijający przeszkody. Dron posiada podwójne sensory wizyjne z przodu i z tyłu, 5-kierunkowy system wykrywania przeszkód, a także 4-kierunkowy system ich unikania. Dzięki temu ominie on nawet największą przeszkodę na swojej drodze. Podczas lotu mamy gwarancję bezpiecznego filmowania i tworzenia złożonych ujęć nawet w najtrudniejszych warunkach.




Ulepszony kontroler w połączeniu z systemem transmisji obrazu OcuSync gwarantują przekaz ekstremalnie czystego obrazu przy maksymalnym zasięgu. Możliwość wyboru częstotliwości transmisji między 2,4GHz a 5,8GHz eliminuje wszystkie ewentualne zakłócenia i opóźnienia podczas lotu. Po włączeniu naszego Phantoma Pro+, inteligentny system Time Division Multiplexing analizuje wszystkie dostępne poziomy sygnału i wybiera automatycznie częstotliwość transmisji o najniższym poziomie zakłóceń. Zapewnia to transmisję HD bez zakłóceń nawet przy lotach do 4 kilometrów. Aplikacja DJI GO pozwala na pełną optymalizację sprzętu i oprogramowania. Kontroler wyposażony jest w port HDMI, slot kart Micro SD, mikrofon i głośnik. Zdjęcia możemy edytować bezpośrednio za pomocą DJI GO a dzięki łączności Wi-Fi możliwe jest ich błyskawiczne wysyłanie.


Tryb rysowania



Draw to zupełnie nowa, innowacyjna technologia pozwalająca wnieść kontrolę lotu na wyższy poziom. Wystarczy narysować na ekranie trasę, a Phantom 4 Pro podąży w tym kierunku, jednocześnie zachowując całkowitą stabilność. Dzięki temu możemy się skupić bezpośrednio na kontroli kamery, tworząc bardziej skomplikowane ujęcia. Do wyboru są dwa tryby: Standard - dron porusza się ze stałą prędkością, przy aparaturze zwróconej w kierunku lotu. Free - Dron porusza się trasą, którą mu ustawiono. W tym trybie aparatura może być zwrócona podczas lotu drona w dowolnym kierunku.





Tryb ActiveTrack



W tym trybie Phantom 4 Pro automatycznie rozpoznaje obiekty, podąża za nimi i kadruje gdy są w ruchu. Dzięki temu tworzenie skomplikowanych ujęć jest dużo prostsze. Podążanie za szybko poruszającymi się obiektami jest często sporym wyzwaniem, jednak zaawansowane algorytmy rozpoznawania obrazu zastosowane w Phantomie, pozwalają na wychwycenie i śledzenie obiektu, utrzymując go cały czas w kadrze. Nowy algorytm potrafi rozpoznawać dużo różnorodnych obiektów, począwszy od ludzi, kończąc na samochodach czy zwierzętach.

Operator może wybierać spośród trzech trybów:

Trace - Śledzenie obiektu z przodu lub z tyłu, automatycznie unikając przeszkód

Profile - Lot wokół obiektu pod różnymi kątami, by uzyskać wiele ujęć profilowych

Spotlight - Lataj dronem swobodnie w dowolonym kierunku, a obiekt będzie cały czas utrzymywany w kadrze





Tryb TapFly



Leć w każdym kierunku widocznym na ekranie, dzięki jednemu kliknięciu. Dotknij dowolne miejsce na ekranie by płynnie regulować kierunek lotu, jednocześnie automatycznie unikając przeszkód. By zmienić kierunek dotknij ponownie lub użyj aparatury sterującej. Nowa funkcja AR pokazuje kierunek lotu w czasie rzeczywistym.

Do wyboru mamy trzy tryby TapFly:

TapFly Forward - Dotknij, by lecieć w wybranym przez siebie kierunku

TapFly Backward - Dotknij, by lecieć w przeciwnym kierunku od wybranego dotknięcia. Dotknij prawego dolnego rogu ekranu, aby polecieć do tyłu w lewy górny róg ekranu.

TapFly Free - Zablokuj kierunek lotu Phantoma bez blokowania kamery, pozwalając obracać się jej w dowolnych kierunkach podczas lotu.*

* W tym trybie automatyczne unikanie przeszkód jest wyłączone




Tryb powrotu do domu


W ulepszonej wersji trybu Return to Home, Phantom 4 Pro może wybrać automatycznie najbardziej optymalną drogę do domu, biorąc pod uwagę różne czynniki, takie jak ukształtowanie terenu. Phantom zapisuje historię trasy podczas lotu, co pozwala mu na ponowny powrót tą samą trasą, omijając wszystkie przeszkody, w przypadku gdy nie ma sygnału z kontrolerem. Dron potrafi nagrywać moment lądowania i porównać go z poprzednim, tak by dopasować lądowanie jak najbardziej precyzyjnie. Phantom 4 Pro może również analizować, czy miejsce do lądowania jest odpowiednie. Gdy pojawią się jakieś przeszkody, takie jak woda na ziemi, dron ostrzega o tym i unosi się na bezpiecznej odległości, czekając na ruch i bezpieczne lądowanie.





Sterowanie gestami



Używając sterowania gestami, zdjęcie "selfie" można wykonać robiąc kilka prostych gestów, bez konieczności używania pilota. Zaawansowana technologia wizyjna pozwala Phantomowi 4 Pro przyjmować instrukcje poprzez gesty. Wystarczy podnieść ręce do góry, stojąc przodem do kamery, a ta automatycznie rozpozna ten ruch i umieści nas w środku kadru. Następnie dajemy znak ramionami, a aparatura rozpocznie trzysekundowe odliczanie do zrobienia zdjęcia.






Zaawansowane tryby lotu


Różne powietrzne ujęcia wymagają zróżnicowanych trybów lotu. Phantom 4 Pro oferuje trzy tryby lotu: Position, Atti i Sport. W trybie Position włączone są funkcje Mode, TapFly i ActiveTrack a wykrywanie przeszkód i stabilizacja pozycji są dostępne. Tryb sport zwiększa zwrotność Phantoma i podnosi jego prędkość do 72km/h, zachowując przy tym swoją funkcjonalność i nadal pozwalając na dokładnie omijanie przeszkód i precyzyjne ustalanie pozycji. W trybie Atti stabilizacja satelitarna zostaje wyłączona a wysokość utrzymana. Jest to idealna opcja dla doświadczonych pilotów, chcących uchwycić płynniejszy materiał. W trybie statywu prędkość zostaje ograniczona do 7km/h, by zapewnić precyzyjne kadrowanie wewnątrz pomieszczeń. Czujniki wykrywania przeszkód i sensory wizyjne są również dostępne w tych trybach, by bezpiecznie cieszyć się lotem.





Większy zasięg


Ulepszony system transmisji obrazu DJI Lightbridge HD, pozwala na transmisję na żywo w jakości HD, bez zakłóceń aż do 7 kilometrów. Przed każdym lotem skanowany jest zakres dostępnych częstotliwości, by znaleźć taką z najmniejszymi zakłóceniami. Ściśle zintegrowany z aplikacją DJI GO, system Lightbridge wysyła w czasie rzeczywistym statystyki lotu a także zdjęcia i filmy do podłączonych urządzeń mobilnych. Lightbridge wykorzystuje zaawansowane technologie przesyłu i potrafi automatycznie dostosowywać się do warunków atmosferycznych.


Dodatkowe czujniki


Phantom 4 Pro posiada dwa moduły kompasowe oraz podwójne jednostki IMU, co czyni go bardziej niezawodnym w porównaniu do wielu innych multicopterów. Kompasy i IMU to ważne czujniki, które zapewniają stabilny lot i na bieżąco analizują wszystkie jego parametry. Zaawansowane algorytmy sprawdzają wszystkie poprawne i niepoprawne dane, by utrzymywać bezpieczeństwo i dokładność lotu.


Tworzenie profesjonalnych ujęć w powietrzu wymaga dłuższego czasu lotu. Maksymalna długość lotu Phantoma 4 Pro wynosi aż 30 minut, co sprawia, że mamy więcej czasu na wykonanie idealnego ujęcia. Aplikacja DJI GO pokazuje poziom naładowania baterii a także wylicza pozostały czas lotu na podstawie przebytego dystansu i wielu innych danych. Aplikacja informuje również, gdy zostanie osiągnięta minimalna odległość potrzebna do bezpiecznego powrotu do punktu startu. Zaawansowany system zarządzania akumulatorem zapobiega także przegrzaniu baterii i jej nadmiernemu rozładowaniu. Podczas przechowywania przez dłuższy okres czasu, akumulatory wytracą ładunek, aby wydłużyć swoją żywotność.





Przy filmowaniu z powietrza, aparatura sterująca odpowiada za najważniejsze aspekty kontroli, takie jak pilotowanie i kadrowanie. Bardziej skomplikowane ujęcia wymagają przekazu wideo z podglądem na żywo oraz analizy statystyk lotu i zaawansowanych ustawień w czasie rzeczywistym. Aplikacja DJI GO jest zoptymalizowana do dalekich lotów i jest aktualizowana na bieżąco w trakcie lotu, by zapewnić stabilność i poprawne działanie wszystkich funkcji. Może być połączona z urządzeniami mobilnymi a także jest możliwość jej integracji z monitorem DJI CrystalSky, w celu prostego i wygodnego sterowania. Korzystając z DJI GO mamy do wyboru dużą liczbę inteligentnych trybów lotu. Aplikacja zapewnia także pełny dostęp do ręcznej regulacji ustawień kamery (włącznie z ISO, przysłoną, prędkością migawki), formatów obrazu i wielu innych rzeczy. Wszelkie zmiany, których dokonamy w DJI GO pojawiają się na ekranie niemal natychmiast. Parametry lotu i status transmisji wideo można bardzo łatwo sprawdzić w aplikacji, co daje nam większą efektywność kontroli i wygodę użytkowania. DJI GO posiada wiele funkcji szybkiej edycji i dzielenia się naszym materiałem w mediach społecznościowych. Możliwe jest także udostępnianie transmisji na żywo z naszego lotu. Po każdym locie trasy i dane są automatycznie zapamiętywane i synchronizowane z kontem DJI GO, by móc w każdej chwili mieć do nich prosty dostęp. Statystyki lotu i wszystkie dane są łatwe do zapisania i późniejszego przeglądania.




DJI Phantom 4 Pro V2

Aparatura sterująca

Cztery pary śmigieł
Inteligenta bateria do drona
Ładowarka
Kabel zasilający
Mocowania gimbala
Kable USB OTG i Micro USB
Karta Micro SD 16GB
Walizka transportowa

Instrukcja obsługi
| | |
| --- | --- |
| Czas lotu | 30 minut |
| Maksymalny zasięg | 3,5 kilometra w UE |
| Jakość wideo | 4K 60fps |
| Zasięg sensora | 30 metrów |
| Wykrywanie przeszkód | W pięciu kierunkach |
| Kamera | 1-calowa, 20 megapikseli |
| Migawka | Regulacja ręczna |
| Kodowanie Wideo | Podwójne: H.264 i H.265 |
| Bateria | 5870mAh LiPo 4S |
| Bateria kontrolera | 6000mAh Lipo 2S |
| Obsługiwane formaty wideo | MP4/MOV (AVC/H.264;HEVC/H.265) |
| Obsługiwane formaty zdjęć | JPEG, DNG (RAW), JPEG + DNG |
| Obsługiwane karty SD | Micro SD, Maksymalnie: 128GB. |
| Prędkość zapisu | ≥15MB/s, klasa 10 lub UHS-1 |
| Ładowarka | Napięcie: 17.4V, Moc: 100 W |
| Waga razem z baterią | 1388 g |
More information
More information
Invoices
This seller provides invoices. To receive one, you can contact them once you place an order.