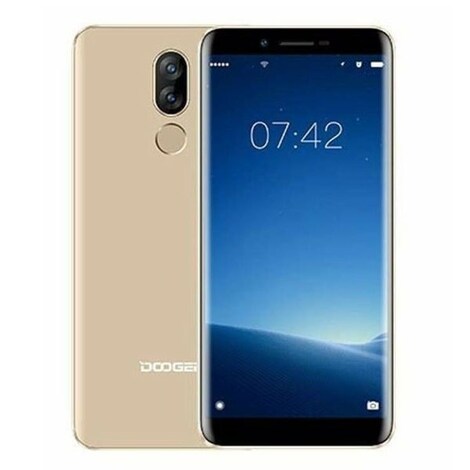 1/1
Doogee X60L 2/16GB Dual Sim Złoty
Doogee X60L 2/16GB Złoty Ekran: 5,5" MediaTek MT6737V (4 rdzenie, do 1.30 GHz) Pamięć wewnętrzna: 16GB Pamięć RAM: 2GB System: Android 7.0 Nougat Aparat: 8.0 Mpix - przód, 13.0 + 8.0 Mpix - tył Bateria: Li ...
You must be logged in to add products to your wishlist.
Specifications
Specifications
Connectivity:

4G

Contract:

Without Contract

Lock Status:

Factory Unlocked
Product description
Doogee X60L 2/16GB Złoty

Ekran: 5,5"

MediaTek MT6737V (4 rdzenie, do 1.30 GHz)

Pamięć wewnętrzna: 16GB

Pamięć RAM: 2GB

System: Android 7.0 Nougat

Aparat: 8.0 Mpix - przód, 13.0 + 8.0 Mpix - tył

Bateria: Litowo-jonowy 3300 mAh
Nadzwyczajna jakość w rozsądnej cenie
Doogee X60L to smartfon, którego charakteryzuje bardzo dobra jakość w stosunku do jego ceny. Jego atutami są funkcja dual SIM oraz wbudowany czytnik linii papilarnych. Warto również zwrócić uwagę na podwójną kamerę główną. Charakterystycznym elementem tego modelu są delikatnie zaokrąglone boczne krawędzie ekranu. Duży ekran, czterordzeniowy procesor 1.3GHz oraz pojemna bateria 3300mAh są zamknięte w bardzo ładnej obudowie. Zobacz, czym jeszcze może zaskoczyć Cię ten model.
Szybkość działania, komfort obsługi
Doogee X60L nie zacina się i pozwala na szybkie przechodzenie z jednej do drugiej aplikacji. Za płynność grafiki odpowiada chip ARM Mali -T720 MP2. To jeden z niewielu modeli w tym przedziale cenowym z czytnikiem linii papilarnych. Dzięki niemu nie będziesz tracić czasu na ręczne odblokowywanie telefonu.
Ten solidny i elegancki smartfon ma 5-calową matrycę IPS o proporcjach 18:9. Model można w wygodny sposób obsługiwać jedną ręką. Zaokrąglenia i jego specyficzny kształt sprawiają, że naprawdę wygodnie leży w dłoni.
Aparat w Doogee X60L
Smartfon ma dwie kamery aparatu głównego 13+8Mpx oraz aparat selfie 8Mpx. Aplikacja aparatu Doogee X60L ma kilka dodatkowych funkcji. "Upiększający" tryb beauty sprawi, że każde Twoje selfie będzie udane. Zawsze możesz dodać makijaż lub nieco poprawić kształty. Tryb bokeh pozwala z kolei na rozmycie tła i na skupieniu się na fotografowanej osobie.
Bardzo dobry czas pracy
Akumulator o pojemności 3300 mAh to strzał w dziesiątkę. Zużycie baterii w trybie czuwania jest minimalne. Korzystając z trybu inteligentnego oszczędzania baterii, z telefonu możemy korzystać nawet przez trzy doby po jednym ładowaniu. Doogee X60L to nadzwyczajny model w bardzo zwyczajnej cenie. Sprawdza się wśród młodzieży i ludzi, którzy rozpoczynają swoją przygodę ze smartfonami. Wytrzymała bateria, elegancki wygląd, szybkość działania - to wszystko zapewnia Doogee X60L.
Procesor

MediaTek MT6737V (4 rdzenie, do 1.30 GHz)

Układ graficzny
b.d.
Pamięć RAM

2 GB

Pamięć wbudowana

16 GB

Typ ekranu

IPS

Przekątna ekranu

5,5"

Rozdzielczość ekranu

1280 x 640

Łączność

Bluetooth

Wi-Fi
LTE

System nawigacji satelitarnej
Złącza

Gniazdo kart nanoSIM - 2 szt.

Czytnik kart pamięci - 1 szt.

micro USB - 1 szt.

Bateria

Litowo-jonowa 3300 mAh

Zainstalowany system operacyjny
Android 7.0 Nougat
Aparat

8.0 Mpix - przód

13.0 + 8.0 Mpix - tył

Lampa błyskowa

Wbudowana

Rozdzielczość nagrywania wideo

1920 x 1080 (FullHD)

Grubość

9,4 mm

Szerokość

70,8 mm

Wysokość

151,9 mm

Waga

169 g

Kolor
Złoty
Dodatkowe informacje
Obsługa dwóch kart SIM (Dual SIM)

Żyroskop
Akcelerometr
Czujnik zbliżeniowy

Dołączone akcesoria

Kabel USB

Ładowarka sieciowa

Gwarancja

12 miesięcy