Doom Classic Complete Steam Key GLOBAL
Disponible auprès vendeurs sur le marketplace
Il y'a %d personnes qui regardent ce produit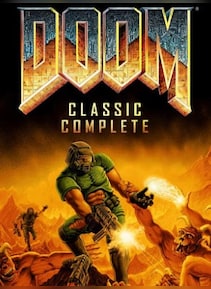 Langues disponibles:

Région :

GLOBAL

Plateforme:
Buy product from these sellers:
Comment fonctionne G2A Goldmine ?
Parlez à vos amis de G2A Goldmine - former une équipe et augmenter vos revenus !

2

Regardez vos profits évoluer !

Il vous suffit de vous s'asseoir et vous détendre car votre travail apporte des profits dès maintenant ! Utilisez les conseils et les outils que nous avons donné pour vous permettre d'optimiser vos gains.

Un travail bien fait mérite un salaire approprié. Et encore, vous n'avez pas travaillé dur pour atteindre ce cap ca n'est-ce pas ? Choisissez votre mode de paiement préféré et recevez votre chèque !
Description du produit

Dust off your BFG and ready yourself for the definitive battle against the forces of Hell. DOOM Classic Complete includes the seminal shooters that laid the ground work for the entire first-person shooter genre: DOOM with the additional episode 'Thy Flesh Consumed', DOOM II including the additional episodes 'No Rest for the Living' and 'The Master Levels' and Final DOOM.

Principales caractéristiques






DOOM II - Let the Obsession begin. Again. This time, the entire forces of the netherworld have overrun Earth. To save her, you must descend into the stygian depths of Hell itself! Battle mightier, nastier, deadlier demons and monsters. Use more powerful weapons. Survive more mind-blowing explosions and more of the bloodiest, fiercest, most awesome blastfest ever!


Final DOOM - Far from earth, the UAC recommenced their experiments on on of the moons of Jupiter. A spaceship, mistaken for a supply vexxel on radar, hovered above the base. Hideous demons poured out, blanketing the base with death. All your comrades were quickly slaughtered or zombified. This time, it's not about survival. It's about revenge.


Master Levels for DOOM II - Introducing the Master Levels for DOOM II. Twenty never-before-seen levels all with the same acid drenched, hell spawned horror of the originals. Each was created by independent designers and supervised by the demented minds of id Software. You might as well forget about seeing the light of day ever again.


Ultimate DOOM - The complete megahit game that set the world afire. Plus All-New Episode IV: Thy Flesh Consumed. The demons came and the marines died. Except one. You are the last defense against these hell-spawned hordes. Prepare for the most intense mutant-laden, blood-splattered action ever! The texture-mapped virtual world is so real, you don't just play DOOM - you live it.



Âge et classification du contenu

Autre

Steam

Steam - Le jeu peut être active sur Steam, et vous permet de jouer sur les serveurs officiels de Steam. Votre jeu sera mis à jour avec les derniers patchs via la plateforme Steam.

Key Type

Ce produit est disponible en tant clé de CD digitale – aucun frais de livraison ne s'applique.