DOOM Steam Key GLOBAL
來自於個市集賣家可用
Doom (PC) is a digital product – no box included. The price applies to a digital version of the product.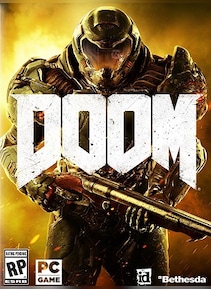 可用語言:

地區:

GLOBAL

平台:
G2A金礦是如何運作的?
給您的朋友介紹一下G2A金礦——建立一個團隊并提高您的利潤!

由於您的工作為您帶來的利潤,現在可以往後一仰,放鬆一下了!使用我們為您製作的提示和工具,讓您的收入可能性最大化。

您出色的工作,值得恰當的獎勵!同時,您也並沒有很費力地得到它,不是嗎?選擇您首選的付款方式,來接收您的回報!
產品說明

Doom (PC) is a legend of 1993, a time when sprites ruled the gaming world. Hardcore, demanding, fast, and relentlessly brutal. Now you can relive the same emotions with DOOM, a game so old-school and adrenaline-pumped that the title can only be written in capital letters. id Software's DOOM is a 2016 first-person shooter bringing back the speed, the violence, and the demons of the original game, but in glorious HD. Grab a Super Shotgun, smash some heads, and force hellspawn back where it came from.

Minimalistic storytelling

DOOM doesn't waste time telling you backstories, complex plots or elaborate cutscenes. A corporation opened up a portal to Hell to harvest its energy. Things happened. You wake up having to clean all of this up with lead, plasma, and seething rage. DOOM never drags your attention away from the carnage and the deadly dance on the screen, but the story is there, waiting. Inquisitive player can find it in logs and PA system messages, and other places.

Fast-paced DOOM gameplay

When you put on the Praetor armor you throw caution out of the window. Not because it makes you invincible. It's because it makes you fast, strong, and awesome. When your basic speed allows you to run circles around any other first-person shooter protagonist in recent memory you know that cover is for the weak. Engage in a violent dance of murder, strafing, circling, and descending on your enemies like a wrecking ball. You call the shots here.

Powerful arsenal

You start out with a pistol, and kill some lowly demons with it without any problem. And then it gets even better. Shotguns, rifles, plasma guns, and finally one of the most iconic weapon in video game history. Yes, the BFG 9000 is back to let you take another swing at the denizens of Hell, and it couldn't come at a better time. Upgrade your weapons to make them even more powerful and destructive. No demon will stand in your way, but they will try.

Glory Kills

Channel your rage and hate for demonspawn into Glory Kills. DOOM doesn't do regenerating health or convenient pickups. In DOOM you heal by murder and purifying the world of demon scum. Punch, rip, and tear demons to death with your (or their) bare hands and get health out of it. Run them through with a chainsaw to get back ammo. Play your cards right and nothing will get even close to taking you out.

SnapMap

Completed the game? Found all the collectibles and upgrades? Gained everything there in the multiplayer? Turn to SnapMap to create your own maps, or to enjoy these made by others. Use an intuitive tool to create your own maps, levels, even whole new game modes if you are determined enough. Use community-created maps and missions in singleplayer and multiplayer and never run out of demons to kill.

主要功能

DOOM is id Software's reboot of the genre-defining game from 1993. Incredible mobility, brutal combat, delightfully disgusting demons, and enough weapons and ammo to kill Hell seven times over. DOOM is an old-school shooter with modern design.

DOOM features


\t
Brutal finishers - stagger your enemies with a hail of bullets and finish them off with a Glory Kills for extra gore and health

\t
Powerful weapons - starting with a simple pistol and ending with a BFG 9000, every weapon in the game packs a serious punch

\t
Upgrades - your weapons and armor can be upgraded, to give the demons a feeling that you need extra power to confront them

\t
Old-school gameplay, modern execution - DOOM merges the unbridled joy of straightforward shooters with modern technical execution. Demons in HD!

\t
Doomguy - the most feared slayer of demons short of Dante is back, and he's all out of bubble gum. But he has a lot of ammo instead



最低配置要求

推薦配置要求

系統配置要求:

Windows 7 / 8.1 / 10 (64-bit versions)

處理器:

Intel Core i5-2400/AMD FX-8320

內存:

8 GB RAM

顯卡:

NVIDIA GTX 670 2GB/AMD Radeon HD 7870 @ 2GB

硬盤:

55 GB

系統配置要求:

Windows 7 / 8.1 / 10 (64-bit versions)

處理器:

Intel Core i7-3770/AMD FX-8350

內存:

8 GB RAM

顯卡:

NVIDIA GTX 970 4GB/AMD Radeon R9 290 @ 4GB

硬盤:

55 GB

年齡和內容評級

其他

Steam

Steam - Game can be activated on Steam, enables you to play on official Steam servers and your game will be kept updated with the latest patches via the Steam platform.

Key Type

This product is available as a CD key carried out via digital means - no shipping fees apply.
Frequently bought with this item