DREAMFLIGHT VR Steam Key GLOBAL
Available from marketplace sellers
There are %d people looking at this product.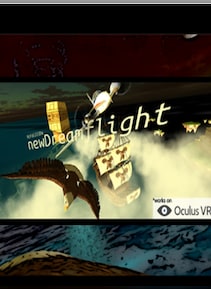 Limba disponibilă:

Regiune:

GLOBAL

Platformă:
Buy product from these sellers:
Cum funcționează Goldmine?
1

Informează-i și pe alții

Spune-le prietenilor tăi despre G2A Goldmine, construiește-ți o echipă și sporește-ți câștigurile!

2

Uite cum crește profitul!

Relaxează-te, munca ta îți va aduce profit acum! Folosește-te de sfaturile și instrumentele pe care ți le-am pus la dispoziție pentru a-ți mări posibilitățile de câștig.

Un lucru bine făcut merită răsplătit. Și totuși, nu ai muncit atât de mult, nu-i așa? Alege metoda de plată preferată, iar apoi îți vei primi banii!
Descriere produs

You close your eyes and when you open them again, you wake up in a new world full of magic. Decide for yourself whether you prefer, to fly on the back of an eagle or would you rather be the pilot. This game is perfect after a hard day's work. Try this game, put Oculus Rift on and relax.

Cerințe minime

Cerințe recomandate

Cerințe de sistem:

WinXP, Win7, Win8, Windows 10

Procesor:

I3

Memorie:

4 GB RAM

Grafică:

GeForce GTX750

HDD:

310 MB

Cerințe de sistem:

Win7, Win8.1, Windows 10

Procesor:

Intel I5

Memorie:

8 GB RAM

Grafică:

GeForce GTX960

HDD:

310 MB

Altele

Steam

Steam - Game can be activated on Steam, enables you to play on official Steam servers and your game will be kept updated with the latest patches via the Steam platform.

HTC Vive

Oculus Rift

Key Type

This product is available as a CD key carried out via digital means - no shipping fees apply.