Drone Hunter VR Steam Key GLOBAL
Beschikbaar van marktplaats verkopers
Er kijken %d anderen naar dit product.
Requires a virtual reality headset.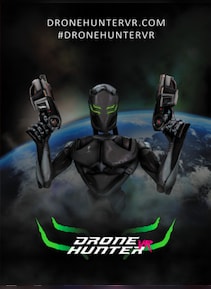 Beschikbare talen:

Regio:

GLOBAL

Platform:

Official Developer:
Koop product van deze verkopers:
GEBRUIKER
BUITENKANT
PRIJS
Hoe werkt G2A Goldmine?
Vertel je vrienden over G2A's Goldmine - bouw een team en verhoog je inkomsten!

2

Zie hoe je winst groeit!

Achterover leunen en kijken hoe je werk winst binnen haalt! Gebruik de tips en hulpmiddelen die we hebben gemaakt zodat je het meeste er uit kan halen.

Goed werk verdiend een beloning. En alsnog heb je er niet echt hard voor moeten werken, toch? Kies je betaalmethode en ontvang je loonstrookje!
Productbeschrijving

In 2016, The NASA New Horizons space probe identified a fleet of alien ships heading towards Earth. Having tracked the many previous sightings and abductions taking place over the years, world leaders have determined that the approaching fleet are sinister in nature. It is projected that their fleet will arrive sometime in late 2017.

In response to this global crisis, the US military was forced to disclose a top secret military project they had created during the Cold War. The DH125 is a military defense robot that was secretly deployed into orbit during the US Star Wars Initiative. The DH125 is unique in that it contains alien components retrieved from the Roswell crash in 1947 and is the only weapon we have to defend our planet.

The DH125 was secretly retrieved and modernized to prepare us to defend our planet. It is the only defense we have and can only be remotely operated by one person. Now the global leaders of the world have declared a world emergency and have initiated a program to find the one person capable of manning the DH125. World leaders have called upon VR Visio to create a simulation designed to test a person's skills, reflexes and precision.

Are you the one who will lead us to victory? Do you have the skills to defend our planet? Download the game on Steam now and find out if you are the one.

Key features



Deadly bosses


Hordes of enemies


Dynamic, highly immersive gameplay


Interesting plot


Lot's of fun!



Minimale vereisten

Aanbevolen vereisten

Systeem Vereisten:

Win 7 or higher

Processor:

Intel i5

Geheugen:

8 GB RAM

Afbeeldingen:

GTX 970

HDD:

2 GB

Anders:

Requires a virtual reality headset.

Systeem Vereisten:

Win 7 or higher

Processor:

Intel i7

Geheugen:

16 GB RAM

Afbeeldingen:

GTX 980 or better

HDD:

2 GB

Anders:

Requires a virtual reality headset.
Frequently bought with this item