Drone Hunter VR Steam Key GLOBAL
Disponible auprès vendeurs sur le marketplace
Il y'a %d personnes qui regardent ce produit
Requires a virtual reality headset.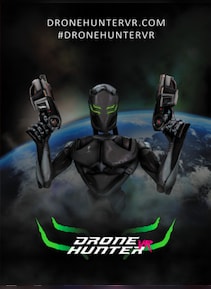 Langues disponibles:

Région :

GLOBAL

Plateforme:

Official Developer:
Buy product from these sellers:
Comment fonctionne G2A Goldmine ?
Parlez à vos amis de G2A Goldmine - former une équipe et augmenter vos revenus !

2

Regardez vos profits évoluer !

Il vous suffit de vous s'asseoir et vous détendre car votre travail apporte des profits dès maintenant ! Utilisez les conseils et les outils que nous avons donné pour vous permettre d'optimiser vos gains.

Un travail bien fait mérite un salaire approprié. Et encore, vous n'avez pas travaillé dur pour atteindre ce cap ca n'est-ce pas ? Choisissez votre mode de paiement préféré et recevez votre chèque !
Description du produit

In 2016, The NASA New Horizons space probe identified a fleet of alien ships heading towards Earth. Having tracked the many previous sightings and abductions taking place over the years, world leaders have determined that the approaching fleet are sinister in nature. It is projected that their fleet will arrive sometime in late 2017.

In response to this global crisis, the US military was forced to disclose a top secret military project they had created during the Cold War. The DH125 is a military defense robot that was secretly deployed into orbit during the US Star Wars Initiative. The DH125 is unique in that it contains alien components retrieved from the Roswell crash in 1947 and is the only weapon we have to defend our planet.

The DH125 was secretly retrieved and modernized to prepare us to defend our planet. It is the only defense we have and can only be remotely operated by one person. Now the global leaders of the world have declared a world emergency and have initiated a program to find the one person capable of manning the DH125. World leaders have called upon VR Visio to create a simulation designed to test a person's skills, reflexes and precision.

Are you the one who will lead us to victory? Do you have the skills to defend our planet? Download the game on Steam now and find out if you are the one.

Principales caractéristiques



Deadly bosses


Hordes of enemies


Dynamic, highly immersive gameplay


Interesting plot


Lot's of fun!



Configuration minimale

Configuration recommandée

Système d'exploitation:

Win 7 or higher

Processeur:

Intel i5

Mémoire:

8 GB RAM

Carte graphique:

GTX 970

Espace disque:

2 GB

Autre:

Requires a virtual reality headset.

Système d'exploitation:

Win 7 or higher

Processeur:

Intel i7

Mémoire:

16 GB RAM

Carte graphique:

GTX 980 or better

Espace disque:

2 GB

Autre:

Requires a virtual reality headset.

Autre

Steam

Steam - Le jeu peut être active sur Steam, et vous permet de jouer sur les serveurs officiels de Steam. Votre jeu sera mis à jour avec les derniers patchs via la plateforme Steam.

HTC Vive

Oculus Rift

Key Type

Ce produit est disponible en tant clé de CD digitale – aucun frais de livraison ne s'applique.