Drone Hunter VR Steam Key GLOBAL
Available from marketplace sellers
There are %d people looking at this product.
Requires a virtual reality headset.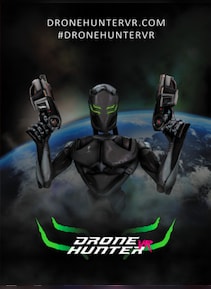 Language available:

Provincias:

GLOBAL

Una plataforma:

Desarrollador oficial:
Buy product from these sellers:
¿Cómo funciona G2A Goldmine?
Diles a tus amigos sobre G2A Goldmine – forma un equipo y aumenta tus beneficios!

2

Mira como crece tu beneficio!

Basta con sentarte y relajarte, ya que tu trabajo da beneficios ahora! Utiliza consejos y herramientas, que hemos preparado, para que puedas maximizar el potencial de ganancias.

Un trabajo bien hecho merece un crédito apropiado. ¿No has trabajado duro para lograr hacerlo bien? Elige tu opción de pago preferida y recibe el cheque de pago!
Descripción del producto

In 2016, The NASA New Horizons space probe identified a fleet of alien ships heading towards Earth. Having tracked the many previous sightings and abductions taking place over the years, world leaders have determined that the approaching fleet are sinister in nature. It is projected that their fleet will arrive sometime in late 2017.

In response to this global crisis, the US military was forced to disclose a top secret military project they had created during the Cold War. The DH125 is a military defense robot that was secretly deployed into orbit during the US Star Wars Initiative. The DH125 is unique in that it contains alien components retrieved from the Roswell crash in 1947 and is the only weapon we have to defend our planet.

The DH125 was secretly retrieved and modernized to prepare us to defend our planet. It is the only defense we have and can only be remotely operated by one person. Now the global leaders of the world have declared a world emergency and have initiated a program to find the one person capable of manning the DH125. World leaders have called upon VR Visio to create a simulation designed to test a person's skills, reflexes and precision.

Are you the one who will lead us to victory? Do you have the skills to defend our planet? Download the game on Steam now and find out if you are the one.

Key features



Deadly bosses


Hordes of enemies


Dynamic, highly immersive gameplay


Interesting plot


Lot's of fun!



Requerimientos mínimos

Requerimientos aconsejados

Requerimientos de sistema:

Win 7 or higher

Procesador:

Intel i5

La memoria:

8 GB RAM

Gráficos:

GTX 970

HDD:

2 GB

Otro:

Requires a virtual reality headset.

Requerimientos de sistema:

Win 7 or higher

Procesador:

Intel i7

La memoria:

16 GB RAM

Gráficos:

GTX 980 or better

HDD:

2 GB

Otro:

Requires a virtual reality headset.

Otro

Steam

Steam - Game can be activated on Steam, enables you to play on official Steam servers and your game will be kept updated with the latest patches via the Steam platform.

HTC Vive

Oculus Rift

Key Type

This product is available as a CD key carried out via digital means - no shipping fees apply.