Dying Light: The Following - Enhanced Edition Steam Key GLOBAL
Available from marketplace sellers
There are %d people looking at this product.
The Enhanced Edition includes:
Dying Light
Dying Light: The Following DLC

available bonus content: Be the Zombie, Cuisine & Cargo, Ultimate Survivor Bundle, and The Bozak Horde
Warning: Dying Light: The Following - Enhanced Edition is region locked and CAN'T be activated and played in: Japan, Russian Federation, Armenia, Azerbaijan, Belarus, Georgia, Kazakhstan, Kyrgyzstan, Republic of Moldova, Tajikistan, Turkmenistan, Uzbekistan, Ukraine.
Dying Light: The Following - Enhanced Edition (PC) is a digital product – no box included. The price applies to a digital version of the product.
Bear in mind that after buying Dying Light: The Following - Enhanced Edition as a GIFT you will not be able to add it to your inventory.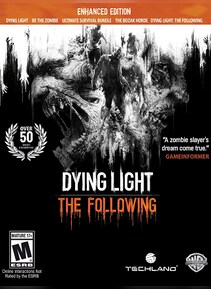 Language available:

Region:

GLOBAL

Platform:
Earn $7.78 if somebody buys this product using your Goldmine reflink. Find out more
Buy product from these sellers:
How does G2A Goldmine work?
Tell your friends about G2A's Goldmine – build a team and boost your earnings!

2

Watch your profit grow!

Just sit back and relax as your work brings profit now! Use the tips and tools we made for you to maximize the earning potential.

A job well done deserves a proper credit. And still, you have not been working hard to achieve it right? Choose your preferred payment option and receive the paycheck!
Product Description

Dying Light: The Following (PC) is the first expansion for Techland's parkouring zombie-killer Dying Light. The base game's protagonist Kyle Crane returns and journeys outside the city of Harran. He needs to find a cult allegedly immune to the zombie plague before the medicine reserves in Harran are completely gone.So enter your buggy, polish your weapons, and prepare to travel a brand new area.

Vehicular undead-slaughter

Leaving the tight confines of a city is rarely wise without a car. It's even less wise, when the rural areas you expect to travel through are full of zombies. It's a good thing, then, that Dying Light: The Following allows you to build and upgrade your very own buggy.Turn an old buggy into an engine of destruction. Upgrade its traction, brakes, suspension engine, and turbo before you even start with weapon systems.Watch zombies fall apart as you run them over, burn then to crisp, or electrocute them. But be careful: too much fun and the buggy will require repairs or it won't serve you any longer.

Story-driven expansion

Kyle Crane comes back to continue saving Harran. When the reserves of the zombie medicine run out, the only hope lies with a mysterious cult located far from the city. Allegedly they are immune to the plague, but can Kyle ensure their help?The journey will take him in unexpected directions, let him meet unexpected allies and new enemies. What will be the conclusion of the story? The decisions you make will always have dire consequences. Can you make the call?

New, powerful enemies

If in the Dying Light's endgame you sneered at how weak your enemies are, The Following gameplay brings the challenge back. The outskirts of Harran are no place for an inexperienced character and player.For extra challenge try and take down the Freak of Nature breed of zombies: incredibly resilient and powerful, requiring good cooperation with an equally experienced friend. What good are your guns, when they just bounce right back, barely scratching the new enemies' hides? The strength lies in cooperation. And explosives. Lots and lots of explosives.

Content to discover

The area featured in Dying Light: The Following is much more open than the tight confines of Harran, but it is hardly empty. There is a wealth of hidden locations, distress calls, military caches and bandit pacification, in addition to timed challenges and looking for unique, powerful, or just cool upgrades for your buggy. At no point during The Following can you feel bored.There is enough content to keep this game about the figurative undead alive for a long time.

Key features

Dying Light: The Following is an expansion to Techland's thrilling Dying Light, a game merging parkour with hacking zombies apart with creative weapons. A change of scenery and new gameplay features make The Following not just more of the same, but a worthwhile title on its own merits.

Dying Light: The Following features

New area - The Following takes place in a rural area, full of open spaces, stunning vistas and hordes of zombies you can see from miles away
Freaks of Nature - if you though regular zombies are freaky, how haven't seen anything yet. These new boss-type enemies will test your arsenal and skills
A new hope - is the mysterious cult really immune to the plague? Is it possible to secure their help? Kyle Crane must go and try
Upgradeable buggy - your primary mode of transportation and weapon is a buggy you get to build from scratch and upgrade it until it makes you a real road warrior
Rewarding exploration - wherever you go, there you can find something to do. Bandits, people calling for help, or a cache of weapons, find it all

Minimal requirements

Recommended requirements

System Requirements:

Windows 7 64Bit

Processor:

Intel Core i5-2500 3.3 GHz / AMD FX-8320 3.5 GHz

Memory:

4 GB

Graphics:

NVIDIA GeForce GTX 560 / AMD Radeon HD 6870 1GB

System Requirements:

Windows 8.1 64Bit

Processor:

Intel Core i5-4670K 3.4 GHz / AMD FX-8350 4.0 GHz

Memory:

8 GB

Graphics:

NVIDIA GeForce GTX 780 / AMD Radeon R9 290 2GB

HDD:

40 GB

Age and content rating