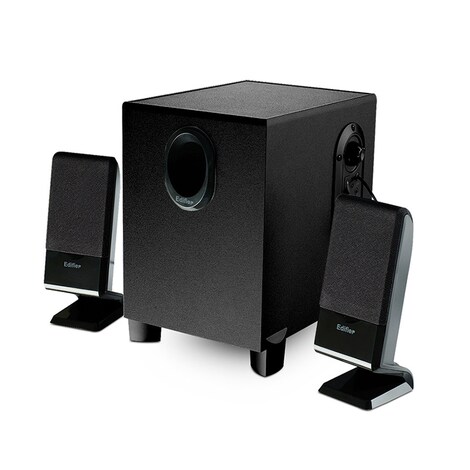 1/1
Edifier R101BT 2.1 Speaker System
The  R101BT  features  a  4inch  downward  firing  subwoofer  to  create  smooth,  deep  bass,  housed  in  a  MDF  enclosure  to  minimize  the  possibility  of  audio  disparity.  The  satellites  are  compact  in  siz ...
Product description
The R101BT features a 4inch downward firing subwoofer to create smooth, deep bass, housed in a MDF enclosure to minimize the possibility of audio disparity. The satellites are compact in size to occupy a minimal surface area and are slightly angled towards the listener to enhance the listening experience.
The R101BT by Edifier 2.1 speaker system with built-in plug and play capabilities for multiple audio applications. A conveniently located, side mounted control panel allows users to select the desired input and adjust the volume.
Features
• Entry-level 2.1 multimedia speaker system
• Bluetooth 4.0 and AUX audio inputs
• 4-inch subwoofer in a wooden enclosure (MDF)
• Tilted satellites for optimal audio performance
• Control panel on the side of subwoofer for easy access
• Designed with simplicity, classic, and simple design
Specifications
Power output : R/L(Treble): 2W+2W SW 4.5W
Noise level : ≤25dB(A)
Frequency response : 50Hz~20KHz
Input sensitivity: R/L : 500±50mV SW : 320±20mV R/L: 450±50mFFs SW: 450±20mFFs
Input type : AUX / Bluetooth
Bass unit : 4" (106mm) woofer
Tweeter : 50x90mm
EAN code : 6923520266111
Earn every time someone buys this product using your reflink.