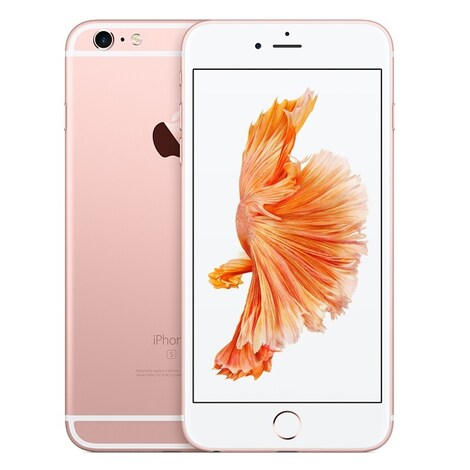 1/1
Apple iPhone 6s 32GB Różowe Złoto
Apple iPhone 6s 32GB Ekran: 4,7" Apple A9 (2 rdzenie 1.85 GHz) Pamięć wewnętrzna: 32GB Pamięć RAM: 2GB System: iOS 10 Aparat: 5.0 Mpix - przód, 12.0 Mpix - tył Bateria: Litowo-jonowa 1715mAh ...
You must be logged in to add products to your wishlist.
Specifications
Specifications
Connectivity:

4G

Contract:

Without Contract

Lock Status:

Factory Unlocked
Product description
Apple iPhone 6s 32GB

Ekran: 4,7"

Apple A9 (2 rdzenie 1.85 GHz)

Pamięć wewnętrzna: 32GB

Pamięć RAM: 2GB

System: iOS 10

Aparat: 5.0 Mpix - przód, 12.0 Mpix - tył

Bateria: Litowo-jonowa 1715mAh
Nowy iPhone 6s to nie tylko lekko zmieniona wersja poprzedniego modelu, model 6s to wzbogacony o wiele nowych funkcji i możliwości iPhone.
Poznaj nowy sposób korzystania z aplikacji, jaki daje technologia 3D Touch. Uwieczniaj chwile w postaci ruchomych zdjęć Live Photos i filmów 4K, za pomocą nowej kamery iSight o rozdzielczości 12 MP. Działaj swobodnie i bez ograniczeń z nowym procesorem A9.
3D Touch
Pierwszy iPhone udostępnił całemu światu interfejs Multi-Touch, na zawsze zmieniając sposób, w jaki korzystamy z technologii. 3D Touch idzie jeszcze dalej, pozwalając robić rzeczy, które dotąd były zwyczajnie niemożliwe. Wyczuwa, jak mocno naciskasz wyświetlacz, a przez to ułatwia i przyspiesza wykonywanie wielu kluczowych czynności. I na bieżąco reaguje na Twoje działania lekkimi stuknięciami wysyłanymi przez sygnalizator taktylny.
Kamery
Najpopularniejszy aparat fotograficzny na świecie stał się właśnie jeszcze bardziej zaawansowanym urządzeniem. 12-megapikselowa kamera iSight robi ostre, bogate w szczegóły zdjęcia i nagrywa przepiękne filmy w rozdzielczości 4K — aż czterokrotnie większej niż w formacie HD 1080p. 5-megapikselową kamerą FaceTime HD iPhone 6s pstryka też doskonałe selfie. Biorąc pod uwagę ich jakość, należałoby je raczej nazywać autoportretami. Kolejna niespodzianka to funkcja Live Photos, nowy sposób na ożywienie wspomnień: teraz uchwycisz moment tuż przed wykonaniem zdjęcia i zaraz po nim. A potem jednym dotknięciem palca zaanimujesz statyczną fotografię.
Technologia
iPhone'a 6s wyposażono w stworzony specjalnie dla niego 64-bitowy procesor A9. Oferuje on wydajność, która do niedawna osiągalna była tylko w komputerach stacjonarnych. Używając swoich ulubionych, wymagających graficznie aplikacji i grając w gry, odczujesz różnicę, którą daje do 70 procent szybszy procesor główny (CPU) i nawet do 90 procent szybszy procesor graficzny (GPU).
Design
Innowacje nie zawsze widać na pierwszy rzut oka. Ale wystarczy przyjrzeć się iPhone'owi 6s bliżej, by przekonać się, jak gruntownie został ulepszony. Do stworzenia jego obudowy użyliśmy nowego stopu aluminium serii 7000 — materiału stosowanego w przemyśle lotniczym. Szyba wyświetlacza wykonana jest z najbardziej wytrzymałego i trwałego szkła, jakie kiedykolwiek zastosowano w smartfonie. No i kolory — gwiezdna szarość, srebrny i złoty, do których dołączył nowy — różowe złoto.
Procesor

Apple A9 z koprocesorem M9 (2 rdzenie, 1.85 GHz)

Układ graficzny

PowerVR GT7600

Pamięć RAM

2 GB

Pamięć wbudowana

32 GB

Typ ekranu

Retina

Przekątna ekranu

4,7"

Rozdzielczość ekranu

750 x 1334

Łączność

Bluetooth

Wi-Fi

LTE

System nawigacji satelitarnej
Złącza

Gniazdo kart nanoSIM - 1 szt.

Wyjście słuchawkowe/głośnikowe - 1 szt.

Port lightning - 1 szt.

Bateria

Litowo-jonowa 1715 mAh

Zainstalowany system operacyjny

iOS 10

Aparat

12.0 Mpix - tył

5.0 Mpix - przód

Lampa błyskowa

Wbudowana

Rozdzielczość nagrywania wideo

3840 × 2160 (4K)

Grubość

7,1 mm

Szerokość

67,1 mm

Wysokość

138,3 mm

Waga

143 g

Kolor

Różowe złoto

Dodatkowe informacje

Czytnik linii papilarnych

Barometr

Magnetometr

Czujnik zbliżenia

Czujnik światła

Żyroskop

Akcelerometr

Dołączone akcesoria

Kabel USB

Zestaw słuchawkowy

Ładowarka sieciowa

Gwarancja

12 miesięcy (gwarancja producenta)