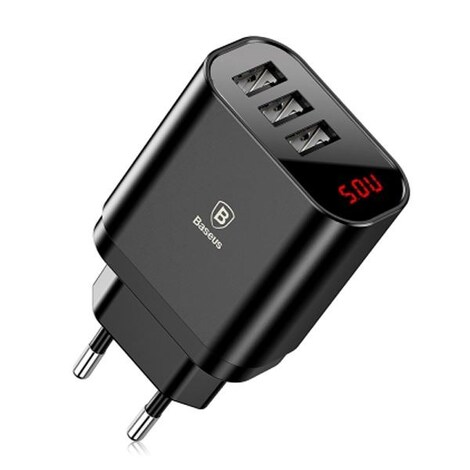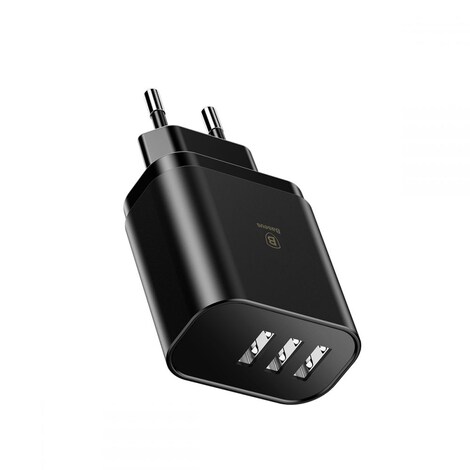 1/2
Baseus Charger 3xUSB 3.4A LCD Power Adapter
Kompaktowa ładowarka marki Baseus pozwala ładować przewodowo nawet 3 różne urządzenia USB jednocześnie. Zapomnij o konieczności decydowania, które urządzenie należy naładować w pierwszej kolejności
You must be logged in to add products to your wishlist.
Product description
Baseus charger is a compact charger with 3 USB ports and an LCD screen that shows certain important data in real-time. Charge up to 3 different devices at the same time – the charger takes only one electrical outlet, leaving the rest free for the other devices that may also need the power.
Digital LCD Screen
A Digital LCD screen can be used to easily check the current and voltage. Monitor these in real-time to prevent issues caused by the current and voltage being either too high or too low.
3 USB Ports
Baseus charger has 3 USB ports, allowing you to charge up to 3 different USB devices simultaneously. Charge your smartphone, tablet, headset, and other wireless gadgets, all at the same time.
Compact and Portable
The charger is extremely small, meaning you can easily take it with you anywhere you want. It won't take much space and will remain barely noticeable when packed inside a backpack or a bag. It can be even held inside your pocket.
Easy to Use
There is no complicated configuration needed – just plug the charger and connect other devices via USB cables to start charging them. Soon enough all of your USB gadgets will be ready for action.
Technical Specification
Brand: BASEUS
Model: NRT-DY035
Material: PC+ABS
Technology: plating
USB1 output: 5V/1A
USB2/USB3 output: 5V/2.4A
Total output: 5V/3.4A (Max.)
Input: AC 100-240V, 50-60Hz, 0.5A (Max.)

Key Features
Digital display
3 USB ports
Compact size
Easy to use
3.4 A total output
Item type: Brand new
Warranty:

12 months 

Free shipping 
Important:

In case of returning the product, the cost of shipping the product is on the buyer's side.

EAN: 6953156275232
3DP: (00005)