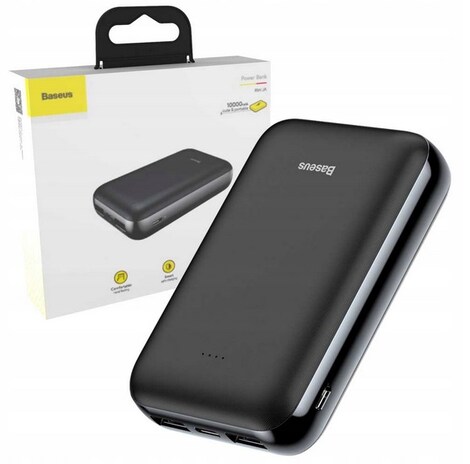 1/1
BASEUS MAŁY POWERBANK 10000mAh USB/USB-C/MICRO
Selected offer from seller:
BASEUS MAŁY POWERBANK 10000mAh USB/USB-C/MICROTowar jest w 100% NOWY i NIEUŻYWANY. Zapakowane fabrycznie przez producenta.W skład zestawu wchodzi:BASEUS MAŁY POWERBANK 10000mAh USB/USB-C/MICROKabel microusbInstrukcjaOry ...
Product description
BASEUS MAŁY POWERBANK 10000mAh USB/USB-C/MICRO
Towar jest w 100% NOWY i NIEUŻYWANY. Zapakowane fabrycznie przez producenta.
W skład zestawu wchodzi:
BASEUS MAŁY POWERBANK 10000mAh USB/USB-C/MICRO
Kabel microusb
Instrukcja
Oryginalne pudełko
Dowód zakupu
Kolor:
Opis:
Baseus Mini JA 10000 mAh:
Wyjątkowo pojemny powerbank, którego liczne porty umożliwiają odnawianie energii kilku urządzeń jednocześnie. Idealny kompan mobilnych sprzętów podczas rozmaitych wycieczek, biwaków czy innych wyjazdów.
Portów Ci u nas dostatek – Gadżet został wyposażony w aż 4 porty: 2 które służą do naładowania power banku (micro USB, USB-C) oraz 2 do odnowienia energii Twoich mobilnych sprzętów (2x USB).
Potężna pojemność – Aż 10000 mAh to wystarczająca ilość energii żeby wspomóc w potrzebie niejedno urządzenie. W sam raz na wypad pod namiot czy na festiwal muzyczny.
Do 2 urządzeń jednocześnie – 2 porty USB oraz pozwalają na podłączenie, aż 2 urządzeń w tym samym czasie! USB 1 5V/1A, USB 2 5V/2.1A Max.
Trwały i wytrzymały – Obudowa powerbanku została wykonana z wysokiej jakości materiałów: ABS oraz PC. Śmiało możesz zabrać go w każdą podróż bez obaw, że przypadkiem uszkodzi się w transporcie.
Inteligentny chip – Gadżet posiada inteligentny układ zarządzania, który dobiera odpowiednie napięcie do konkretnego sprzętu. Twoje mobilne urządzenia otrzymają dokładnie tyle prądu ile potrzebują, odzyskując utraconą moc z optymalną prędkością i troską o ich bezpieczeństwo.
9 poziomów zabezpieczeń – Przed przeładowaniem, wyładowaniem, przepięciami, przegrzaniem, prądem przetężeniowym, krótkimi spięciami, polem elektromagnetycznym. A do tego wszystkiego zabezpieczenie nadmocowe oraz recovery protection. Kompletna ochrona zarówno akcesorium, jak i telefonu.
Praktyczne diody LED – 4 niewielkie diody LED w przejrzysty sposób dadzą Ci znać ile energii znajduje się w powerbanku. Zawsze będziesz wiedział czy Twoje energetyczne koło ratunkowe nie potrzebuje nieco podpompowania.
Bezpieczeństwo potwierdzone przez specjalistów – Sprzęt przeszedł szereg testów bezpieczeństwa i zdobył liczne certyfikaty (m.in. FCC, CE, ROHS i GB/T-35590-2017) świadczące o jego wysokiej klasie.
Specyfikacja:
Marka: Baseus
Nazwa: Mini JA 10000mAh
Model: X10
Materiał: ABS + PC
Pojemność: 10000 mAh
Typ baterii: Litowo-polimerowa
Porty: 2x USB, micro USB, USB Typ C
Napięcie (wejście): micro USB: 5V/2.1A; USB-C – 5V/2.1A
Napięcie (wyjście): USB1 - 5V/1A, USB2 – 5V/2.1A
Wymiary: 12.3*11.5*3.5cm
Waga: ~280g
Dlaczego Baseus?
Baseus to pochodzący z Dalekiego Wschodu producent wszelkiej maści oryginalnych akcesoriów dla urządzeń mobilnych. Powstała w 2006 roku firma, której innowacyjne uchwyty samochodowe, wytrzymałe kable i stylowe pokrowce zyskały uznanie na całym świecie. Wszystko, dzięki wysokiej jakości swoich produktów oraz ich wyjątkowej funkcjonalności.
Zresztą wartości, którym hołduje ten producent zostały podkreślone zarówno w jej logo, jak i głównej maksymie. Otóż marka Baseus wzięła swoją nazwę od angielskiego zwrotu "Base on use", który luźno przełożyć można jako "Przede wszystkim użyteczność". Z kolei, dewiza firmy to "Base on user" czyli "Przede wszystkim użytkownik". Tworząc swoje produkty zgodnie z tymi wytycznymi, chińskie przedsiębiorstwo dokłada wszelkich starań, by jej akcesoria były w pierwszej kolejności praktycznymi gadżetami dopasowanymi do potrzeb ich klientów.

Baseus Mini JA power bank 10000 mAh USB / USB-C / micro USB 2.1A czarny (PPJAN-A01)
Pojemność (mAh): 10000
Typ złącza w urządzeniu: USB Typ A (żeński)|USB Typ C (żeński)|Micro USB Typ B (żeński)
Maksymalne napięcie wyjściowe (V): 5
Maksymalne natężenie wyjściowe (A): 2.1
Kod producenta: PPJAN-A01
Kolor: Czarny
More information
More information
Invoices
This seller provides invoices. To receive one, you can contact them once you place an order.
Earn 0.61 USD every time someone buys this product using your reflink.