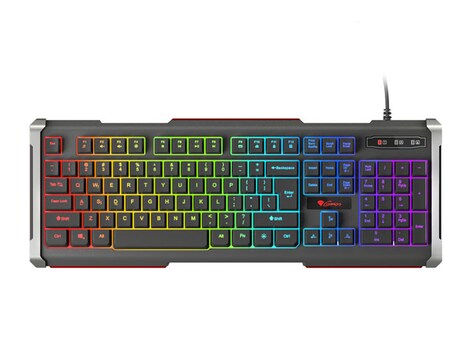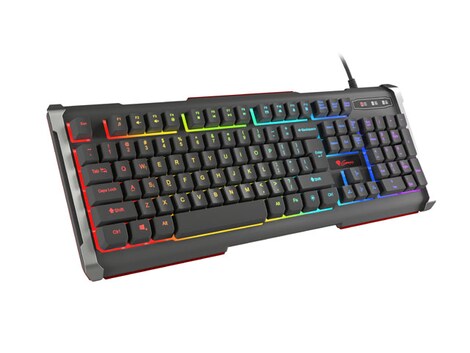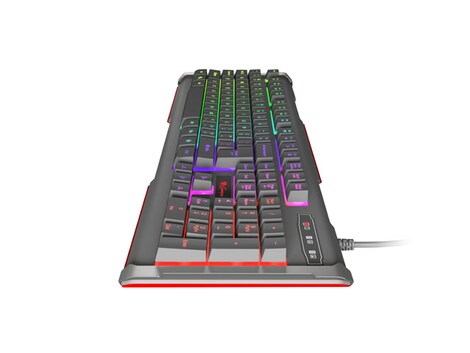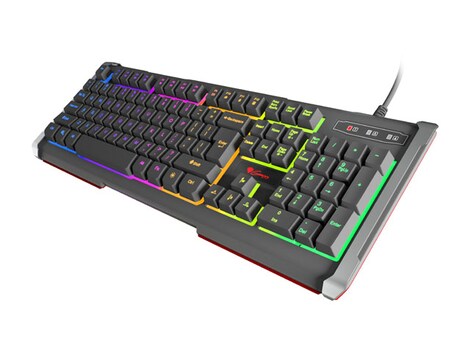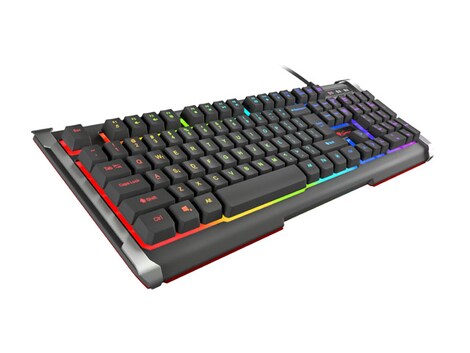 1/5
Genesis Rhod 400 RGB
Klawiatura Genesis Rhod 400 Podświetlanie RGB Wielu graczy docenia miękki klik i liniowość klawiatur membranowych. Dobra membrana oprócz odpowiedniej reakcji, powinna być również jak najbardziej funkcjonalna i dobrze się ...
Product description
Klawiatura Genesis Rhod 400 Podświetlanie RGB
Wielu graczy docenia miękki klik i liniowość klawiatur membranowych. Dobra membrana oprócz odpowiedniej reakcji, powinna być również jak najbardziej funkcjonalna i dobrze się prezentować. Klawiatura Rhod 400 RGB proponuje dobre połączenie jakości wykonania, wielu funkcji ułatwiających wygodę gry oraz efektu RGB, który podkreśla jej niezwykły charakter.
Cechy produktu:
Profesjonalna klawiatura dla graczy
Podświetlenie z efektem RGB
Funkcja Anti-ghosting dla większości klawiszy
KLUCZOWE FUNKCJE GAMINGOWE
Klawiatura dla gracza bez anti-ghostingu nie ma racji bytu. Dlatego Rhod 400 RGB posiada tę funkcję dla aż 19 klawiszy. Gracz może wykorzystywać skomplikowane kombinacje w grze, wciskając większą liczbę klawiszy bez obaw, że zakończy się to lagiem i porażką. Dodatkowo klawiatura posiada funkcję blokady klawisza Windows, która zapobiega przypadkowemu wyjściu do pulpitu.
WYTRZYMAŁOŚĆ I KOMFORT GRY
Dobra klawiatura musi być przede wszystkim wytrzymała i gwarantować wygodę gry. Podstawą Rhod 400 jest wytrzymała obudowa, wzmocniona dodatkowo dwiema aluminiowymi klamrami. Ponadto wysoki skok klawiszy oraz rozwiązania takie jak gumowe nóżki z możliwością zmiany wysokości (tylne nóżki), gwarantują odpowiedni komfort rozgrywki.
PODŚWIETLENIE Z EFEKTEM RGB
Gamingowy charakter Rhod 400 RGB został podkreślony poprzez wykorzystanie podświetlenia LED z możliwością ustawienia jednego z 7 kolorów (czerwony, zielony, niebieski, biały, fioletowy, żółty i biały) oraz efektu PRISMO czyli popularnej "tęczy". Gracz może regulować poziom natężenia światła oraz ustawić jeden z 8 dedykowanych efektów (m.in. fala, oddychanie, reakcja na dźwięk) oraz zaprogramować jeden własny tryb.
KLAWIATURA KTÓRA SŁYSZY EMOCJE
Jednym z opisanych wyżej efektów podświetlenia jest reakcja na dźwięk. Klawiatura potrafi w sposób graficzny przedstawiać dźwięki, które "słyszy" w swoim otoczeniu. Rhod 400 RGB zawsze zareaguje na twoje emocje.
FUNKCJA ZAMIANY STRZAŁEK I WASD
Niektórzy gracze preferują takie ustawienie gry, gdzie klawisze "strzałek" oraz popularny "WASD" zamieniają się miejscami. Z myślą o tych preferencjach w Rhod 400 RGB istnieje możliwość zamiany funkcji tych klawiszy (zmiany dokonuje się za pomocą kombinacji Fn+W).
KONTROLA NAD MULTIMEDIAMI
Każdy gracz lubi mieć intuicyjny i łatwy dostęp do multimediów w trakcie rozgrywki. W Rhod 400 to nie problem. Klawiatura posiada 12 klawiszy funkcyjnych (F1 –F12), dzięki którym można w łatwy sposób obsługiwać multimedia.
WOODODPORNA KONSTRUKCJA
Membrana, na której są osadzone klawisze, została skonstruowana tak, aby w przypadku zalania woda nie dostała się do wewnątrz klawiatury. Ponadto specjalne otwory odprowadzające wodę pomagają w szybkim osuszeniu urządzenia w takim wypadku.
Bazowe informacje
Typ: Klawiatura
Producent: Genesis
EAN: 5901969408287
Kod producenta: NKG-0993
Gwarancja: 24 m-cy
Specyfikacja
Przeznaczenie: Komputery, laptopy (nie jest kompatybilna z konsolami)
Mechanizm klawiszy: Membrana
Profil: Wysoki
Liczba klawiszy: 104
Liczba klawiszy multimedialnych: 11
Złącza: USB 2.0
Komunikacja: Przewodowa
Klawisze multimedialne: Tak
Podświetlenie: Tak, efekt RGB
Obsługiwane systemy operacyjne: Win. 98; Win. 2000; Win. XP; Win. Vista; Win. 7; Win. 8; Windows 10
Wymiary
Długość: 465mm
Szerokość: 175mm
Wysokość: 30mm
Earn every time someone buys this product using your reflink.